Welcome to What To Buy, a semi-recurring holiday gift guide feature I'm doing since I'm looking all of this stuff up anyway. It feels like all year I think of gifts that would be perfect for people, only to panic and scramble for gifts once November and December roll around. This year, I'm sharing my thoughts for anyone else in the same boat. Julie Andrews always told us to start at the very beginning, so that's what we're going to do … with gifts for babies, who are the beginning of people.
Something you probably know about me: I know a lot of babies. I don't actually have one, which is great. There are a lot of people that I like hanging out with but I wouldn't particularly want to be roommates with them, and babies fall into that category. But I think they're really fun once they get a personality on them, and they're some of the easiest people to buy for because they're happy with an empty box. For gift giving purposes, we're calling babies anything from brand new to age two or so, when they start to fall into the kid category.
For The Baby Who Loves 90s Hip Hop And Has Dreams
I Wish I Was A Little Bit Taller or I Wish I Was A Baller shirt from tribeisalive
This is my niece, Lulu. I'm obviously biased but I think she's as cute as a bug  – and at 17 months, she's also about as big as one. She probably does wish she was a little bit taller but you can't blame an auntie for wanting her to stay this size forever. Also comes in I Wish I Was A Baller, and is available in onesies or – why not – adult sizes. Lu has a great Jump Up Jump Up And Get Down shirt from the same site, but it seems to be no longer in stock.  $23, tribeisalive.com. 
[Because you didn't ask, my personal criteria for "clever" baby t-shirts and onesies: nothing that references the father's fertility or the fact that babies poop and pee. Why are those so popular?]
For A Baby Who Is Cold
Knitted hat that makes them look like something other than a baby
Baby it's cold outside … is NOT a song you should sing to a baby. Creepy song, that. But it's also a fact of life this time of year. One of the great things about babies is you can make them wear ridiculous things and they don't know, like the adorable hats from Melondipity. These cute knitted caps are also a good way to circumvent that whole issue of not being able to find cute boy or neutral baby clothes. $19.99, melondipity.com.
For A Baby Who Likes Taking Things Out Of Containers And Putting Things Back In Again
Autumn Acorn Color Sorting Bowls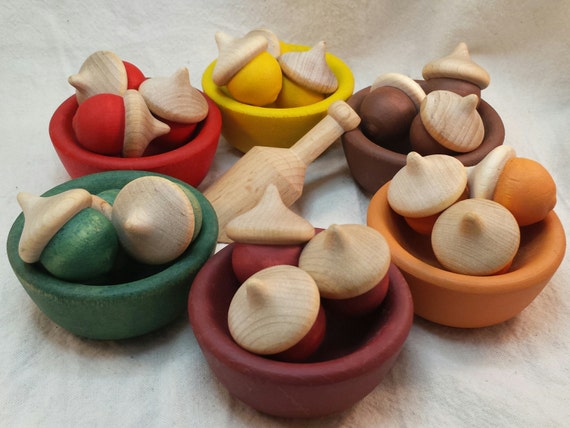 I know that sounds like a really specific type of baby, but if you also know a lot of babies you know what I'm talking about. I try to avoid anything that is probably full of lead paint and parabens, and if I were shopping for a sort-crazy baby this year something like this wooden set is just what I would go with. And since adults are the ones stuck with baby stuff strewn about their house, the bonus is that wooden sets like this are a lot less loud and ugly looking. $29.00, Simple Gift Toys on Etsy.
For The Baby Who's Working On That Walking Thing
Plan Toys Push Toy
During that wobbly stage, toddlers are so much happier to walk when they're pushing something. This van is adorable and leaves storage space for kids to take a stuffed animal or two along for the ride. It's also non-babyish enough that I could see it getting worked into pretend play into the early childhood years. $60.99, target.com.
For The Baby With A Crafty Gift-Giver And A Blank Bedroom Wall
DIY Name Sign
Not at all sorry for bombarding you with my Lu. My sister-in-law made this for her own baby's room, but it would be a great gift, too. Use scrapbook paper and mod-podge to cover wooden letters, available at most craft stores, and accent with flowers or balloons, also in the scrapbook section. It's a thoughtful, fun gift that will ensure that the baby you know never forgets who they are (as soon as they learn how to read.) $10 – 30 for supplies, JoAnn Fabrics or Michaels.
For The Baby Who's Growing Teeth In Its Mouth
Josephine Mouse
Chances are, the baby you know already has a Sophie the Giraffe – but do they have Sophie's friend Josephine yet? A few parents have raised choking concerns about Sophie's long neck, although looking at the toy and the babies I know, it just doesn't seem possible. But if you're concerned, you might like the mouse's rounder shape. $16.10, Target.com.
For The Baby Who Still Has A Lot Of Growing To Do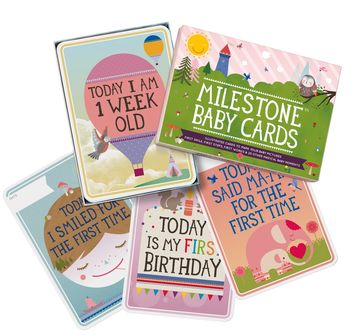 Milestone cards
It can be hard to document all of a baby's firsts. If you know parents who aren't painstakingly writing every moment in a baby book, they probably still have time to bust out the camera phone when baby does something new. These milestone cards provide a space to put the date the baby hit those big milestones, like smiling and saying mama. Parents can just write the date on the card, prop the card up next to the baby, and snap a photo. Instant, easy baby book. $24.59 for a set of 30, NotOnTheHighStreet.com.
For The Baby Who's Sleepy
Constellation projecting turtle light
The soft light from this projector will create a peaceful glow in the baby's room … and make parents 50% less likely to stub their toes walking into a dark room in the middle of the night. Win-win. $34.95, hammacher.com.
For The Musical Baby
Baby Instruments
Instruments aren't just great for a baby's burgeoning musical abilities, they also help teach cause and effect. Pro tip: go for the non-electric ones that are baby, rather than battery, powered. The parents will thank you. $19.93, thejunglestore.com.
For The Baby Who Likes A Good Story
Baby Lit books
I have bought these for so many babies, and they always get a great response. No baby is too young to get drawn into the Bingley v. Wickham v. Darcy debate. Other titles include Sherlock, Wuthering Heights, Moby-Dick, and many more. If you're a lit nerd trying to get your favorite babies on board – guilty! – these are just the ticket. $9.99, babylit.com.