In The Great Gatsby, Daisy always watched for the longest day of the year and then missed it. In the age of tumblr, I always watch for Saturday Detention Day, AKA Breakfast Club Day, and then miss it. I kind of understand how Daisy must feel. In the interest of never missing another movie or TV holiday, we're compiling them here. Did we miss any? Let us know before we're late to yet another Aaron Samuels Day.
Galentines Day
Date: February 13
TV Show: Parks and Recreation (2009 – 2015)
Reasoning:
Leap Day
Date: February 29, every 4 years
TV Show: 30 Rock
Reasoning: 30 Rock didn't invent Leap Day, but it did invent Leap Day William, the heart and soul of the holiday
The Day Of The Dude
Date: March 8
Movie: The Big Lebowski (1998)
Reasoning: Anniversary of the Big Lebowski's Release
Breakfast Club Day AKA Saturday Detention Day
Date: March 24
Movie: The Breakfast Club (1984)
Reasoning:
Winston Smith Day AKA 1984 Day
Date: April 4
Book: 1984, by George Orwell (1949)
Reasoning: The day Winston Smith began his diary.
Rex Manning Day
Date: April 8
Movie: Empire Records (1995)
Reasoning: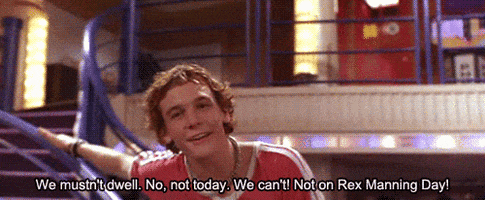 The Perfect Date
Date: April 25th
Movie: Miss Congeniality
Reasoning:
N Sync Day
Date: April 30
Song: It's Gonna Be Me
Reasoning:
The Battle of Hogwarts
Date: May 2
Book and Movie: Harry Potter and the Deathly Hallows
Reasoning: Confirmed by J.K. Rowling, who said that Victoire Weasley was born on the anniversary of the Battle of Hogwarts, May 2. The year was 1998:
Star Wars Day
Date: May 4
Movies: Many
Reasoning:
Ferris Bueller's Day Off
Date: June 5
Movie: Ferris Bueller's Day Off (1986)
 Reasoning: It's iffy. That's the day the audio from the Chicago Bears game they attended came from, but there may have been a few months left in the schoolyear. Also, that parade would have been in the fall. Let's say that any day you play hooky can be Ferris Bueller Day in your heart.
Best Friends Day
Date: June 8
TV Show: Spongebob Squarepants
Reasoning: There's no date given for Best Friends Day in the episode where Spongebob and Patrick celebrate it, so it's usually celebrated on the Facebook-ish holiday of Best Friends Day, June 8
Bloomsday
Date: June 16
Book: Ulysses, by James Joyce (1922)
Reasoning: The events of Ulysses (main character Leopold Bloom) take place on June 16, 1904
Harry Potter's Birthday
Date: July 31
Books/Movies: The Harry Potter series
Reasoning: Not only is this the date Harry was born in 1980, it's when JK Rowling was born in 1965. And of course, Neville Longbottom was born the day before Harry if you want to turn it into a two-day event.
Roald Dahl Day
Date: September 13
Books: Charlie and the Chocolate Factory, The BFG, Matilda, James and the Giant Peach, and many, many more
Reasoning: Roald Dahl was born on this day in 1916. Last year we celebrated with a whole week dedicated to Matilda.
Mean Girls Day AKA Aaron Samuels Day
Date: October 3
Movie: Mean Girls (2004)
Reasoning:
Treat Yo Self Day
Date: October 13
TV Show: Parks and Recreation (2009 – 2015)
Reasoning: The 'treat yo self' episode aired on this date in 2011
Abed's Rudolph Day
Date: December 9
TV Show: Community (2009 – 2015)
Reasoning: In the classic 2010 claymation episode Abed's Uncontrollable Christmas, this is the day Abed always watches Rudolph The Red-Nosed Reindeer with his mom. 
Refrigerator Day
Date: December 11
TV Show: Dinosaurs (1991)
Reasoning: The date this classic episode about Refrigerator Day aired:
Festivus
Date: December 23
TV Show: Seinfeld  (1989 – 1998)
Reasoning: The day the holiday 'for the rest of us' is celebrated with the feats of strength, airing of grievances and Festivus pole.