We're a few weeks away from the end of the Euro, but I'm ready to declare a winner: the high-spirited, fun-loving fans of the Boys in Green. In a sport where hooliganism runs wild, and in a year where Europe is as divided as ever, Irish fans decided that their 'thing' was to be as extravagantly wonderful as possible. The result: all of Europe, and soccer fans around the globe, fell in love with them.  The boys in green gained supporters from all over, and spectators waited to see what fantastic thing Ireland's fans would do next. All of the stunts were typical of the Irish sense of humor. You probably know about English humor – dry, wry, self-deprecating – but Irish humor isn't that. It's un-self conscious and rooted in happiness, goofiness and a love for the absurd. Team Ireland is officially out of the Euro, but in my heart, Ireland's endearing, good-hearted fans are the real winners. And it's not just me: today Irish fans were awarded the Medal of the City of Paris. Just for BEING FOOTBALL FANS. Just for being themselves. God bless.
We are going to rank these Euro moments on a scale of one to five, measured by Ireland's most precious export: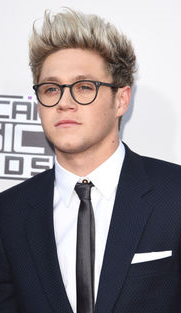 Do not think that a video is subpar if it rates one Niall Horan: after all, one Niall Horan is good enough for One Direction. For the purposes of this discussion, Niall will be presented in his purest form:
Lullaby For The Boys In Green
Here's a thing that sounds like it's true of people everywhere, but I swear it's an Irish thing: Irish men love babies. Groups of Irish men love singing. Find me something better than this group of Ireland supporters on a train singing Twinkle, Twinkle Little Star to a small baby and announcing "we've got a baby!" like they're in the presence of a small prince.
Niall Quotient:
Sing A Prayer For The Boys In Green
Imagine you at your most obnoxious drunken college self, and then imagine a nun walked into your train car. You would absolutely treat that nun to a rendition of the Our Father and try to dance with her. Also, this is a very jazzy rendition of the Lord's Prayer and must have been the standard one at these guys' schools and churches. A+
Niall Quotient:
Fix The Car For The Boys In Green
Cars don't usually come off well in giant football celebrations. My favorite part of this isn't the Irishmen pounding out the dents – which was great – or singing "fix the car for the boys in green." It was the fans frantically stuffing money into the car's windows to make up for the damage.
Niall Quotient: 
Change A Tire For The Boys In Green
As the Irish fan says, there's the difference between Irish fans and English fans: we change the wheel of a car. (Wheel changing Irish fan: you single?)
Niall Quotient:
Stand Up For The Balcony
For a brief, shining moment, the biggest celebrity of Euro 2016 was this guy who had a balcony. The crowd cheered when he walked out and booed when he left. He probably should have anticipated this when he moved above an Irish pub.
Niall Quotient:
Stand Up For The French Police
Only these guys could commandeer a tunnel and make people like them for it because they serenade the French police while they're at it.
Niall Quotient:
Stand Up For The Ulsterman
Little geopolitics for you: the Republic of Ireland and Northern Ireland: Not the same. Not nearly the same. Centuries of troubles to show for it. But when a Northern Ireland fan, Darren Rodgers, died tragically of a fall, the Irish fans paid tribute by chanting "stand up for the Ulsterman" during their game against Sweden. It's one island, after all.
Niall Quotient:
Stand Up For The Sexy Wives
Even Ireland's smack talk doesn't sting. Ireland's taunt to Sweden's fans?  "Go home to your sexy wives." Have you seen Swedes? They're not wrong.
Niall Quotient: 
Stand Up For The Foreign News
To be fair, this Hungarian news anchor was in the presence of greatness and he knew it.
Niall Quotient:
Stand Up For This French Girl
Ha. Hahahahahahaha.
Niall Quotient:
Stand Up For The Dancing Queen
Ireland's favorite past time: group singalongs. Sweden's favorite past time: following confusing furniture building instructions ABBA. Match made in heaven, played in France.
Niall Quotient:
Stand Up If You Lost Your Kid
When a child got separated from his father, the Irish fans chanted "Steve, here is your son." They crouched down then sang "Stand up if you lost your son." Happy ending: Steve got his kid back (Steve's wife: probably not thrilled).
Niall Quotient: