I was one of those latecomers that only got into Veronica Mars when was available on Netflix Instant a year or two ago. I was immediately hooked, and scolded myself for judging the show by its name (Veronica MARS who lived in NEPTUNE??? Def some kind of sci-fi show I wasn't interested in). But fast forward to my Netflix marathon days and I watched eps nonstop, then proceeded to purchase the DVDs once they took it off instant.
Anyways, from the beginning, I noticed that a lot of random celebs appeared on VMars. Some were famous before the show, and some reached their fame after their appearance. The obvious one is Amanda Seyfried, who played Lilly Kane, Veronica's bestie, Duncan's brother, and Logan's main boo. Oh and she was mysteriously killed, so pretty much the all of season one and season two focus on her murder. Ugh Harry Hamlin.
Because of the future Mamma Mia star, I proceeded to make a list of some notable names who I was surprised to see in Neptune.
PS: gold star and +50 points if you got the Californians ref in the post title.
Paris Hilton
Season 1, Episode 2
Props to Paris for signing up to be a guest star so early on in the show. Although she probs would've taken any role she was given money for, so nevermind. I will admit that I was super jeal of her because she played Logan's new GF. Logan *sigh*
Jessica Chastain
Season 1, Episode 7
Jessica was recently on Jay Leno recalling how although it seems like she's an overnight Oscar nominee, she graduated from Julliard and was in various TV shows – including V Mars. She played a character involved in one of the darkest storylines ever done on the show, a pregnant woman who lived next door to Veronica, who went missing. Turns out her stepfather raped her, and just as she was going to shoot him in self defense, Veronica's dad shoots him to safe her life. Srs business, y'all.
Aaron Paul
Season 1, Episode 11
Before he was a maker of meth, Jesse Pinkman was accused to being a serial killer. So I mean, he has a history of playing troubled characters (RIP Gale).
Leighton Meester
Season 1, Episodes 14 & 21
Spotted: Young B playing Carrie Bishop, queen of the rich '09ers (sound familiar?). She accuses Veronica's favorite teacher, Mr. Rooks of having an affair with her, so VMars sets out to prove that he's innocent. She finds out that not only did Rooks have an affair, it was actually with Carrie's BFF, who got preggo from the scandalous tryst. So Carrie decided to press charges against him for herself.
Adam Scott
Season 1, Episode 14
Oh, BTW, the guy who played teen predator Mr. Rooks? THIS GUY.
Ben Wyatt/Knope, I still love you. Even if you were a creeper.
Lucas Grabeel
Season 2, Episode 14
The High School Musical alum played Kelly Kuzzio, a baseball jock who was secretly gay. Not like he's ever played a gay guy before.
Kristin Cavallari
Season 2, Episode 14
Kristin, the only villain who looked sane next to Speidi, made her scripted TV debut and she played a cheerleader. Oh sorry, a LESBIAN cheerleader. It was great. I mean her acting wasn't but just the entire thing it general was great.
Zachery Ty Bryan
Season 1, Episode 15 & 17
Usually the middle child gets the shaft, but on Home Improvement, I always thought eldest kid Brad got the short end of the stick. I mean the middle child was Jonathan Taylor Thomas, like how do you compare with that? I remember as much about Brad's plot line as I do of his brief stint on VM. Which is that he played basketball and drove a car.
JTT
Season 1, Episode 18
Speak of the devil. I was never one of those girls who fawned over JTT. I didn't get it. Still don't. Which is why that although I appreciate his rare TV appearance on a UPN show in 2005, I remember his guest starring role mostly because this was the first episode where Veronica and Logan kissed. I mean he played an ATF agent who went undercover as a high school student, so that was cool, I guess. But VERONICA AND LOGAN!! They had an epic kind of love, you know? One that  spanned years and continents. Lives ruined, bloodshed, epic.
Rider Strong
Season 3, Episode 2
Good old Shawn Hunter played an asshole classmate of Logan and Wallace in a college class, where they participated in some prison experiment. IDK, basically he made the kid from Freaks and Geeks pee his pants.
Matt Czuchry
Season 3, Episode 4
Logan Huntzberger from my fave Gilmore Girls uses his reporter skills as he pretends to be Logan Echolls' half-brother just to get a story. Whoa, that got confusing even for me. Again, forget about Matt for a sec because this was a great episode for Jason Dohring who got to show his dramatic side after he found out he still didn't come close to getting to know his half-brother.
Dianna Agron
Season 3, Episodes 5, 15, & 19
Incidentally, Dianna played a college kid in VMars, and then went on to play a high school cheerleader/wheelchair bound/walking Yale student miracle on Glee.
Paul Rudd
Season 3, Episode 17
The great Paul Rudd is actually BFFs with show creator Rob Thomas, which explains his involvement with VM and with Rob's follow up show, the hilarious Party Down. Paul plays a washed-up rock star who's playing at Hearst College, and is a drunk nut job. One of my all-time lines from the show comes from this episode, as seen above.
Max Greenfield
Recurring character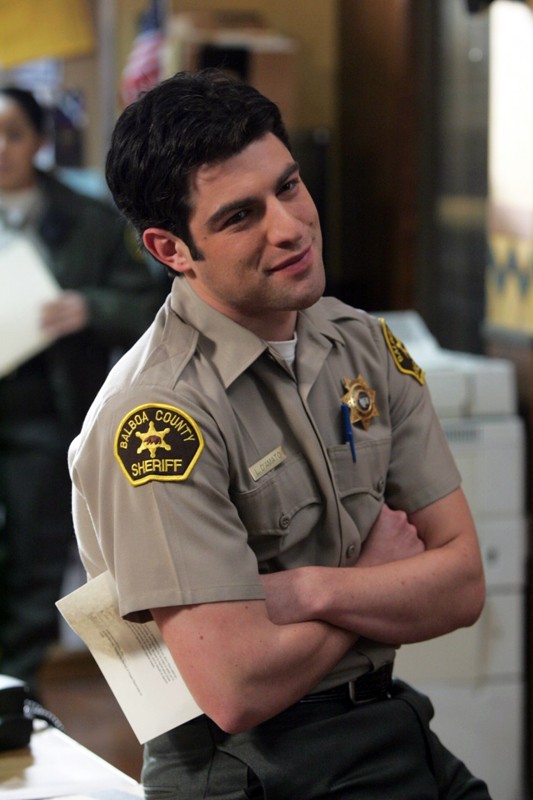 I saved the best for last. Before New Girl was New Girl, I saw promos for the show, and put it on my list immediately because Max Greenfield was in it. At the time, he was only Deputy Leo to me, the handsome, smiley, police officer who Veronica canoodled with in the first season. Unfortunately their love dwindled, but only because she was falling for Logan. And I was ok with that. But now, he can't be anything else but Schmidt.
Logan TYFYT