To begin with our standard Pop Culture Blind Spot apology/non-apology: yes, The Shining is a classic and no, I haven't seen it. As a little kid I would challenge myself to watch scary movies, only to find myself haunted by them for months after. [Poltergeist, I'm looking at you.] At some point I questioned why I was doing that to myself and massively slashed back on my horror viewing. As a result, I've never seen some cult favorites: like The Shining, or Stephen King's The Shining if you're nasty. Between now and Halloween, I plan to dive into some of these spooky favorites – so watch this space.
What I think The Shining about: Jack Nicholson plays a writer who takes his family to a remote, haunted hotel until he snaps because of hotel-ghosts and tries to kill them all. Also, twins.
Netflix short description: A distant father roams an empty, maze-like hotel thick with dread. Something awful awaits in room 237.
First thing I notice: The Shining is shot, preserved, and/or remastered beautifully for a 1980 film. You know how a lot of movies from that era look sort of orange and grainy? In the scene with Jack's son and wife (Shelly Duvall) it truly feels like I could walk into through the screen and into their apartment. As I said, Poltergeist did some things to my brain. But really, it's like early 80s time travel, with all these nicely layered set details.
It's so weird to hear the distinctive Jack Nicholson voice coming out of such a young face.
Jack agrees to the hotel deal and learns another guy who did the same thing went crazy and killed his family with an axe. Cool cool cool cool.
My first reason I don't really trust Jack is that they have stack and stacks of paperbacks piled around their TV. Get another bookshelf.
Little Danny converses with himself in a mirror, which I hate. Then a flood of blood pours out of elevators, which I also hate. Then you see the scary twins, who I sort of thought would show up way later?
Backstory: Jack drank too much, got angry at Little Danny, and injured his arm 5 months ago. Since then he has stopped drinking… OR HAS HE?! OR WILL HE?! I don't know, just trying to drum up some horror-appropriate suspense here.
Danny stands the eff up in the backseat of the car, and that is the most 1980 thing I have seen in the first 20 minutes of this film.
Oh, so those twins are just gonna keep showing up, huh.
There's a hedge maze, but I'm going to stop them because nobody does hedge mazes better than My Dad Wrote A Porno.
Danny befriends Dick Hallorann, a chef who knows far too much and thus is surely a ghost or ghost-whisperer. Also Danny will not shut up about Tony, the ghost who live in his mouth.
The worst part of watching an iconic horror film is that your tension during dramatic moments starts way too early because you know too much. When Danny rides his trike around the hotel, I know from the first second that it's definitely A Thing.
We watch part of a scene through a mirror, so Jack's T-shirt writing is backwards. It's so hard to tell what's foreshadowing and what's A Choice, because as a rule when I watch horror movies I assume everything's foreshadowing.
Jack starts to act like a REAL DICK when Shelley Duvall stops in to say hey, so he's already full of hotel ghosts.
Oh no, the twins.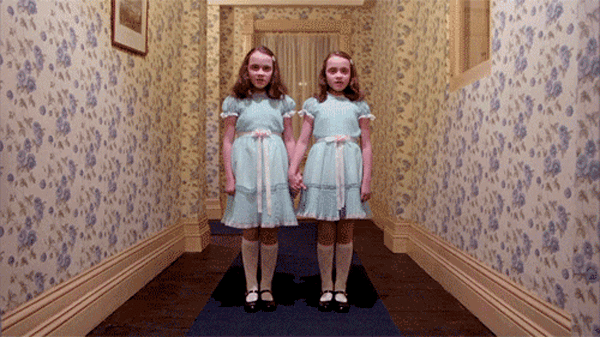 To expand: the twins talk like a child Queen Elizabeth, or possibly like that old-time movie accent people used to have. Then Danny's vision cuts to the girls dismembered.
Wait, shouldn't Danny be going to school …? He spends 100% of his time riding a tricycle and getting haunted.
That damn mirror is back, along with Jack staring blankly into it before being creepy at his child for a while. Are we double-sure the overall problem isn't actually that Jack's a POS?
Oh, Danny has a great sweater:
And Wendy has a great overalls dress:
Danny has a bruised neck and Wendy deduces that a blank-faced Jack did it. Wait, is this whole thing an allegory for abuse?
A tuxedoed bartender shows up at the hotel bar just when Jack needs him most. Again, this dirtbag was supposed to quit drinking months ago. I still can't decide if all the hotel people are ghost or if ghosts just live there alongside the people.
Shoutout to this film's rug artist, and all the rug artists inspired by this film: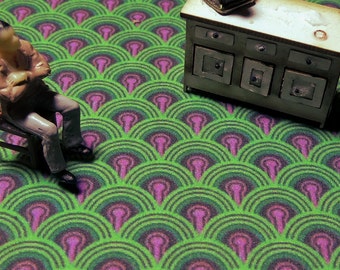 Jack gets chased by a decaying ghost-woman, which is honestly his comeuppance for being all "hehe, boobs" when he sees her in the bath instead of wondering what she was doing in the hotel.
Jack temporarily redeems himself by not being the person who choked Danny, then un-redeems himself by saying Danny did it himself. Also maybe I'm projecting, but it feels a lot like Danny has undiagnosed epilepsy that his parents should deal with.
There's a ghost '20s party going on in the house and Jack invites himself. You know what? Usually in horror movies I get annoyed with the people who go straight into clear peril, but I'd invite myself to a ghastly Gatsby party too.
[I do realize that Jack's non-reaction to this scenario means his brain's broke and we shouldn't be holding him accountable for being a dirtbag, but isn't it possible that Jack's haunted/possessed AND a dirtbag?]
Anyone else find the blindingly red bathroom almost as creepy as the fact that Jack's hanging out there with Mr. Grady, a deceased man who obliterated his family?
Danny starts using the funny creaky voice my littlest niece and I like to talk to each other in, and I can't stop laughing. It's supposed to be scary, I guess.
Dick Halloran hangs out in an airplane that, in true '70s fashion, has seats that are about 3 feet wide.
There's a lot of snow, and maybe this is just me being from a super-snowy city, but we've seen their stocked pantry and know the family doesn't have anywhere to go (ahem, school). So I feel like it shouldn't be a big deal?
I just googled Danny Lloyd (Danny) and found out they filmed the whole movie without him ever realizing it was a horror film. I love that so much! Stanley Kubric, ladies and gents. Legend for a reason.
We've now ticked off the following classic scenes: twins, redrum and All work and no play makes Jack a dull boy. It's been fun seeing them come up, but nothing has really shaken me yet because I knew more about this movie than I realized.
Shout-out to Jack Nicholson: the scene after Jack finds Wendy reading the manuscript is some of the best creepy-movie, sinister acting I've seen, ever. There's no gore or jump scares or anything, yet it's the most harrowing moment of the whole thing.
Danny says redrum (AKA murder backwards) near that mirror. Good work, Stephen King's The Shining. I like your foreshadowing.
Mhmm, so everything from when Jack gets an ax through the end is edge-of-your-seat chilling. I love how the first maybe 2/3 of the movie are only slightly spooky, only to get full-scale terrifying at the end.
Did I or did I not see Mr. Grady doing it with a furry?? Why is this not a thing anyone has brought up when I've heard them talk about The Shining?
Dick Halloran, RIP, you were my favorite one of all these shit people.
When Wendy finds the ballroom full of spiderweb skeleton-people, I can't help it – I start grinning. It's not funny, I'm just so delighted by the Psycho/Miss Havisham-ness of it all. In this moment I understand how people who are braver than me get a kick out of horror movies.
I love frozen popsicle eyeroll Jack so much. More than I've loved Jack this whole movie.
The ending – where you see the photo of the ballroom from July 4th 1921 and Jack's there in an old-school tuxedo? That right there has to be the best ending of a horror movie I've ever seen.
I made it! That wasn't so bad, but I have a feeling horror movies where most of the scenes aren't a part of our cultural shorthand already will spook me out way more.