Last night, millions of Americans tuned for another edition of NBC's ______ Live! Last year, we flew with Allison Williams over London in Peter Pan Live! and the year before that, we named our favorite things with Carrie Underwood in The Sound of Music Live! This year, third time proved to be the charm with The Wiz Live! As expected, the telecast dominated social media with viewers' quips, but perhaps what wasn't expected was the sheer positivity across the board. We livetweeted it, but we still have a number of questions, comments and concerns about the show, so here's our post-mortem on the life-changing musical that was The Wiz Live!
Concern: The Wiz is my pop culture blind spot
Oops. Somehow I've never seen The Wiz. Not the MJ/Diana movie or anything from the OG musical. I've somehow managed to be in the Wizard of Oz musical, see the horrendous recent Wizard of Oz tour, and Wicked four times, but never The Wiz. This might be my downfall. – T
I've seen The Wiz, but the first thing I always remember about it is how someone we went to high school with was in an all-white production, which sounds like a joke but isn't. – M
Question: Is this a modern day musical?
Dorothy's dressed like she could be from 2015, but also it's nondescript enough that it could be a generic timeline. Either way, I'm kind of really into it, and her skirt? – T
Into it, too. Those skirts were popular when we were in high school (c. 2000 – 2004), but had moments in the 70s, 80s and 90s as well. I like the nod to the original light blue and red Dorothy color scheme. But then Auntie Em is dressed like Aunt Bea from Andy Griffith.  "Generic timeline" checks out. – M
Question: Is The Wiz a precursor to The Color Purple?
Pretty sure the cart Stephanie Mills leans against is the same one from The Color Purple. – T
Comment: Beyonce took part in this
The cyclone scene almost looks like it was lifted from a Beyonce tour production, or more specifically, the music video for Ghost. By the by, the choreography was done by Fatima Robinson, who has worked with some of the best musicians in the biz, including Michael Jackson, Pharrell, Aaliyah, and the Backstreet Boys, which is the only reason she's been a part of my life for so long. She did the choreo for iconic songs like Everybody and As Long As You Love Me, and when I hear her name it's like *Home*. – T
The cyclone reminded me of those trippy live-action children's shows from the 1970s, like H.R. Pufnstuf and The Wombles. – M
Question: This costume
If I dress up like one of these munchkins for Halloween next year, will I have missed the boat on the zeitgeist of it all? – T
And if I wore the glittery silver Mary Janes, the Scarecrow's fun bird blouse, and Dorothy's skirt in my daily life, would you still be friends with me? – M
Question: Omaha?
Was Dorothy always originally from Omaha, Nebraska?? – T
I THOUGHT IT WAS KANSAS. Was "we're not in Kansas anymore" just a reference to how Nebraska and Kansas are mostly samesies? – M
Concern: I *almost* forgot just how amazing Amber Riley is
OKAYYYY YOU BETTER SING AMBER RILEY!!! #FlashbackFriday – the time my friend and I were on our way to the Glee concert and were belting out Amber's part in one of the Glee songs in the car, and Amber rolled up next to us and I looked over, felt flushed with embarrassment and she gave a wave before driving off. Moral of the story, leave the belting to Amber. – T
RYAN MURPHY DOESN'T KNOW A TREASURE WHEN HE HOLDS IT IN HIS HANDS. – M
Comment: Life lesson number one:
"There is some nasty stuff betwixt here and there." – T
Comment: Looks like Lord Licorice's house
Pretty sure this set could double for a Candy Land musical. – T
Thing I'd be into: a Candy Land musical. – M
Comment: Life lesson number two + joke
"Sometimes the most dangerous things are also the most beautiful." "That's deep, cuz." – T
Concern: I might be a Shanice fangirl now
Shanice sings Soon as I Get Home, and I'm actually screaming. YASS SHANICE. A STAR IS LITERALLY BORN. WERK. IT. – T
If Shanice Williams isn't all over the Broadway stage or a movie screen or WHEREVER IT IS SHE WOULD LIKE TO BE MOST, there's no good in the world. – M
Concern: I already forgot who's playing the Scarecrow
That's how good this costume is. Oh JK it's Elijah Kelly. I've watched Hairspray enough to recognize that voice. – T
I hope Elijah Kelly has been living his best life, and I know he's worked consistently, but I'm still surprised he didn't get huge after Hairspray. – M
Comment: Apparently you CAN win
During You Can't Win, the crows are giving me so many jokes ("I'll catch you on the B-Side"). Also giving me life with this song. Did anyone else notice the stanky leg from the Scarecrow? – T
Comment: I have a bad memory
Ok I thought I didn't know any songs from The Wiz, but I forgot about Ease on Down the Road. But is the original arrangement as funky as this version? I love it. – T
I feel like you would also know Home, if only from televised singing competitions. – M
Concern: I'm crying again
And this time it's for this Barbie commercial. – T
Me too, we're messes. – M
Question: What's up with this magic oil?
Yo does this magic oil make everyone sing like Ne-Yo tho because I have some choice handsome men I could think of that could become 10 times hotter if they could sing some R&B. – T
Is this supposed to be very sexual or is there a problem with me? – M
Question: Why do we still not have a live audience for this?
Both The Sound of Music and Peter Pan before this were shot without a live audience, and it was awkward when it came to needing laughs for jokes and clapping after big numbers. If this was shot in front of a live audience, there definitely would've been a lot of cheers and applause for Ne-Yo's robot dance break. – T
Yeah, when you have to time the beats to laughter or applause that ISN'T THERE, it doesn't work. The whole reason they had fake laugh tracks in old shows is because audiences respond better when they hear other people responding. Give these stars an audience next time! – M
Question: Does the scarecrow's hair look like The Weeknd or nah?
Comment: That's a trusting lion
For someone who's cowardly, the Lion had an oddly easy time to ease on down the road with strangers. Also, David freaking Alan Grier. What a talent. Also the psychiatrist owl really made me chortle. – T
Comment: Nature's not for me.
These shenans are exactly why I don't go into enchanted forests with three strangers. – T
Everyone trusts everyone so much.  – M
Concern: I'm crying again
DIDN'T EXPECT TO BE CRYING THIS MUCH AT THE FREAKING WIZ. YOU BETTER SANG SHANICE AND DAG. – T
Question: What are these poppies trying to get at?
"I know just what they want and it's not gonna happen."… Is the Lion going to sex these sexy poppies???? – T
No but everything IS v sexual, right? – M
Comment: Ad targeting
I'm just gonna say it – a lot of these commercials are geared towards black viewers. From McDonalds to USPS, there's a number of them which prominently feature black actors. It's like when you're watching BET and the commercials are not quite the same as the ones you would see on say, Fox News. And it's great on one hand, as in a whole other demographic is being catered to, but like, also, just show the same commercials during an episode of Castle or The Big Bang Theory. That being said, The Wiz being playing on primetime network TV is so incredibly important, because like I've said many times before, representation is important. And this cast and crew is doing an outstanding job at it. – T
"the ones you would see on say, Fox News" – Traci, I love you forever. – M

Concern: I FORGOT COMMON WAS IN THIS
OK BUT COMMON. I WOULD GLADLY BE DENIED ENTRY TO A CLUB IF I HAD FACE TIME WITH HIM. – T
Question: But I do I get into this club frreal tho?
I am LIVING for this Wiz club! It feels like the set of J Lo's Waiting for Tonight video filled with dancers from the Sprockets SNL sketch with Mike Myers. ALSO, I can't stop watching this part where they circle around Dorothy & the squad, and they're vogueing and whacking while the ensemble says, "Live. Werk. Yass. Fierce. Slay. Serve. Fierce.  Twirl." "I don't know what none of that means," says the Tin Man. LOL. – T
The ensemble is everything! They sell it so hard. – M
Comment: Life lesson number three
"The door is just a door."
Question: Is this secretly a Spice Girls crossover?
We meet Queen Latifah as The Wiz, sporting a Brigitte Nielsen haircut. She also says the phrase, "Tell me what you want. What you really really want." Is that a Spice Girls ref or coincidence?? – T
Since we're sharing embarrassing celebrity encounters: at DeGaulle airport c. 2006, I thought my friend said "Queen Latifah just passed away!" I squealed "No, I LOVE Queen Latifah!" But, she said "Queen Latifah just passed by." Queen Latifah heard, and smiled like the Queen that she is, and was really nice and chit-chatted with a bunch of American college kids, she's royalty, the end. — M
Comment: Through the wire

I just realized Ne-Yo sounds like Kanye circa Through the Wire, because the tin is around his face. Still sounds 10 million percent better than I ever will. Also, I've never been so attracted to a chunk of metal before. – T
Question: Is a standing ovation a real standing ovation if you do it by yourself?
I legit just stood up and gave the cast a standing ovation after singing We Got It. I'm watching this alone in my living room. I tried looking up this song and I didn't realize Ne-Yo co-wrote this specifically for the telecast. Amazing. – T
Am I wrong that they included an original song for award nomination purposes? – M
Comment: Praise in the highest to Queen Mary J
Bitch comes on screen and I'm already all SLAY YASSS QUEEN. By the by, I feel like the words screamed out the most by viewers are "YASS" "SLAY" and "QUEEN" over and over again. – T
When Mary J. was on screen I found myself sitting with my chin propped in my hands and the glistening eyes of a child present at the Sermon on the Mount. – M
Comment: No Bad News = No More Drama
WHEN MARY J BLIGE IS SCREAMING AT YOU TO WORK, YOU WERK. – T
Question: Did we switch to another musical's set again?
I feel like the Brand New Day scene turned into Fela! all of a sudden. Either way, props to DAG for werking this choreo (including some Carlton and Soul Train action) in the ridic lion getup, and props to him for catching Elijah Kelly in his arms at the end. – T
Concern: Have I become an elderly person at age 29?
Queen in a robe is lit'rally me rollin up to the club. And the club is my bed. – T
Comment: The bench is deep
Legit every member of this cast, including the ensemble is fantastic! – T
Question: Can u not?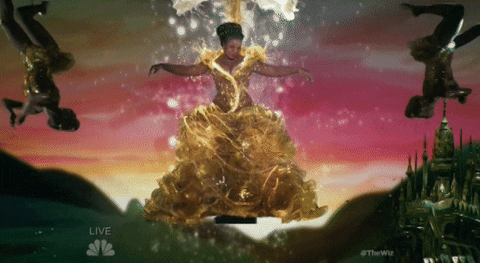 UZO ADUBA IS A LITERAL ANGEL FROM HEAVEN. – T
She is SO GOOD as Crazy Eyes that I feel like people don't even realize how beautiful and amazing she is IRL. – M
Question: Is this a Michael Jackson tribute?

Actually is Dorothy's jacket an homage to MJ??? – T
Speaking of which, it takes guts to take on a role most associated with MJ. Let's hear it for Elijah Kelly! – M
Concern: I am crying again
I JUST STOOD IN FRONT OF MY TV CRYING. SHANICE GIVING ME GOOSIES. GIVING ME LIFE. I get really emotional when I see people achieving their best, ya know. Shanice was picked out of obscurity (New Jersey) and because of her true talent – and NBC taking a risk on a non-celebrity – she's truly become the breakout artist of the year.  (Also watch this video of Shanice post-show. All the tears.)- T
Random final comments:
Overall, I loved this Live! version of The Wiz. The talent, the production value, the costumes (by Hamilton costume designer Paul Tazewell), a teleplay by Harvey Fierstein (I KNOW), the choreo (no but did you see that dabbing tho) – everything. But most importantly, I think something changed last night. Changed the landscape of what we expect and see on television and media in general. Like in the 1970s when this musical made its debut, the themes still have a prominent relevance in today's society. When kids who are watching this with their families at home can see themselves on the screen, it's progress. And that is the power of art. -T
Related articles