You may know him as that blonde boy bander, you may know him as Paris Hilton's ex-boyfriend, hell, you may even know him as Aaron Carter's older brother. But to me, he's Nick Carter of my beloved Backstreet Boys (new readers, I am a BSB fan, get over it). And tonight, he becomes a reality TV star.
Nick, the youngest of the BSB-ers and the last one to get married, is front and center of a show called I Heart Nick Carter, in which he and his then-fiancee Lauren Kitt let cameras into their world as they prepare to get married. As far as reality TV shows go, I have a pretty high tolerance for them. I used to exclusively write about reality TV for a living for about a year and a half, and trust, there are some pretty horrible shows out there. But then there are actual good ones that you can't stop watching, even though you know most of it is set up or edited perfectly (Wahlburgers, The entire Bachelor franchise).
After watching the first episode of I Heart Nick Carter, I'd say this show is somewhere in the middle, but closer to the quality of the Wahlbergers than say, that of Joe Millionaire (was that ref too old?) or I Wanna Marry Harry. That being said, I think if you've ever been a fan of the Backstreet Boys at some point in your life, you should watch this show. If you are a product of the 90s, you'll understand that celebrity was much different in the "TRL Era" than it is now. Kids these days can easily following their favorite Directioner or Bieber on Twitter, Instagram, Facebook, Snapchat, YouTube, etc., and see behind-the-scenes photos and personal videos or send a quick message to them in hopes of a reply. Before the internet and social media, seeing our favorite band in concert was the closest we'd ever get to them and if there was a MTV: True Life or Making the Video, it was a friggin jackpot.
While celebrities having their own reality series seems cliche these days, for 90s kids like me, it's surreal that we get an inside look into Nick Carter's life. Like you're telling me we get to see his HOUSE and it's not just on CRIBS?? This is next level shit, y'all. And, I can say that even as a fan, I learned a thing or two from the show, so maybe you will too. Here are some things to look out for on the premiere tonight:
There Are Fans Who Actually Hate Nick Carter's Fiancee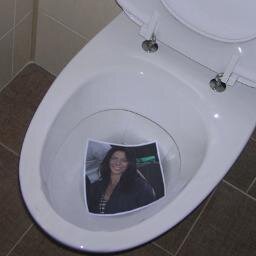 Even as a tween/teen, I was never the kind of girl who would be so mad to the point of pure hatred if one of the BSB boys had a girlfriend. I don't know, maybe it's because I was more of a sensible young adult, but I thought it was cute when they found love. Also, I'm not delusional. Apparently, there are still fans who have so much hatred towards Lauren Kitt (as seen in the photo that's floating in a toilet from the Twitter account 'F**k you Lauren Kitt/DumpLK'). Granted the accounts I found against Lauren haven't been touched in like 3 years, but still. Lauren says in the pilot that "girls yell obscenities at me", and I just am embarrassed if these girls who hate Lauren are over the age of 18. Look at your life. Look at your choices.
Lauren is an Independent Woman (Part I)
Lauren left home at 18 to live in Japan. Japan! AND she speaks fluent Japanese! And then she moved to Paris!! Seriously, she's living my dream life.
Don't Try Beating Lauren at Wrestling
There's a scene in the first episode where Lauren pushes Nick to set an actual date for the wedding, and threatens him by playfully wrestling with him on their bed. And she isn't kidding Around. Oh PS she's a bodybuilder. As in she's competed in competitions including the World Bodybuilding and Fitness Federation competition, whatever that is. Also, she was almost a WWE Diva. So I mean, those Twitter trolls probs shouldn't mess with her.
Lauren's BFF is A Girl Who Got Screwed Over by a Boy Bander…?
Lauren has a heart to heart with her best friend named Natalia, who, as Lauren says, she met when their boyfriends were on tour together years ago, and they became BFFs. But Natalia's unnamed boyfriend broke up with her after five years and it ended horribly. He even took all the money out of their joint account, and that's exactly what Lauren is afraid will happen to her. After some research, it seems as if Natalia is the ex-girlfriend of newly married (always shirtless) New Kids on the Block bad boy Donnie Wahlberg. He obvs kept it on the low for five years, but yikes!
Nick's Scared He Will Lose Fans If He Gets Married
Alright this seems like one of those fake storylines that reality show writers set up to create more drama. I mean at Nick's book signing (yes, he wrote a book) in Los Angeles, there are "fans" who tell him they don't want him to get married. One of them even says, "Maybe I'll move on to the One Direction guys", to which Nick responded, "I've had nightmares about this moment." Let's be real – I feel like half these "fans" aren't real. I have never seen these people in my life. And I've been around the LA BSB circuit (gross). Nick defends his theory since their first manager (probs stupid ass/jailbird Lou Peralman) told the boys they weren't allowed to have girlfriends in public because it will ruin their careers and won't sell any records. Keep in mind Nick was 12 when he joined BSB, so really, his career is the only thing he's ever known. Luckily, good old Sweet Howie D hits Nick with the real shit and basically tells him to get his act together and marry Lauren, or else she should be the one to leave him.
Nick's Management Team is Really Involved With His Life
Lauren and Nick tell his management team, which consists of a publicist, agent, and two managers, that they want to get married on March 1st. The team basically shuts it down (unconvincingly as actors, I must admit), and they all agree to move the big day to April 12th, which is probably the date Nick & Lauren picked out in the first place. The interesting thing here is that the team is talking about planning their wedding. Excuse, why is the business management team planning Nick and Lauren's wedding?
Catch I Heart Nick Carter Wednesdays at 10pm on VH1
Related articles