Hi pals! It's that time of year again – watching the Academy Awards and liveblogging it, despite the fact we haven't seen half the movies. Relive the memz with our liveblog!
---
12:08 AM
That's a wrap, everyone! Thanks for joining us, and please stop by tomorrow while we discuss our best and worst dressed picks! Promise we won't list Leo 10 times in a row for Best Dressed. Probably.
---
12:05 PM
Best Picture
The Big Short
Bridge of Spies
Brooklyn
Mad Max: Fury Road
The Martian
The Revenant
Room
Spotlight
Traci's Pick: The Revenant
Because Leo needs this.
Molly's Pick: The Revenant
I will go down with this ship.
Winner: Spotlight
M: Okay, that was my second-most-likely pick.
T: Same. except I haven't seen it.
M: Hmm. I.. well, I think I'm really happy that this is going to get a lot more focus on the abuse in the church. But strictly AS A MOVIE I wasn't blown away, if that makes sense?
M: Chris Rock invited everyone to the BET Awards. No, but what if everyone shows up? Little Jacob Tremblay. His hot parents. Those guys with the skull necklaces. Leo. His mom.
T: What's happening here the winners were forced to come out and literally get a golden shower
M: It reminds me of the end of the telethon episode of Full House. Ugh. I'm not even cultured enough to properly WATCH the Oscars.
T: It's a memorable episode, TBH.
M: As was this evening. IDK, just still very happy for Leo.
WAIT. They're playing Public Enemy's Fight The Power. AHAHAHAHA
---
12:05 AM
T: I'M SO NERVOUS I'M ABOUT TO VOMIT
M: I CAN'T THINK OF NORMAL THINGS TO SAY, just Titanic quotes.
T: WIN IT FOR KATE. WIN IT FOR MR. ANDREWS.
M: FOR CORA. LITTLE CORA.
T: FOR THAT SWEET OLD COUPLE WHO DIED IN THEIR BED.
M: AND THAT MOM READING THE STORY TO HER TWO CHILDREN.
T: AND THE STRING QUARTET THAT DIDN'T STOP PLAYING
M: THEY WENT DOWN WITH THAT SHIP AND SO WILL I.
Best Actor
Bryan Cranston, Trumbo
Matt Damon, The Martian
Leonardo DiCaprio, The Revenant
Michael Fassbender, Steve Jobs
Eddie Redmayne, The Danish Girl
Traci's Pick: Leonardo DiCaprio, The Revenant
I S2G IF LEO DOESN'T WIN.
Molly's Pick: Leonardo DiCaprio
I'LL NEVER LET GO.
Winner: LEONARDO DICAPRIO
T: KATE BUT WAIT KATE KATEEEEEEEEE
M: WHERE IS KATE.
T: HE SAID "CATON?" AND I THOUGHT HE SAID KATE
M: AHAHAHA ME TOO.
M: You know what else was about man's relationship with the natural world? Titanic.
M: Ahhh, there she is.
Seriously, very classy of the producers to let Leo talk without cutting him off. It's midnight EST, we're all about to turn into pumpkins anyway.
---
11:50 PM
M: Current state: "Now I have the steady hand" Rachel Green.
Best Actress
Cate Blanchett, Carol
Brie Larson, Room
Jennifer Lawrence, Joy
Charlotte Rampling, 45 Years
Saoirse Ronan, Brooklyn
Traci's Pick: Brie Larson, Room
The Academy could pull a surprise and pick faves Cate or Jennifer, but Brie's been slaying left and right. It's her year.
Molly's Pick: Brie Larson, Room
Let's make up for Jacob Tremblay's non-nomination.
Winner: Brie Larson
M: And there I go again (crying, naturally). Mostly because of how beautiful and honest her performance in Room was.
ALSO: 
She just seems like a peach.
T: Just think, Brie wins an Oscar AND Jacob Tremblay. She's also incredibly composed for just winning an oscar.
M: That's what I said about her in the preshow – that she always seems so calm! Someone get me the number of Brie Larson's yoga teacher or meditation…guy?
---
11:40 PM
M: I always feel like awards shows are the west coast's revenge, because they usually get the raw end of live tv.
Which is to say, I'm in New York and I'm tired.
T: God bless time zones.
Best Director
Adam McKay, The Big Short
George Miller, Mad Max: Fury Road
Alejandro G. Iñárritu, The Revenant
Lenny Abrahamson, Room
Tom McCarthy, Spotlight
Traci's Pick: Alejandro G. Iñárritu, The Revenant
Two-peat for Alejandro?? Probs.
Molly's Pick: Alejandro G. Iñárritu
Revenant was the best movie I've barely been able to watch.
Winner: Alejandro G. Iñárritu
M: Yay! I hope this means we hear a lot more Revenant for the rest of the awards (read: Best Actor).
T: To be clear, Kate and Leo are separated by one aisle and a Cate Blanchett. Just so we can get an idea of the floorplan for whatever happens next.
M: I've never more wanted to be Cate Blanchett. Or an aisle.
---
11:32 PM
M: Quincy Jones is one of the most powerful people in the entertainment industry but I look at him and think "wow. Rashida's dad."
T: same. SAME.
T: Is Pharrell's hair blonde???
M: Confirmed: Pharrell's hair is blonde. Somehow makes him look even MORE like an ageless vampire-person than usual.
Best Original Song
"Earned It," 50 Shades Of Grey
"Manta Ray," Racing Extinction
"Simple Song #3," Youth
"Til It Happens to You," The Hunting Ground
"Writing's on the Wall," Spectre
Traci's Pick: "Til It Happens to You," The Hunting Ground
We're in the middle of a Gagaissance, and she's has been campaigning for her first Oscar hard. One step closer to EGOT, Gaga.
Molly's Pick: "Til It Happens to You," The Hunting Ground
I don't know any of these songs.
Winner: "Writing's on the Wall," Spectre
M: Truth, this was a boring-ass song and I LOVE Sam Smith.
T: Awww I'm happy for Sam despite the fact I don't care too much for this song. *disclosure (no pun intended) we wrote that at the same time
M: 11:28 PM EST. But thanks for all your little sketches, Oscars.
Sacha Baron Cohen's bit fell flat right?
T: WHAT YEAR IS IT, ALI G???
T: Just realized how many exes Rachel McAdams is surrounded by tonight. Two, by my count?
M: Before you finished, I was about to reply "HOW MANY EXES," so thanks for anticipating that.
---
11:17 PM
T: Honestly, Jacob  Tremblay, I want to put you in my pocket and and bring you around with me all day.
M: "I loved you in Madagascar!" Jacob Tremblay, my son. (Just kidding, I'm sure Jacob Tremblay's hot parents love him very much.)
T: Speaking hot parents – or maybe not – this Irish dude is QT.
M: Agreed.
T: The academy: "We didn't nominate any black folks, so here are "International stars Sofia Vergara and this Korean actor I've never seen in my life' presenting Best Foreign Language Film. BOOM, DIVERSITY."
M: "I don't think you understand, here is an ENTIRE TROOP BEVERLY HILLS OF COLOR." – The Academy
M: Is this gonna be the year everyone realizes they love Joe Biden?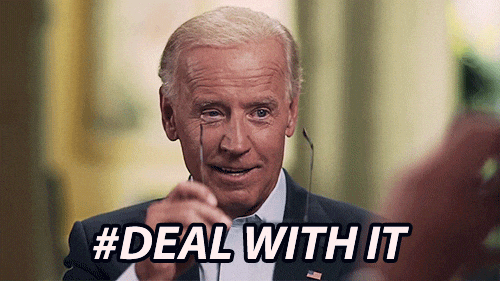 T: JOE BIDEN JUST SAID, "HEY MATT, HOW ARE YOU" AND POINTED AT MATT DAMON.
M: Man. I wish Joe Biden was running for President. Too late for Biden to be making a surprise Oscar night, pre-Super Tuesday announcement? No?
T: GOD that would be a GD dream.
M: Gaga is doing basically a fancy version of the song Paige won the talent show with on Degrassi. (IDK I've muted it but I'm almost positive.)
T: Really glad I didn't wear make-up today!
M: I'm not wearing any makeup; I also had to mute the TV and read the internet instead of watching that, so I really covered all bases.
---
11:00 PM
M: Didn't they used to do the honorary Oscar during the show? On one hand those always run like 20 minutes, on the other Gena Rowlands is one of the best actresses alive and I wouldn't have minded seeing her.
T: Did you see her during the pre-show? She was talking to Ryan Seacrest and he showed her a photo of The Notebook cast and someone had to remind her what she was looking at. Bless.
M: Like, apparently, Gena Rowlands herself, I forgot that she was in The Notebook.
---
10:46 PM
M: On one hand, I can usually take a joke at my expense. On the other, if I were a documentary short subject nominee, I probably wouldn't love Louis C.K. riffing on how poor and unimportant I am?
M: Sharmeen Obaid-Chinoy is winning her SECOND Oscar, so whatever, C.K. The Pakistani PM said he would change the law on honor killing after seeing this documentary, so I guess I'd drive a Civic if my movie was going to do something like that.
Best Documentary Feature
Amy
Cartel Land
The Look of Silence
What Happened, Miss Simone?
Winter on Fire: Ukraine's Fight for Freedom
Traci's Pick: Amy
I have yet to see What Happened, Miss Simone? but Amy was truly insightful and heartbreaking, and included a lot of footage I've never seen before. Plus I found out I'm like two degrees away from Amy Winehouse after watching this movie.
Molly's Pick: What Happened, Miss Simone?
I haven't seen this, but I feel like this and Amy have been the most buzz-y and I didn't think Amy was edited and cut all that well.
Also the way the nominee names go from shortest to longest is very visually pleasing.
Winner: Amy
M: There were 2 Amy Winehouse documentaries on Amazon and I'm starting to wonder if I watched the wrong (non-nominated) one?
M: What better way to highlight how white the Oscars are than to make fun of Asian children for being good at math?
---
10:33 PM
T: I am HERE for Kate and her glasses.
M: Sexual orientation: Straight + Kate Winslet In Glasses.
T: Whoa Kate Capshaw is serving with that bow tie and suit.
M: Also sexual orientation: Mark Ruffalo Winking. What? I usually hate winking.
M: Wow. I really don't like Chris Rock's man on the street segment. You're not Billy. (Note: I like that he turned it into an #OscarsSoWhite thing, but the segment itself is whatever)
T: This woman with the purple wig is going to be a viral hit in approx 5 minutes.
M: Real headline on the Daily Mail right now: "Olivia Munn shows off 12 pound weight loss." Do you really show off 12 pounds lost? Can people even tell? Because if I gain that, I go off the assumption that nobody can.
T: 12 you can totally tell, it's 11 pounds where it's unrecognizable.
M: That's why you're our Hollywood-based correspondent.
T: Also, real tweet from Stacey Dash:
M: Dionne. Shhh.
Best Supporting Actor
Christian Bale, The Big Short
Tom Hardy, The Revenant
Mark Ruffalo, Spotlight
Mark Rylance, Bridge of Spies
Sylvester Stallone, Creed
Traci's Pick: Sylvester Stallone, Creed
This is Sly's third nomination, after getting nominated for the first Rocky as Best Actor and Best Original Screenplay. He has the best chance at winning this category, since he's a Hollywood fave. For once, he's not an underdog.
Molly's Pick: Sylvester Stallone, Creed
Personally I'd vote for Tom Hardy, or maybe Mark Ruffalo, but there's a lot of buzz about Sly and a lot of times the Academy can't resist the sentimental pick.
Winner: Mark Rylance
T: Frreal. digging Sly's black and blue suit. But also, his face when he didn't win was v "ugh, you can't win 'em all." ALSO I'M GETTING NERVOUS FOR LEO.
M: Was not expecting this. Obviously. Also Mark Rylance was great and I didn't see Creed, so I'm not sure why I felt a little disappointed that Sly didn't win.
---
10:19 PM
M: Bonus Jacob Tremblay's Hot Parents sighting.
M: Are Chris Rock's adorable daughters really selling Girl Scout cookies? I would willingly be part of a dumb awards show bit if I got cookies at the end. Especially, but not limited to, Samoas.
T: Can these girl scouts deliver to a 30-year-old woman approx 3 miles away watching Minons present an award at the Academy Awards? kthx
T: Bear Story: The prequel to The Revenant
M: 2016: not a great Oscars for people of color, AWESOME for bear-actors.
T: I'm unexpectedly tearing up at the sight of Buzz and Woody. EFF YOU Toy Story 3.
M: Oh yeah. That movie screwed me up but good.
Best Animated Feature
Anomalisa
Boy and the World
Inside Out
Shaun the Sheep Movie
When Marnie Was There
Traci's Pick: Inside Out
Emotion if this clear favorite doesn't win: Lewis Black. Like all of Lewis Black as Anger.
Molly's Pick: Inside Out
Hi, still crying over this one.
Winner:  Inside Out
M: I didn't ACTUALLY expect to tear up the instant that was announced but I ACTUALLY am.
T: Inside Out, also screwed me up but good.
M: It's such a useful and important movie for kids, too. Like, for helping them identify their emotions – my little niece is going through a really tough time and when we were watching Inside Out for what felt like the 20th time, she said "actually, I'm sad but I'm still mostly made of joy." TEARS. Bless this movie.
T: Did they bleep out Kevin Hart for saying "damnit" or am I making that up?
M: I thought my TV just cut out but I feel like that's, in fact, what happened.
M: The Weeknd's performance is like Phantom Of The Opera + Cirque du Soleil + Fosse.
---
10:03 PM
M: OH WOW. Ex Machina, A movie other than Mad Max, just took one of the technical awards.
M: I hope this doesn't read as shade because it isn't: the inventions from the tech awards sound amazing. (BTW, my sister-in-law's uncle won one one year; it's on his mantle and fun at Christmas parties).
M: Favorite segment of the hour: Tina Fey's commercial.
---
9:54 PM
M: If I didn't already have a headache, I'd have one after that sound editing intro. Their tactic was, I guess, to include every sound that ever appeared in the nominated films.
T : Um give these dudes a reality show about sound and skull necklaces
M: Observation: the technical winners LOVE gothic and renaissance themed accessories.
Oh God. They're doing the thing again for the Sound Editing category. (Mad Max, naturally, wins).
---
9:45 PM
T: Oh boy I would not ever want to mess with Suge Knight, y'all.
T: Michael B. Jordan. what  GD DREAM MAN.
T: The way they're shooting this cinematography category feel like I'm on a ride at Universal Studios.
T: Man The Revenant's cinematography was so beautiful and breathtaking. I would've been so upset if it didn't win.  
M: Likewise. I actually thought to myself "wow, this is some gorgeous cinematography" while I was watching it. (Not a thought I always have during movies.)
M: Mad Max just won for editing. Definitely going to be the biggest winner of the night, unless The Revenant sweeps the big categories.
"Mad Mad was the best reviewed film of 2015. Audiences loved it." RUB IT IN, WHY DON'T YOU.
T: HOLY SHIT ARE THEY LAYING IN ON WILL SMITHohjk Jack Black.
T: "The Minons are on their way" FUCKING FINALLY, said absolutely no one.
M: In case anyone's looking  for some reading during the music segment, here's why nominee Anohni won't be there.
(I had a moment of "I don't know who that is," but I do and you probably do too: she was formerly known as Antony Hegarty, of Antony and the Johnsons).
---
9:32 PM
Best Costume Design
Carol
Cinderella
The Danish Girl
Mad Max: Fury Road
Traci's Pick: Mad Max: Fury Road
IDK, it's probably impressive to create costumes for a time period that hasn't happened yet.
Molly's Pick: Cinderella
The costume designer has won a few times before, and that blue dress is pretty legit. But I've also heard Carol is all about the costumes, so.
Winner: Mad Max: Fury Road
M: Like I said before, I got maybe 20 minutes into Mad Max and I just couldn't do it. The costumes were part of it. There was a man wearing a weird hat or a … crazy mask? …  I forget… making a proclamation on a mountaintop and I was like "I'm sorry, I tried. I cannot."
T: Of COURSE the Mad Max costume designer is wearing a bedazzled leather jacket.
T: So there's a big change this year with nominees given the opportunity to hand in a list of names of the people they want to thank but it didn't happen with that woman that just won?
M: The scroll I've been complaining about for a half hour doesn't even work. Sorry, Academy. You tried a new thing. Not as new as nominating people who aren't white, but newish.
T: Is a Tina/Steve Carell reunion a subconscious way for Hollywood to know they want a Date Night sequel?
M: I'd love for Tina Fey and Steve Carrell to become a popular buddy duo, a la Tina and Amy, and make dozens of movies together.
Mad Max just won for production design. The minutes I watched were mostly deserts and jalopies, but presumably that changes.
M: Makeup and hairstyling… we didn't do guessing but probably Mad Max again?
T: um Magic Mike XXL, not Magic Mike 2, jared leto. get it straight.
M: His strength was all in his hair, Traci.
Well. Mad Max just won again. It wasn't a bad movie, just a movie my ears and eyeballs couldn't put up with.
T: This portion of the show was sponsored by the Australian tourism board.
T: After introducing The Revenant as a Best Picture nominee, they shot to a bear clapping in the audience, and no one laughed. Alejandro was confused, Leo is still crying over Kate not winning, and that officially became the second fake bear joke that's failed this awards season.
---
9:16 PM
T: WAIT UPDATE POEHLER IS THERE AND SHE IS A BEAUTIFUL NOBLE LAND MERMAID
M: I know prerecorded comedy bits are what make the show run over – and what I retroactively hate about the show around 11:15 PM – but I'm just so thrilled to see Leslie Jones. I also love that despite nominating only white actors, the Oscars has ended up with the largest non-white presence in the show probably ever.
M: NEVER MIND. STACY DASH.
T: That joke…. did not land…. at all. We are all The Weeknd.
M: 9:03 PM. 2 minutes of Sarah Silverman doing a James Bond bit (Sarah, I love you but I'm going somewhere with this). 11:03 PM: The actual winners of the biggest awards in film being ushered off the stage after 30 seconds.
It feels like every year there's a song from James Bond, and (1) I didn't know a James Bond movie came out, (2) the song is boring as hell. This year is no different.
M: For those of you only really following the main categories, Best Supporting Actress should be up next, then like 10 awards you won't care about.
T: "My favorite song is Father Figure" ugh come on. Enough. We get it Sam Smith and George Michael are both gay and British.
M: Getting super nervous about this category. #ShipWatch2016, get your looking glass and binoculars ready.
Confession: I saw Spotlight last week when I was REALLY sick and I dozed off for about, I'd say 4-7 minutes. Which included the scene they just showed for Rachel McAdams, apparently.
Best Supporting Actress
Jennifer Jason Leigh, The Hateful Eight
Rooney Mara, Carol
Rachel McAdams, Spotlight
Alicia Vikander, The Danish Girl
Kate Winslet, Steve Jobs
Traci's Pick: Kate Winslet, Steve Jobs
I haven't seen Steve Jobs (and neither have a lot of people, I guess), but Kate Winslet is always great in what she does. Alicia Vikander was transcendent in The Danish Girl, but I low key also want Kate to win so she takes pix with her new gold statue and *fellow winner* Leo.
Molly's Pick: Kate Winslet, Steve Jobs
Word on the street is the race is between Kate Winslet and Alicia Vikander. On one hand I'm tempted to go with Alicia because the Academy loves giving Best Supporting Actress to unknown young actresses, on the other hand, they called it the ship of dreams. And it was. It really was.
Winner: Alicia Vikander, The Danish Girl
M: I don't like the thank-you scroll.
T: I saw The Danish Girl last week (not sick) and Alicia was really good. Did anyone see Steve Jobs? No? Ok, Kate still deserves it but whatever.
M: Based on our comments above, I think we knew it would be Alicia. I still say she's a princess (specifically: Belle).
Maybe this is just because I majored in foreign languages, but I think it's so fascinating how people's accents differ depending on where they learned English: like how Alicia sounds like a mix of English with a tiny bit of Swedish, and completely different from the Swedish-Americans I know – yet you can hear the common Swedish accent underneath either the American or English accent.
---
8:55 PM
M: Well. It's about time, Academy of Motion Picture Arts and Sciences.
(expect all the Titanic gifs)
T: This looks like the beginning of Mr. Magorium's Wonder Emporium (I've never seen it).
M: I saw it in the theatre, despite reading a review entitled 'Mr Magorium's Wonder Emporium Is Really, Really Bad' (that's true).
Not to get too Titanic (oh, who am I kidding), but there's a majestic, booming chorus sounds like when Titanic set sail from Southampton. There's a deep cut for those of you who owned both the Titanic soundtrack AND the Back To Titanic Soundtrack (so, other girls who were born in 1986)
T: AKA the both of us
T: I'm glad they were able to sneak Magic Mike XXL in that (necessary) montage
T: *take a shot for #OscarsSoWhite ref*
M: Chris Rock always sparks the same reaction from me as kids on the Disney Channel: yes, you're very talented, but would you PLEASE stop yelling?
T: i just had a flashback to chris rock hosting the '99 VMAs. *what a time to be alive*
M: Ah, yes. I remember that from the VHS tape I made where I edited out the commercials. Cool kid here.
T: "EveryBODY GOT MAD!" We are witnessing peak Chris Rock right now.
M: Chris Rock: not fair that Will Smith didn't get nominated, also not fair Will Smith "made $20,000 for Wild Wild West." The truth of which makes Alicia Vikander look like she may cry.
T: *take a shot for Wanda Sykes ref*
M: "Hollywood is sorority racist. 'We like you, Rhonda, but you're not a Kappa.'"
T: A show where it's only reaction shots from white people after a black comedian/enne makes a race joke
T: The #AskHerMore joke made me uncomfy for like the first 20 seconds, TBH
M: ME TOO, I was getting really nervous about where he was going to take it.
Where are all the seat fillers? I counted like 10 empty seats in the front center section.
T: Wait.. "Charice" Theron? Did Chris have an Adele Dazeem moment?
M People tend to get her confused with Charice, the teen singer who used to be on Oprah a lot.
T: "Charice Pempengco among most influencial singers in Asia"
M: When did that happen?! I missed some things.
T: BTW Emily Blunt is the most beautiful with that baby bump. Where is JKras tho?!
M: I hope he's here! Traci, if I ever  have kids, I'll pay you $5 to never say baby bump.
T: Give me it now and I'll promise to never say it to anyone again.
M: Is this a friendship or a series of small bets and tiny transactions? Anyone's guess.
Best Original Screenplay
Bridge of Spies
Ex Machina
Inside Out
Spotlight
Straight Outta Compton
Traci's Pick: Inside Out/Spotlight
I feel like Inside Out is the most original in the truest sense of the word, but Spotlight might take it since it's more Oscar-y that Inside Out.
Molly's Pick: Spotlight
Inside Out was more innovative, but would they give best screenplay to a cartoon – even a really great one?
Winner: Spotlight
M: I know Spotlight is an "important movie" and everything but I'll say it: I was really hoping for Inside Out.
M: With Best Adapted Screenplay, we get to the first overwrought banter of the night.
T: Ryan Gosling, Canadian treasure – please go hang out with Rachel McAdams and make everyone pass out. Titanic and The Notebook is too much for millennials.
M: #BirdWatch2016
Best Adapted Screenplay
The Big Short
Brooklyn
Carol
The Martian
Room
Traci's Pick: The Martian
Because who doesn't love a good, heart-warming comedy??
Molly's Pick: Room
It's not easy to adapt a first-person novel to a screenplay without relying too much on voiceovers, moreso when the narrator is 5 years old. I read the books & saw the movies for both Brooklyn and Room and both were great. I guess I just want a win for Ireland either way.
Winner: The Big Short
M: Okay, that screenplay was really good. WAIT. Why are they scrolling thanks along the bottom of the screen?! Is this going to happen all night?
T: The director of Anchorman: The Legend of Ron Burgundy just won an Oscar.
---
8:26 PM
M: Mark Ruffalo uses his interview screen time to talk about basically every hot-button issue there is (OK, maybe just child abuse and #OscarsSoWhite). 
T: Where's Bow Wow to accidentally throw to the live show 3 times?
M: Oh god. The show doesn't even START for another 4 minutes. I feel like I've been watching this forever.
---
8:15 PM
T: V IMPORTANT Q: IS KATE LEO'S DATE? I KNOW HE SAID HE BROUGHT HIS PARENTS BUT WHY ARE THEY POSING FOR PIX ON THE CARPET TOGETHER BESIDES TRYING TO KILL ALL OF US SIMULTANEOUSLY
M: Who else would she be with, her husband Mr. ROCKNROLL?
(Why yes, I am still mad that Kate's married to, not just not-Leo, but specifically someone named Ned Rocknroll)
T: Are you kidding me? We're reporting on the fact that Chris Rock is using a RAINBOW PEN to make notes on his script?
M: Once people start filing inside, it's like Christmas after you've opened presents. Fun's over.
---
8:07 PM
M: First of all, Lady Gaga seems very sweet, right? Second, I feel like if you're not into Lady Gaga, people who love her think that means you hate Lady Gaga. But sometimes you're just not into her.
This is me saying I'm not into Lady Gaga, however I think she's very talented and seems genuinely like a good person.
Oh, Naomi Watts. Sequins everywhere. Actually, kind of a lot of sequins this year overall? Which I love. There are so few places where you can wear sequins.
Thank the universe I'm not in a line of work where anyone will ever say that I "debuted my baby bump." There are like 3 gross things right there.
Hang on. Jacob Tremblay posted a selfie of him and his improbably hot parents on the way to the ceremony. Cutest ever.
T: I'M ALREADY CRYING FOR LEO. WHATEVER HAPPENS, WE'RE ALL #TEAMLEO
M: I came up from changing over some laundry and LEO WAS ON SCREEN. I'm never washing my clothes again.
T: HAHAHAHAHAHAHA GOODBYE #SHIPWATCH2016
The dream of the '90s is alive. #Oscars https://t.co/dIQ0KZQ8m4—
Vulture (@vulture) February 29, 2016
MY HEART WILL GO ON https://t.co/KMkujCqOE6—
(@BuzzFeed) February 29, 2016
M: You know what, Robin? Don't use this as a time to plug the "dream in gold" slogan. This is Leo's time.
We should say: our #ShipWatch2016 is, in full, the Frederick Fleet Memorial Ship Watch 2016, in honor of the Titanic's watchman, because all of our cultural references are somewhere between 20 and 104 years old.
---
7:50 PM
T: Um has E! stopped interviewing people on the red carpet? I CANNOT MISS KATE AND/OR LEO. #SHIPWATCH2016 (note: I have to watch E! for work ughhhh)
M: On ABC, where they're allowed to interview people, they're speaking to Julianne Moore. She calls Carol a beautiful movie and for a second I think "wait, wasn't she in that?" Cate Blanchett, everyone. They don't even look alike.
T: UGH seriously, I haven't even seen a glimpse of Julianne Moore! This is an outrage.
M: She looks great! Her gown is black with a sequin-trimmed bodice and a sort of diaphonous skirt.
M: TINA FEY IS HERE?!  She says she "literally started clapping" when she saw Charlize Theron, which incidentally was my reaction to seeing Tina Fey.  She's wearing purple and a necklace with lots of hearts of the ocean. Okay, or blue stones. We're in Titanic mode tonight.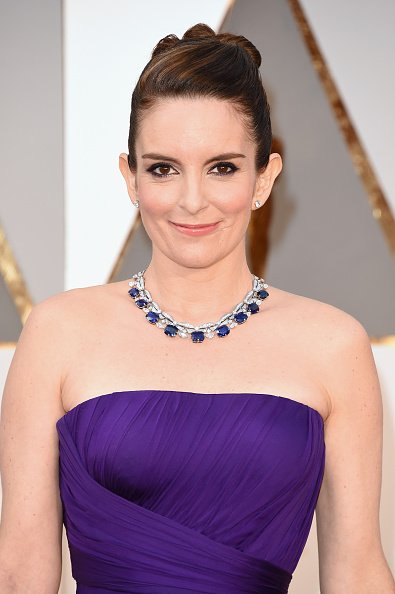 T: I HAD TO SWITCH OVER BC I SAW ON TWITTER TINA IS HERE. IS AMY HERE TOO BECAUSE INSIDE OUT?!
M: DON'T START, BITCH.
(What if she is?!)
Cate Blanchett is in a mint/aqua gown with feathery floral accents. She's another hit/miss for me but she looks like a dream.
---
7:40 PM
M: Kerry Washington on the red carpet… first of all, she's so gorgeous she can take any fashion risk she wants. Which is me saying that the constructed leather bodice on her gown isn't my fav.  But even if I don't always love what Kerry wears, I always like what she has to say. She says she respects the people who have chosen to boycott the Oscars, but feels like she's most useful when her voice is at the table.
Aside: Red carpet interviews are where you really see which actors are 'thinkers' and/or went to school before beginning their work.
Matt Damon: "It wasn't The Revenant". Just setting our expectations for how his night's gonna go really early.
Jimmy Kimmel and the host riff about Matt Damon. Feels like 2008 all over again. Jimmy: "Ben Affleck, who used to date Matt Damon back in the old days…". (His post-Oscar special airs after your local news.)
---
7:30 PM
M: An Academy rep on diversity, stealing lines from me after a bad grade in 10th grade math: I'll try harder; this won't happen next time, etc.
An early congrats to Eddie Redmayne! Because his new niece was born a few hours ago. So really, either way he's a winner (which is good, because he's in a tough category, and also because he would make an ADORABLE uncle. I can just see it!).
---
7:22 PM
M:  Brie Larson always seems so calm! She's wearing royal blue and my first thought was that I could see her winning in that gown. There's been a lot of champaigne and off-white lately and a real COLOR makes more of a statement.
Rooney Mara tends to seem bored, and I don't think she is, I think she just doesn't have a very excitable demeanor. She usually tends a bit more avant garde on the red carpet but I'm just not excited about this look. I mean she looks gorgeous, but that goes without saying. 
Would it be weird to put Jacob Tremblay on our best dressed list?
---
7:12 PM
M: Hi Everyone! I'm watching the ABC preshow (and as someone without cable, I'm just thrilled that there IS a preshow for me to watch).
Let me start off by saying that I've seen all, or almost all, of the nominees. I only made it about 20 minutes into Mad Max. I'm sure it's great – it's nominated and all – but not for me.
Alicia Vikander: I can't be sure if her Louis Vuitton  is going to go over well – it has that short-long, or "mullet" (ew) thing and is sort of a lighter canary yellow. I love it though. She's an absolute princess.
Olivia Wilde's gown is gauzy and white with crisp pleats and a lot of skin. She's a presenter. That's the time you can wear something like this:
Saoirse Ronan is wearing an emerald green sequined gown, with one white and one green earring. The green feels like a call back to her first Oscar nomination. Will the earrings be a hit? She's young and I think it's fun. Plus she probably has dozens of other Oscars to look serious.
Saoirse confirms that she wanted to wear green all along. Calvin Klein designed her gown.
Related articles