Well, it's the final installment of our month-long TGIF series is here, and we can no longer thank god it's Friday after this. JK. What we can do is enjoy the presence of these shows back in our lives, fully embracing nostalgia and the way we were in the 90s.
And what better way to end it than with Teen Angel, a show that proves that even if you leave everything behind, you can still come home again (is that reach a bit too much? bear with me anyways).
Season 1, Episode 1: Pilot/Marty Buys the Farm
Original Air Date: 09/26/1997
Pilot Plot: Marty passes on after eating a 6 month old burger under Steve's bed. Steve goes into a deep depression, since not only is his best friend gone, but his father has recently left, and he's picked on constantly at school. His mother, sister, and aunt attempt to help, but God's cousin, Rod, sends Steve Marty as his guardian angel, or "Teen Angel", as Marty dubs himself. Marty helps Steve conquer his fear of talking to girls, failing tests, and being unpopular.
T: This show only lasted one season, but I remember I was in it for the long haul.
M: I feel like I had a minor-league crush on Marty?
T: This room looks eerily similar to Cory's room at the beginning of Boy Meets World. And they're even playing "baseball".
M: This was the requisite Teen Boy Bedroom In The Mid-Late 90s. See also: Dawson Leary.
T: Marty, the kid who's about to die, finds the eight-month-old hamburger underneath Steve's bed, and proves why boys are dumb. He immediately dares Steve to eat it. Not only that, but the reason he found the burg in the first place is because he was too lazy to go down to the kitchen and get real food. You can only really blame yourself here, Marty.
M: All those youths who think the 90s were really cool? Watch this show. Read this episode description. They were NOT.
T: "Alright, I will (eat the burger). It's not like it's going to kill me." Literal famous last words.
T: Larry Wilmore, the writer on such shows as Bernie Mac, Sister, Sister, The PJs, and The Nightly Show with Larry Wilmore, was a consulting producer on the show, because we all have that one thing on our resume.  Unless you're the character actress who plays Angela the angel taking Marty up the elevator to heaven, in which case you're entire resume is made up of Teen Angels (see: Full House, The Simpsons, Alf, Teen Witch).
M: "So which one of you angels is Farrah?" Yeah, this was not a current ref in 1997, either.
T: Marty's in the court of eternal judgement and told he has a good soul but could never stay our of trouble. He's only being considered for heaven because he's a kid. He then is sent on a mission to be Steve's guardian angel through this difficult period (puberty). This process seems questionable. Also, this news is being given by this head:
M: I'm going to say being assigned to a suburban white teen boy to help him get through his trying life sounds a lot like the opposite of heaven.
T: He cracked a joke about making a mistake with "the Chevy Chase show" and believe it or not, the joke doesn't hold up.
M: This is like a really really terrible version of The Good Place.
T: Maureen McCormick is the mom!!!!
M: I remember  Brady Bunch nostalgia being huge in the 90s and it seemed like the original series was so long ago. Reality check: Maureen McCormick as the mom in 1997 is like, well, Ben Savage as the dad in 2017.
T: Apparently a lot of rock stars are in hell.
M: I swear kid sister Katie was the little girl in every TV movie in the mid-90s.
T: As angel, Marty can walk through walls, but "not thick walls, but certainly through any apartment building built after 1957." That joke holds up.
M: Yeah, that was nice.
T: THE HEAD IS GOD'S COUSIN ROD. HE GOT THE JOB "ON HIS OWN MERITS". THIS IS COMEDY.
M: OK fine, this show is not really really terrible.
T: Marty comes out of the closet and offers to let Steve touch his new wings, which Steve responds, "a guy doesn't touch another guy's wings". Besides from the obvious, that is not a phrase anyone says.
M: Marty looks like a BSB/N*Sync video concept.
T: Marty's parents sued  the burger company and won $11 million. How.
T: FYI: http://www.angel.marty.cooldude.com does not work.
M: But I DID find a Geocities page for Teen Angel still in operation! Ready to time-travel into the internet of yesteryear? Here.
T: If Rod thinks Marty could never stay out of trouble, why did he send him down to act as Steve's guardian angel? It seems counter-productive, unless he had faith Marty would change. But as seen in the shenanigans in history class and called their teacher a wiener (thus giving the entire class a test on the Monroe Doctrine), Marty has yet to learn his lesson.
M: He has no special powers except for invisibility, saving a houseplant, and walking through some walls. Honestly he just seems like a liability.
T: Steve's little sister gets trapped in a jungle net and Maureen McCormick runs over to help. But Steve's all like, I'll help by tHROWING THIS NERF FOOTBALL AT IT BC WE WANT TO SET UP MAUREEN TO LIT'RALLY SAY OW MY NOSE: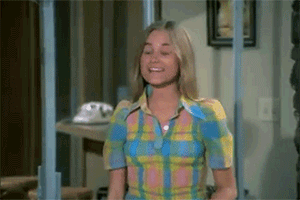 M: There was also another gag that was a setup for the phrase "you've been touched by an angel." Oof.
Marty:  Isn't this the one where everybody gets a second chance?

God: That's the Arkansas Bar Exam.
M: I'm a lawyer and for the record that joke makes no sense.
T: Marty called up the ghost of James Monroe to scare Mr. Nitzke out of giving the kids an exam. There's a learning curve with this guardian angel thing, I'm assuming?
M: Couldn't he just, like… steal the exams?
T: Fun fact: The guy who plays Kyle, who calls Steve "Boat Chimp" & "Blow Chunks" is Aaron Lohr, a Mighty Ducks alum who grew up to become Idina Menzel's husband.
M: I had NO IDEA. All right. Not only do they use "smooth move, ex-lax" as a joke, they use it twice. It's not even a joke, it's just sort of a stock phrase.
T: I liked it overall, but have some questions as an adult. However, my main takeaway is that the guy who plays Marty is like a mix of Zach Braff and overactor Seann William Scott.
M: I didn't love it or necessarily like it, but for family TV in 1997 it was fine.
Related articles