It's December, and our choice aesthetic is the 1994 adaptation of Little Women: earth tones, plaid dresses, candlelight, roaring fires, Winona Ryder's bob, Meg upstaging Queen B Sallie Moffat in the blue afternoon dress, surprise pianos and a lot of quilts. The production design of Gillian Armstrong's 90s masterpiece was cozy, lived-in and totally real: you could actually see the March family staging plays in that attic, gathering around that rustic table, or having a singalong at Beth's piano. There's also a lot of winter – hence our December pick – and it's depicted so beautifully that it will make you appreciate the season.
This post is also known by its alternate title, I Have A Real Christmas Tree And An Old House And Now I Think I'm A March Sister.
Orchard House's Foyer
The moment the sisters call out "Marmee's home!" and you see the muted stenciled floors, sidelights and printed wallpaper, you feel like you're home, too.
Full disclosure: my parents live in an 1830s farmhouse that's almost identical to Orchard House, so maybe that's because it literally looks like my home.
As per usual, we're going to point you over to Hooked On Houses – if Little Women is your aesthetic, you need to check out their Orchard House post.
The March Living Room
These shades of olive green! The built-in bookshelves! The brick fireplace! It's so beautiful. It's also a great reminder that, while the current iteration of "farmhouse" style is all whites and grays and spartan decor, there's another path to the same cozy feeling.
Everyone's Hair
Real-life adult womens' hair in the 1860s didn't really mesh with our current trends. Think center partings, snoods and clumps of sausage curls at the sides. Fortunately for us, the March girls are in their teens so their hair is long and loose – it was even kind of a 'thing' in the book that Jo didn't want to start wearing her hair up like a, um, big woman.
Jo even looked sassy in her cropped 'do, and calling Winona Ryder's hair her "one beauty" is an evergreen laugh line (I'm sure if she time traveled to the 1860s, they'd have gotten a kick out of it then, too).
Everyone's Winter Clothes
It can be hard to look cute and feel comfy in dresses during those cold winter months, but it's not as though girls in the 19th century had another option. The Marches cope with the cold in lots of layers and tons of warm earthy tones — it was 1994, after all.
Some favorites are Jo's  red ball gown (plus the choker on the black satin cord!)
Meg's hunter green coat with the big buttons (and Jo's no slouch in the outerwear department – I think garnet's her signature color)
Amy's plaid dress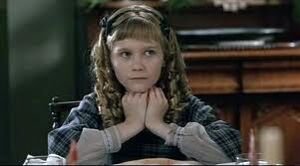 I always especially loved Amy's old-fashioned knitted ear warmer and vest (Meg had a matching one – sweet touch!).
Oh! And Jo's fitted gray dress!
If you find historical costumes interesting too, I suggest the Frock Flicks podcast episode on Little Women.
The Dining Room
The dining room is a little less cluttered than the rest of the house, but the simple table and chairs and calming colors would easily fit in a Magnolia spread.
The Garrett
The Marches cosplay as the Pickwick Society in their sweet attic hideaway, and as always, something about setting up a space in an attic is so much more comfy, mysterious and cool than the same exact setup in a regular room of the house. It's all in the eaves and sloped ceilings. You can just see how the girls have adapted and added to this space over the years.
Bedroom Fireplaces When Manuscripts Aren't Burning In Them
That was not okay, Amy.
[I wrote this piece about Amy March being a total B, and it was 80% in jest, but I haven't forgotten about the manuscript.]
The Girls' Bedroom
I love the red ticked curtains, wallpaper and green wainscoting. I always wish I could get a closer look at that wall-o'-trim. I have so many questions.
Snow On Snow On Snow
In real life, snow is an inconvenience that turns your commute into a risky obstacle course, but on screen – when I don't have to shovel it – snow is serene and beautiful. The first 40 minutes or so of the movie are snow-covered and it totally works to get you into a winter mode, especially if you want to watch something that isn't entirely focused on Christmas.
Meg's Afternoon Dress
Sallie Moffat can go fly a kite. Meg's chill, forget-me-not blue gown looks way prettier than child labor silk and we all know it.
The Opera Sets
Weird or not weird: I wouldn't mind if my house looked like this opera set.
The Boarding House
Jo March was the original free-spirited girl who starts over in New York City after a major heartbreak in order to "find herself."
If you weren't super-poor in the 1870s, this was probably the second-most Bohemian place you could live.
Europe
… Europe being the first. While I feel awful for Jo when Amy gets her Eurotrip with Aunt March, at least Amy makes the very most of her adventure. It's like the 1800s version of when you went on your study abroad semester and came back a different person (in your own head, anyway). It's so fun seeing Amy level up in her clothing, like that kicky straw boater hat, boho linen smock, and high-1870s-style fitted jacket.
The trunk of memories
When Jo opens that trunk of memories that spurns her to write Little Women, I always regret my Konmari-Lite tendancies and wish I had kept tangible objects from my teen years.
That Soundtrack
The soundtrack is poignant, spirited and heartbreaking right when it needs to be. I hear like 2 measures and I'm sad about Beth all over again.
Related articles