Merry December! This month's pop culture blind spot challenge: finding classic or otherwise beloved holiday films that we haven't seen. It's a tough one for me – I was raised on oldies like White Christmas, It's A Wonderful Life and Miracle on 34th Street, and kept up with the major developments of the '80s, '90s and 2000s like the other Miracle on 34th Street,  Christmas Vacation and Elf. That's why my blind spot pick today hearkens all the way back to 1945: Christmas in Connecticut.
Short Description:  A food writer who has lied about being the perfect housewife must try to cover her deception when her boss and a returning war hero invite themselves to her home for a traditional family Christmas.
Not only does this sound like a really fun premise, it reads 100% like a rom-com they'd still make today. The difference is that in 1945 talkies weren't even 20 years old. It would be a rom-com cliche today, but in the '40s it was a rom-com groundbreaker.
We open on a submarine shooting torpedoing a ship. So this is like, definitely a World War II movie.
Two sailors from the ship have been adrift in a lifeboat for 15 days. One – Jefferson Jones, played by Dennis Morgan, who had an extensive career playing a lot of military guys – imagines himself in a light blazer dining at a bistro table and he looks like a handsome hipster of today. After getting rescued he convalesces in a military hospital and becomes obsessed with magazine food columns. See also, the
Minnesota Starvation Experiment
.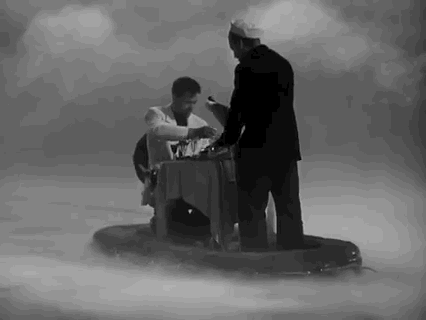 Alexander Yardley is a human Bustopher Jones, and he's Elizabeth Lane (Barbara Stanwyck)'s publisher. She's a food writer but PSYCH she does not know how to cook. This is such a good rom-com job! So good, in fact, that I start googling which other rom-com involves an advice columnist who's winging it. I swear I've seen this somewhere else?
Anyway, Yardley wants Elizabeth to host Jefferson Jones for dinner because he's a war hero and her number one fan. You will recall that Elizabeth knows jack about cooking. I can't wait for the wacky misunderstandings! Also in the course of writing about cooking wouldn't you learn how to cook? Wouldn't it be easier, writing-wise, to just learn how to cook? Or are all of her recipes made-up craziness that magically turns out OK?
Elizabeth also has a pretend husband and child! This is a blast! And her drapey blouse and high-waisted Katharine Hepburn pants outfit is completely on point.
If they remade this in 2017 you know they'd make Elizabeth a food blogger and it would not be as good. Maybe a HGTV-style personality.
Elizabeth's first excuse to get out of falling in love with Jeff being a hostess is that her fake baby has whooping cough. #VaccinateYourKids
So Elizabeth has this friend John who always proposes to her. Like, it's a habit. And they're not even dating or anything, he just proposes marriage regularly and Elizabeth expresses zero interest in him.  Here's how this convo plays out:
His point: You need someone to look after you. [Note: it's 1945 -M]
Her counterpoint: I don't love you.
Elizabeth demurs that it "gets harder and harder to find an excuse to say no." John counters "well you can't blame it on your career this time because you haven't got one."
1. SICK BURN, JOHN.
2. This is why nobody accepts your proposals, John.
Elizabeth accepts the proposal, but only because she needs a husband and a farm in Connecticut, like, yesterday. Elizabeth's editor Dudley also needs Elizabeth to procure a fake baby (a real baby that's not hers, technically), because they've already bought his kids' Christmas presents so he needs this to go off well. If you're keeping track, so far Elizabeth is a liar who's otherwise okay, and Dudley and John are The Pits.
Elizabeth brings her chef friend, Felix, along to cook. That's where she's been getting her recipes, by the way. He's German. I ship him and John's Irish maid Nora. German and Irish? That was an OK marriage in the '40s, right? I lose track of who used to be weird about each other.
Barbara Stanwyck's waist is tiiiny. Or is it the shoulder pads?
Elizabeth coos "oh, John! Where did you get it?" about a neighbor baby he borrowed them, as though it's a nice table runner or a new coffee table.
Felix puts paprika into Irish stew, which turns it into goulash. B- ethnic humor.
Know what you never see anymore? Tinsel.
Jeff brings Elizabeth a rocking chair because she wrote in her column that she could never find a good one.
HA! Elizabeth tries to answer Jeff's questions about the baby and she is clearly a stranger both to him and to all babies. Fortunately Jeff is a good uncle and has met babies before. He gives "Robert" a bath and JUST KIDDING, turns out the baby is now Roberta.
[I will say that I have a lot of nieces and nephews and I'm always surprised when adults who can't deal when they have to feed, change, bathe and generally deal with babies. They're just little humans who need their necks supported, is all.]
Elizabeth and Jeff have an old-fashioned piano party while she trims the tree. He plays the piano and sings. Girl. Marry him.
John pervs about where he and Elizabeth are going to sleep tonight because it's supposed to be his wedding night. Except they didn't get married, so Elizabeth will stay in the guest room, thanks. He pouts and stomps off saying that he won't sleep a wink. Wow, rom-coms in the '40s really ramp up the bad qualities in the guy who's purpose is to get dumped, don't they? In the 2010s he'd just be too into his work or fantasy football.
A different neighbor drops off a different baby than yesterday, because they assume the new lady in the big house just takes other people's kids for the day
Elizabeth and All Her Guys* go to a barn dance. But in a dance hall. So just a dance I guess.
*All Her Guys = Yardley, John, Editor – was it Dudley?, Jeff and probably Felix.
Elizabeth and Jeff joyride in a sleigh, and I'm sorry but you only do that with somebody that you mean to fall in love with.
I was really hoping they'd bust out the Comedy Rule of Threes with people dropping off random babies at the house, but no such luck.
Elizabeth and Jeff got arrested – just a misunderstanding! – and the borrowed baby got reported as kidnapped after its mom collected it – also just a misunderstanding! We have angled the Tangled Web stage of the rom-com.
Elizabeth spills the beans about her… all of it. Everyone's furious except for Jeff, a good person. In this pre-internet age, as long as none of these people say anything about Elizabeth's true identity, nobody would find out, right? Felix pulls a fast one and tells Elizabeth's publisher that she has another offer, and suddenly they want to keep her after all.
By the way, Jeff had been engaged to his nurse. Fortunately she married his shipmate so he's all set to mack it with Lizzie. People really were willy-nilly about their engagements in the post-war era, huh?
"What a Christmas!", Felix giggles.
What a Christmas, everyone.