On January 11th, one of America's founding fathers, Alexander Hamilton, celebrated what would've been his 259th or 261st birthday – no one actually knows the exact year of his birth. On January 16th, Lin-Manuel Miranda, the Puerto Rican-American writer/composer/lyricist/actor/rapper/gaming enthusiast/dad/husband all-around "genius" will be celebrating his 36th birthday – we're relying on Wikipedia for this fact. And today, we celebrate Lin's life a day early, honoring a man who is leading his own revolution in New York as the creator and star of Hamilton.
Since Hamilton debuted at The Public Theater in New York last February, the show has earned rave review after rave review, and garnered a huge fanbase that includes theatre nerds to hip-hop stars to the young and the old to the AOL users to the #HamiltonTrash on Tumblr. The show that started in Lin's brain has affected not only the entire nation, but the world as a whole, with people from every corner of the globe sharing a mutual love for AL-EX-AN-D-ER (we are, meant to be), a founding father that most of us know only from the $10 bill and how he got shot by that dude that one time. Lin has made an American icon into a current American pop star of sorts, and it's thanks to his brilliant music, lyrics, and overall vision for the show.
Lin has described Hamilton in many interviews as a "story about America then, told by America now," and this alone cements him not only in theatre history, but history as a whole. His passion to tell a centuries-old story for contemporary audiences is a daring Hamilton-esque feat in itself, but through his talent, he's managed to do it and managed to do it with great success. Lin is the ultimate multi-hyphenate that has changed many lives through his work, but there's more to him than just 'The guy from Hamilton'. And just as Lin had to dig deep into the Hamilton archives to create a historical musical about a real-life man, new Lin fans eager to learn about his background and persona will have to do their fair share of research to become a certified #HamiltonTrash member. Do some research and read his Wikipedia page – because the following fictional facts we're willing to believe about Lin-Manuel Miranda couldn't be more made up.
The first album he bought with his own money was Tupac's 2Pacalypse Now in 1991.
Attempted to recreate Busta Rhymes' Put Your Hands Where My Eyes Can See music video with neon paint and leopard print sheets hanging from the hallway walls.
Dressed up as one of the Punk Frogs from Teenage Mutant Ninja Turtles for Halloween one year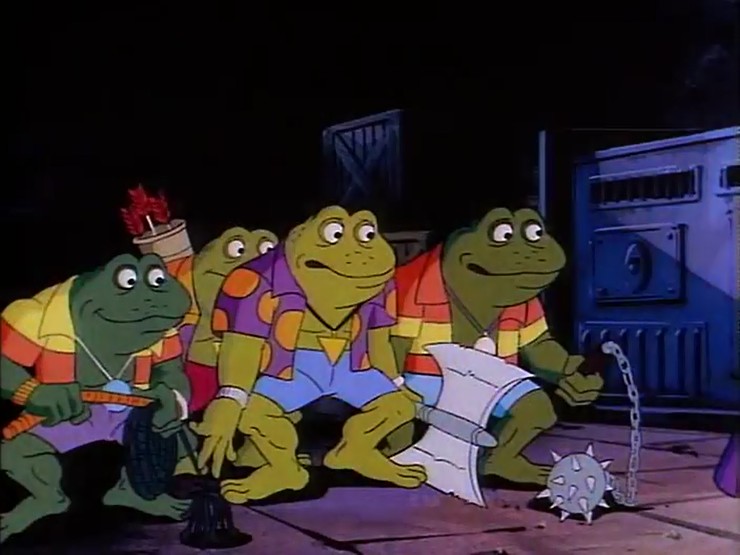 At least once every couple weeks he wakes up with a start in the middle of the night. By now, his wife just mutters "yes, you remembered to say goodnight to Twitter" and tells him to go back to sleep.
Very aware Jonathan Groff would be his type if he were gay
His teachers would always scold him for having his headphones on and listening to his cassette tapes/CDs before class started
You may know about Hamilton's bowling team, HamilPins. But did you know that Lin-Manuel Miranda founded In The Heights' intramural bowling league (No Me Liga) AND speed-dating night (Alza La Soltera)?
Was the runner-up for Most Likely To Succeed, and the winner of Most Earnest, in his senior yearbook.
Will be the Dad who knows about the trendy new social media before his kids, and will embarrass them because he's better at it than they are.
Early uncredited gig: writing a "punched-up" version of the ZOOM theme song for PBS. Yeah. Bet you all still remember that ZIP code, too.
Lets his wife always figure out the tip at restaurants because she's the mathematician of the family.
His friends no longer let him be the driver during road trips because even though he picks the best music, he also makes them pull over at every one of those historical marker signs.
Has a note in his phone of drafts of tweets he's thought about posting, but ultimately decided against it.
His wife had to request that he stop writing raps to "help" her study for the bar exam (States unchecked can get a little messy/ All rise, Marshall court in Hunter's Lessee/ State powers subject to diminution/ Cohens. Virginia. You ratified the constitution. / Put the steamboat on the river – okay, New York, it's Interstate. Gibbons. Ogden. Congress gonna regulate. /And legislate -plus stipulate/ that no militia's solely state/ When sought, they fought. Martin. Mott.  ) (…may or may not be an excerpt from my Marshall Court review rap for Con Law, c. 2009.)
Used a recording of himself saying "pew! pew! pew!" as the gunshots during Hamilton's workshops for longer than was strictly necessary.
Also uses those"pew! pew! pew!" soundswhen he shoots a gun at paintball or lazer tag
Had the choice of being in Ravenclaw or Hufflepuff when he was sorted, proudly sports a yellow and black scarf on the regs.
Owns a "But first, café" sign
Yeah, Lin can do really crazy-good crown braids now that his hair is long, but he's waiting for the Hamilton cast recording to go platinum before he releases a tutorial.
Secretly named his son after Lil' Sebastian
Has more novelty/pop culture-themed t-shirts than dress shirts
Wrote at least 2 songs for each of his ex-girlfriends, has an entire two-volume album dedicated to his wife Vanessa in his head
He's also composed a verse or two for his favorite delivery guy and bodega lady. Not to get free stuff out of it. Just because he cares.
Those ex-girlfriends can testify that he's had that comma game in his arsenal since long before playing our dearest, Hamilton.
Scribbled Wrote 'Wait for It' on a fan's forearm at the stage door so they could get a tattoo of it later.
Really (secretly) prolific on tumblr. Runs your favorite blog.
Wrote a passionate What You Own-esque duet for him and Steven Pasquale on the medical drama Do No Harm in the event there would be a musical episode in the future. The show was cancelled after 2 episodes (that last part is true).
During his first grade Christmas pageant, left Mary and Joseph waiting at stage right for a full 5 minutes as he performed his (unsanctioned) solo as Shepherd #3. Upon leaving, audiences were heard to say that they "never really realized how important that shepherd was to our history."
First celebrity crush: Patti LuPone
Is in talks with I Love New York to use the "let's go upstate" hook in a series of ads promoting summer tourism in the Adirondacks.
Of course he has a bucket list. Of course "have Beyonce be proud of my walk" is on it. Someday.
Hasn't joined Instagram because "Instagramrico" doesn't have as a good a ring to it as "Twitterico"
Was a competitor in one of those quiz bowl public access-type shows featuring kids from different schools in NYC. His team won.
Has that a cappella app where you harmonize with yourself. Mostly made up of Ingrid Michaelson, Mario Kart songs, and early drafts of Hamilton tracks.
Attended a LARP-ing summer camp when he was 13
Would have seriously auditioned for High School Musical if he was the right age (no, but have y'all SEEN this??).
Related articles