When Roald Dahl first introduced Matilda to the world in 1988, he probably never thought about just how long the legacy would last, and in so many different mediums. An imagination as great as Matilda Wormwood herself could have never dreamed that kids and adults all over the world would be in love with this character and her world through a beloved movie and a hit musical that are popular all over the world. Moreover, Roald Dahl probably would have never guessed just how many times his cherished Matilda would be brought to life by actors for years to come. Over the past 28 years, Matilda has been played by a number of girls in various adaptations, and here's a look at those talented Wormwoods and where they are now.
Matilda – Musical, 1990
Annabelle Lanyon
Annabelle Lanyon was a child actress who is best known for playing Dora Keith in the British mini-series of Anne of Avonlea, as pictured here. But in 1990, when she was 29, she starred as Matilda in the first musical adaptation of the book. I couldn't find pix of her in the production, but since she's supposed to be like 7, I figured this photo would suffice. Anyways, the musical featured music and lyrics by Ken Howard and Alan Blaiklev and toured theaters around the UK. Reviews were mixed and unfortunately lost in the public's conscious forever. Annabelle quit acting in 1992, but returned in 2000 and is currently filming two movies.
Matilda – Movie, 1996
Mara Wilson
Mara Wilson is probably the best known actress for playing little Matilda, thanks to the movie we've been talking about all week. By the time she filmed Matilda, Mara already had Mrs. Doubtfire and Miracle on 34th Street under her belt, but her mother died of breast cancer while they were filming Matilda. This life-changing event made her lose her passion for acting, and has only been in front of the camera several times ever since. She graduated from NYU in 2009, and is v active on the Interwebz with Twitter and podcasts (Welcome to Night Vale) etc. Just this week, on Roald Dahl's 100th birthday, she released an autobiography called Where Am I Now?: True Stories of Girlhood and Accidental Fame.
Matilda – Radio Programme, 2009
Lauren Mote
BBC Radio 4, being super British, featured a dramatized version of Matilda for a classic serial as part of the BBC Christmas season. Voice actress Lauren Mote, who was 12 at the time, took on the lead in the two-part series, which you can maybe eventually watch on their website.
Matilda – Musical, 2010
The Royal Shakespeare Company commissioned a second musical adaptation of the book and found much better success thanks in part to a book by Dennis Kelly and music and lyrics by Tim Minchin. It premiered in the West End in 2011 and ended up winning seven Olivier Awards, including Best Musical, Best Actor in a Musical for Bertie Carvel as Miss Trunchbull (yes, you read that right) and a tie between all four tiny Matildas for Best Actress in a Musical. The show opened on Broadway in 2013 and found similar success at the Tonys, winning four trophies and a special prize for all four tiny Matildas for Tony Honors for Excellence in Theatre. Since then, there have been tours in both the US and Australia, and a production in Toronto which opened in July. But for those looking to see the show on Broadway, you only have a few months left – the production is closing on January 1st.
West End
Cleo Demetriou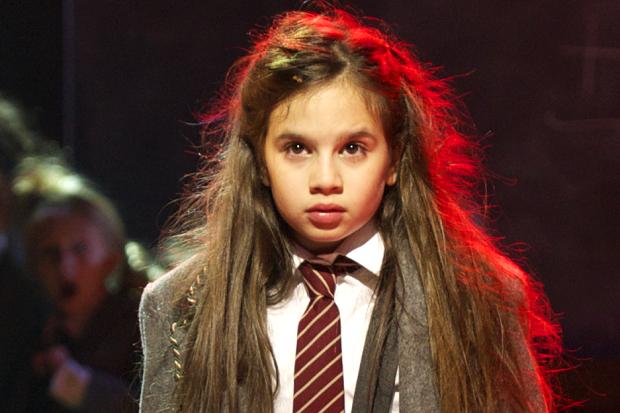 Before Matilda, Cleo appeared in productions of The Sound of Music (Gretl, duh), the ENRON musical and Les Mis (Young Cosette, duh). She is now 15 (and a legit teen, per Instagram), and stars in a British sitcom called So Awkward.
Kerry Ingram
Kerry's only theatre expereience before Matilda was in a West End revival of Oliver!, but her career only got bigger after starring in Matilda by scoring roles in hit TV shows like Wolf Hall and British medical soap (think Grey's) Doctors. But you may know her as Shireen Baratheon in Game of Thrones, a show we definitely are huge fans of and understand completely.
Sophia Kiely
Sophia's only professional credit to date is Matilda, and it seems she stepped out of the spotlight after taking her final bow. So much so that she doesn't have any social media accounts (that I can easily Google). The only thing we know for sure is that she is four years older than when she played Matilda.
Eleanor Worthington Cox
Eleanor continues to work on the stage, appearing in London productions of To Kill A Mockingbird, Bugsy Malone and Tomcat. On British TV she's starred in shows like Cucumber, Hetty Feather, and The Enfield Haunting, which earned her a Best Supporting Actress nomination at the British Academy Television Awards.
Broadway
Sophia Gennusa
After Matilda, Sophia was back on Broadway last year in the musical adaptation of Doctor Zhivago – which only lasted three weeks. But her greatest accomplishment yet – being the singer for the current Sesame Street theme song.
Oona Laurence
Prior to Matilda, Oona played "Spiteful Mean Girl #4" on Louie, but she may be the most successful Matilda yet. After leaving the show, she booked roles on Law & Order: SVU, Blindspot, and Orange Is The New Black, playing 10-year-old Tiffany aka Pennsatucky in a flashback. Over the past year, she has worked with stars like Sarah Silverman (I Smile Back), Janeane Garofalo (Little Boxes), Robert Redford (Pete's Dragon), Jake Gyllenhaal (Southpaw) and Mila Kunis (Bad Moms). So yeah, she's doin OK.
Bailey Ryon
Bailey starred in other notable family faves before Matilda, like How the Grinch Stole Christmas and Chitty Chitty Bang Bang. These days, she is focusing on her career as a dancer, and performs with hte Susquehanna Youth Ballet in Pennsylvania.
Milly Shapiro
Matilda still stands as Milly's lone professional credit, but she and her sister Abigail are hoping to be the next Lennon and Maisy by posting performances on YouTube. Check them out singing Defying Gravity at 54 Below.
Related articles