Today is the the first Monday in May, which means it is Met Gala Monday for fashion industry insiders and fans alike. AKA That Same Fancy Party Solange Beat Up Jay Z In An Elevator.
The hottest celebs, top models, and revered fashion designers will climb the famed Met Museum steps and be treated to an over-the-top party in conjunction with the opening of this year's annual Costume Institute exhibit Comme des Garçons, the label led by Japanese designer Rei Kawakubo. By using her as the focal point, this marks the first time a living designer is the sole subject of the exhibit since Yves Saint Laurent in 1983. Rei is more than qualified for the job, as she is regarded to be one of the most influential and innovative designers in recent years. Her distinctive style is… distinctive, and I can't wait to see how the stars interpret this theme at the gala.
Of course, we plebeians only think about the Met Gala once a year, but for those who work behind the scenes to make it a success having been planning for months. And if you want to peek behind the Met curtain (and don't have $55K to attend the actual gala), you should probably watch the documentary The First Monday in May, which gives viewers an inside look at the 2015 Met Gala – AKA That Same Fancy Party Solange Beat Up Jay Z In An Elevator. Pre-showdown, of course. Planning of the gala has always been kept on the downlow, which is why this doc is the first of its kind.
"It's very secretive," Vogue contributing editor Plum Sykes, says of the gala. "(Anna) doesn't want anyone to know what she's planning or what she's up to until the minute they walk down that red carpet and through the door."
That being said, it v was enlightening to see what is usually unseen, so I'm here to share some of the things I learned after watching the doc. So much shit goes down, you guys. Not just in an elevator.
Anna Wintour is Anna Wintour
Anna, the American Vogue Editor-in-Chief, has been in charge of the Met Gala for more than 20 years, so she knows what she's doing. But she also has a reputation of wanting things a certain way and isn't afraid to tell people the harsh truth. I mean, she is the inspiration behind The Devil Wears Prada. And in the film, I'd say I didn't really learn anything new about her personality per se. What you see is what you get. There's a scene where she defends her persona by saying she's "very decisive", and I think that's all you really need to know about her. For the gala in particular, she's involved with every single decision – and since there's so many (napkin design, tablecloth choices, floral arrangements etc.) anyone would have to be Type A and super decisive to maintain some sort of productive workflow.
Rihanna Is Expensive
Every year there's a special performer at the Met Gala and for 2015, organizers had their eyes on Rihanna. But surprise surprise, she's v expensive. They didn't say how much she was asking for, but there's an entire segment where event planners are worrying over her requested payout (and an "entourage budget"?). The negotiations play out behind the camera, and the movie ends with her performance of Bitch Better Have My Money with stars bobbing their heads in the audience. Not to mention, she made a triumphant entrance on the red carpet with this stunning canary yellow gown by Chinese designer Guo Pei. I remember literally gasping outloud (and maybe tearing up?) when I saw this in real time, and still dream about it. The piece is from Guo Pei's 2010 collection and took 20 months to construct, weighs 55 pounds, which is about how heavy my hopes and dreams are.
Seating is a Nightmare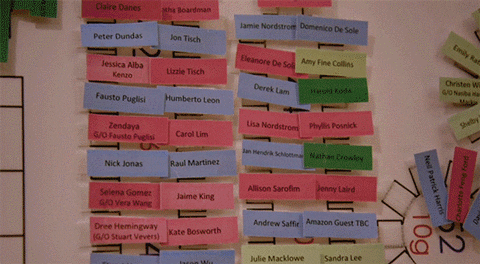 Just imagine a wedding but 10 times bigger and with angrier publicists. As previously mentioned, Anna is involved with every part of the party planning process, so when she gets in there to look over seating chart, she dives right in and rearranges the sticky notes in the order she deems correct. Anna places herself in between Bradley Cooper and George Clooney, whose wife Amal was several seats away (organizers have a penchant for not seating dates or friends next to each other in order to encourage conversation with other people). Anna even noted that an undisclosed guest "better not be on his phone the whole time" – IS IT KANYE. Also, reminder they instituted that no selfies rule at the gala, so that was a fun thing Vogue staffers had to be on the lookout for. And even though everyone in that room is a VIP, there's even more VIP seats/tables for super VIPs. And then some people end up in a not so great table. See: Chloe Sevigny and Solange at a small table towards the back.
Curator Turned Diplomat
Besides Anna, the other main subject of the doc is Andrew Bolton, the Met's Costume Institute Curator. China: Through the Looking Glass was much bigger than any other exhibit they had done before, so that was already a huge challenge. But the real challenge was creating an exhibit that was paying homage to a culture, and steering away from any sort of offensive matter or cultural appropriation. Andrew enlisted the help of Hong Kong director Wong Kar-wai as the show's artistic director, and the two of them, along with various Chinese advisors, had a number of meetings to make sure the exhibit was held in the highest regard. Andrew's job of curator bordered on American/British (he's British) diplomat, and it was fascinating to see. Of course with the corresponding theme of the gala, attendees had to also toe that line – so basically an alternate theme of the night was Don't Be Racist.
There is an Exhibit
I'm being facetious here, but friendly reminder that the reason for the gala is the exhibit. As previously mentioned, Andrew Bolton and his team spend months curating and collecting pieces, and it always turns out to be a success. The China exhibit, which more than 800,000 people saw in 2015, was enjoyed by all the celebrities who walked into the Met doors, and in the doc, we get to see them in awe of the exhibit, just like we would be. Kate Hudson, Alicia Keys, Sarah Jessica Parker, Andy Cohen, Anne Hathaway and even Justin Bieber (saluting next to a dude in a chinese soldier's uniform) are just some of the celebs we get to see all glammed up and enjoying pieces of China in New York.
Andre Leon Talley Never Stands
OK, he obviously stands but in all his scenes in the movie, he is sitting down. I find it particularly entertaining that when he's interviewing celebs on the red carpet for the Vogue livestream, he's still sitting down. You do you, bb.
The First Monday in May is currently streaming on Netflix
Related articles