Whoever said "all good things come to an end" wasn't entirely correct. Sometimes, good things sputter, flounder, and turn into a shell of their former selves and then come to an end years later, long after their period of relevance.Yeah, I'm talking about the Saved By The Bell Franchise. Remember that weird senior year where Kelly and Jessie were replaced by Tori, who may as well have been a permed wig and a leather jacket perched on top of a wheeled office chair? That was nothing compared to what lay ahead. Saved By The Bell: The New Class contained a rotating cast of teens who aged out every year. If you watched it for enough seasons, it must have been how being a teacher feels, staying in the same school and watching the kids get younger and younger. These kids all sort of ran together into not-Zacks and fake-Kellys and weird-Slaters. We all sort of know where the original Bayside gang is now, so I think it's about time we catch up with the cast of Saved By The Bell: The New Class.
Robert Sutherland Telfer (Scott Erickson)
This kiddo was really trying to hit all the marks.He even has three names, like Mark-Paul Gosselaar (and Brian Austin Green, and Jonathan Taylor Thomas, and Taryn Noah Smith, and so many more). But Scott Erickson was fake Zack, and it just wasn't the same.
These days, Robert Sutherland Telfer has quit the small screen and managed, in 2014, to exist without an internet presence. A few probably false bits of information on the internet: (1) He was fired from SBTB: The New Class after it became known that he was a "radical conservative"; (2) He was fired because he "didn't act like he should"; and (3) "he competed in amateur gymnastics under the tutelage of famed Québécois magician F. Brian Fester." Curiously, magician F. Brian Fester's only Google hits are in fake-sounding bios of this kid from Saved By The Bell: The New Class. Anyway, the real magician here is Robert Sutherland Telfer, for maintaining such a trackless existence on the worldwide web.
Jonathan Angel (Tommy De Luca)
"Tommy D." was an odd combination of Slater and Joey Tribbiani. Actor Jonathan Angel has mostly left the business, last appearing in the small 2006 film "Leaving L.A." By the LinkedIn process of elimination game, he is either a 3D animator now or, perhaps much more likely, he doesn't have an internet presence and that's some other guy who has a cool job. You may be more familiar with Jonathan's dad's work – Joe Angel is the radio announcer for the Baltimore Orioles.
Isaac Lidsky (Barton "Weasel" Wyzell)
Now we have something to work with. Isaac Lidsky played Fake Screech, and although they even gave him wacky mismatched outfits and a stupid nickname, it still wasn't the same. After leaving The New Class, Lidsky graduated with math and computer science degrees from Harvard (after enrolling at age 15!) , founded an internet advertising company, Poindexter Systems, then graduated magna cum laude from Harvard Law. He was on Law Review, naturally. Lidsky, who is blind, founded Hope For Vision, a charity that promotes research for the visually impaired. And he clerked for my favorite Supreme Court Justice and yours, Ruth Bader Ginsburg. Lidsky has also founded a construction firm, as if all of the rest of that weren't enough. He is married and the father of three triplets: Thaddeus, Phineas and Lily Louise. Well done, Weasel!
Natalia Cigliuti (Lindsay Warner)

Not to be outdone by Fake Screech, Fake Kelly is also doing pretty well for herself. Natalia is still a working actress, and you may know her from Raising The Bar, The Glades, All My Children, and 90210 (the original version and the 2000s spinoff). Natalia, who was born in Uruguay, is also the mother of a 9-year-old son, Kaden. You can catch her on Twitter and Instagram, where she posted this great photo of her, Sarah Lancaster and Samantha Esteban (Becker) today.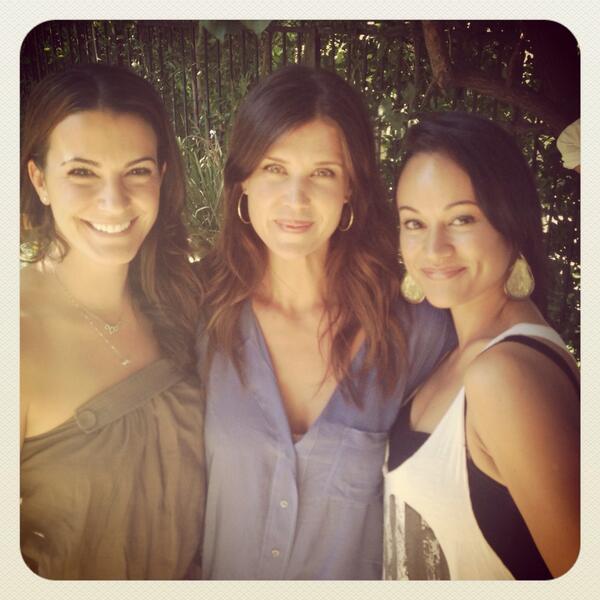 Bianca Lawson (Megan Jones)
Megan Jones was sort of a combination of Lisa and Jessie, and when you think about it those characters could have easily been rolled into one person – a straight-A student like Spano fending off the affections of a nerd, like Turtle. But today, you may be most familiar with Bianca Lawson as one of those human vampire people who does not age. After leaving The New Class, Lawson played a teenager again in Buffy The Vampire Slayer – and then again on Dawson's Creek (Nikki Green), and in Save The Last Dance, and then an early 20-something on Secret Life Of The American Teenager, and most recently Maya Saint Germain on Pretty Little Liars. Yes, Maya was like 33 years old. Hats off to Bianca, and also to the portrait that Bianca has in her attic that ages on her behalf.
Bonnie Russavage (Vicki Needleman)
The notes I jotted down for this post include this description of Vicki Needleman: "Fake Jessie only even more useless." And basically, yes. There was no need for this character. Or any of these characters. Or this entire show, to be quite honest.
After The New Class, Bonnie all but left acting, choosing to go to college and earning a degree in Business Administration. She works in the medical field and is a parent, and seems to be living a nice, normal life – except with the cool party anecdote that she used to be on a Saved By The Bell spinoff as a teenager.
Sarah Lancaster (Rachel Meyers)
Rachel Meyers (sort of a Lisa-ish character, for you SBTB purists) is doing well for herself! Sarah Lancaster took college courses while filming The New Class, and pursued an acting career after she left Bayside. Most recently, she's appeared in a string of TV movies, which is probably good work if you can get into it. However, you may be most familiar with her as Ellie Woodcomb on Chuck – as well as one- and two- episode stints on tons of tv series. Meyers is currently married and is the mother of a young son, Oliver. You can follow her on Twitter – she seems like a nice lady!
Lindsey McKeon (Katie Peterson)

My notes for Katie Peterson said "generic clean-cut 90s girl," and I'm going to stick with that. She played sports and had kind of a Delia's Catalog vibe. Post-Bayside, McKeon appeared as Taylor James on One Tree Hill, Tessa on Supernatural, and Marah Lewis on Guiding Light. Her IMDB bio is a bit vague but she sounds like a genuinely smart and interesting person – she likes to travel, is on the board of a nonprofit, enjoys reading, and, like Meryl Streep and my niece and nephew, hails from Summit, New Jersey. Lindsey was married last year, and has several film projects in the can.
Ben Gould (Nicky Farina)
Check out that Regulation Cute 90s Boy Haircut! This was one of those kids added a bit later in the series, after the original New Class started to age out. Ben continued to work as an actor into the early 2000s, with roles on Once and Again and E.R.
Christian Oliver (Brian Keller)
Brian Keller was a Swiss exchange student who was named Brian Keller, because presumably that was the most Swiss name SBTB execs could come up with? German-born Oliver was the cute foreign guy in the mid-90s. Remember Stacy's love interest, Luca, from The Babysitter's Club movie? Yep, that was him. More recently, he appeared in Valkyrie, but he has worked consistently on tv series, movies, and tv movies. Christian has a surprisingly serious website.
Richard Lee Jackson (Ryan Parker)
Ryan transferred from Valley (ooooh!) but he was actually all right. Since The New Class, Jackson has continued to act, most recently appearing on Grimm. He is also a musician and the current drummer for Enation, in which his brother Jonathan is the lead singer. He was married in 2005, and you can keep up with him via his website.
Samantha Becker (Maria Lopez)
In the ultimate proof that the showrunners of The New Class weren't even trying, this character's name is only one letter off from the name of one of the original series' stars. If The New Class had gone on any longer, I'm sure we would have been treated to characters named Mark-Paul Gosselaark and Tiffany-Amber Thiessen. Samantha Becker is now known as Samantha Esteban, and recently appeared as Monica Garza on From Dusk Til Dawn. You may also recognize her as Letty from Training Day. I know I've said this about everyone so far but based on her Twitter she seems like a really nice person.
Salim Grant (R.J. 'Hollywood' Collins)
Why did they call him 'Hollywood'? Didn't they all live in L.A.? Grant has worked on and off as an actor since Saved By The Bell. He has primarily moved into music production, working with Rising Platform Productions LLC – " a full service Production Company and Independent Record Label."
Anthony Harrell (Cornelius 'Eric' Little)
After I shook off my confusion at Eric being a nickname for Cornelius (I'm sure they explained it?), I got a sense of deja vu. Didn't I do this already? Yes. Prior to SBTB, Harrell appeared in Kids Incorporated, and he has already been featured in one of our Where Are They Now posts. He is currently a singer and performed with the R&B group Brutha.
Ashley Lyn Cafagna (Liz Miller)
After appearing as a regular on The Bold And The Beautiful, and guesting on series like Seventh Heaven, Ashley set her sights on loftier heights: contemporary Christian music. Now known as Ashley Tesoro – which means Ashley Treasure because she is such a gem (yeah, I majored in Spanish, what?), she released an album called Simply Worship in 2012. Okay, Tesoro is actually her husband's surname, and together they run Tesoro Entertainment and Tesoro Records, Christian production companies. She has a one-year-old daughter, Gabriella, and also enjoys martial arts. You can look at her adorable family on Twitter.
Related articles