Three truths and a lie, St. Patrick's Day Edition:
I grew up Irish dancing and thus I never went to school on St. Patrick's Day because I had performances.
I mostly look like a leprechaun.
Every year, my family watched Darby O'Gill and the Little People sometime around St. Paddy's day.
I despair every time someone calls it St. Patty's Day. Who's Patricia?
Answer: As you probably guessed from the post title, I've never seen Darby O'Gill and The Little People. The 1959 Disney movie is a cheesy, beloved Irish-American classic starring (according to Wikipedia)… Sean Connery?! Woah. In my defense, in the 90s if your family didn't have the VHS tape of a movie or it didn't air on a station you got, you just didn't see it. I'm rectifying that now, so please don't disinvite me from the next ceilidh or soda bread baking night.
Set design of Irish movies from the 1940s-1970s is the main reason for a lot of lingering Irish stereotypes. Namely, that it's always vaguely the 1800s with thatch roofs and dirty stucco walls and like … spinning wheels and butter churns and shawls everywhere.
Is the old lady, The Widow Sugrue,  the same old lady from The Wedding Singer? I know it's impossible but one has to wonder.
If you're playing Irish Movie Bingo, fill in your square for Pretty Young Lass Needs A Husband
It takes me about 3 minutes to get into the mode where I understand what anybody is saying. It's not because I'm not used to Irish accents. It's because these aren't Irish accents (Katie's is often OK. Widow Sugrue's reminds me of elementary school plays where you didn't know how to do the accent you were supposed to do so you just talked weird).
It's called Darby O'Gill and The Little People, and for whatever reason I assumed Darby would be a leprechaun too. Nope. Just a guy.
If you're playing Irish Movie Bingo, fill in your square for Group Of Men Telling Legends In A Pub.
The special effects of Darby talking to leprechaun King Brian are surprisingly very good. Sometimes I think modern CGI makes things look more fake than old-school camera tricks.
It also reminds me of the parts of Mr. Rogers when take the trolley to the Land of Puppetville or whatever that was.
If you're playing Irish Movie Bingo, fill in your square for Village Priest Solving A Financial Problem.
Young Sean Connery could get it.
By the way, Sean Connery is one of those people who's never been young. He's 29 here and his face is care-worn and weathered.
Everyone's sideburns are huge. Little House on the Prairie sideburns.
If you're playing Irish Movie Bingo, fill in your square for Woman Leans Out A Half-Door.
If you're playing Irish Movie Bingo, fill in your square for Old Man Plays The Fiddle.
These leprechauns have the best outfits. They're total Keebler Elf getups.
I'd live inside this Leprechaun Ceilidh. It's like the Trolls hideout without all the LSD, or Munchkinland without the specter of murder. Yet, anyway.
So many dorky Irish in-references: Brian Boru, the harp that once thro Tara's halls, a tribe of people cowering away from direct sunlight (no? Just me?).
When Darby plays his fiddle really fast and the leprechauns start dancing crazy, you could forget what I said about "without all the LSD" before. This is trippy.
If you're playing Irish Movie Bingo, fill in your square for Somebody Gets Someone Drunk In Order To Trick Them.
Always been a sucker for a cat vs leprechaun sequence. Another triumph for old-school special effects.
All these songs sound the same. Bless Janet Munro and Sean Connery. They're trying so hard to have Irish accents in their scenes together. Sean Connery has natural 21st Century American Invisalign Teeth. Janet Munro, an English actress, definitely looks Irish.
Darby would be a cute name for a dog, right?
Darby, requesting whisky: The best in the house!
Barmaid: [look of shock and fear, because best in the house means things are SERIOUS. Also because Darby gives the drink to a man inside his rucksack.]
I start laughing out loud when Katie starts singing in a drippy voice while preening her weird short bangs and suddenly I can't stop laughing.
Keep expecting this to turn into an SNL sketch where King Brian is really gross or filthy.
If you're playing Irish Movie Bingo, fill in your square for Woman Gets Offended When Man Loves Her.
The banshee looks like you're meant to be looking at it through special glasses.
"29. Sean Connery is TWENTY NINE" – me, out loud, trying to convince myself that Very Adult Man Sean Connery isn't even 30 here.
The ghostly horse and carriage is actually spooky in a laser light show at the planetarium kind of way. If I saw this as a kid I'd be unnerved.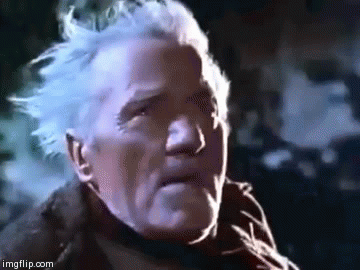 By the way, the headless horseman doesn't really have an Irish accent, either.
I don't know what's wrong with me, but I laugh every time they sing that stupid song.
If you're playing Irish Movie Bingo, fill in your square for Characters Drive Away In A Horse-Drawn Cart.
The bottom line: I enjoy old movies, and this was an enjoyable old movie. The underlying question with our Pop Culture Blind Spot posts is whether cult favorites are good of their own accord, or if you have to have some sort of earlier sentimental connection to them to really love them.  I could see being really into Darby O'Gill And The Little People if I had loved it as a kid, and seeing at is an adult I have a healthy appreciation for the old-school special effects and the imaginative story. It actually made me realize, in comparison, how much more I liked last year's St. Patrick's Day Pop Culture Blind Spot, The Quiet Man. In the battle between Rugged Men Who Aren't Irish Playing Rugged Men Who Are, Sean Connery vs John Wayne, John Wayne takes this round.
Related articles