Tomorrow, October 20th, we'll be introduced to another TV musical, and just in time for Halloween – The Rocky Horror Picture Show. Unlike Sound of Music, The Wiz, or the best of them all, Grease Live!, this is NOT live. But it does feature a lot of stunt casting with Victoria Justice and Adam Lambert and Laverne Cox as Dr. Frank-n-Furter.
Now I have no emotional ties to this movie/musical, so I could care less. But I imagine there are folks out there that do. But you fall into the same category as I do, here's a post from last year, when I watched the movie for the very first time. Spoiler alert: I did not enjoy it.
---
It's been 40 years since The Rocky Horror Picture Show was released and for the past four decade's it's been a cult classic. It's spawned countless stage productions, midnight dress-up movie sing-a-long showings and even a Glee episode. But it's only been a few weeks since I've watching The Rocky Horror Picture Show for the first time.
If you're just joining us for our Pop Culture Blind Spots series, we basically live blog our first viewing of something we've never seen before but we probably should have. So let's start by sharing my knowledge of Rocky Horror:
Susan Sarandon plays an innocent girl

Tim Curry is in drag

Time Warp is a song. So is Touch a Touch a Touch a Touch Me.

I somehow confuse this show with Little Shop of Horrors in my head and often picture Tim Curry with a talking venus flytrap.
I guess I don't really know the plot?
Alright, so here I am, about to watch Rocky Horror and in full disclosure this might not end favorably for Rocky fans. You've been warned.
Haven't even started the movie yet, and I have to decide whether or not to watch the US version or the UK version… apparently the Brits get an extra song called Superheroes, because America hates heroism. Also there's an option called "I'm frightened", and I didn't pick it because WHY ARE THERE SO MANY OPTIONS JUST TO PLAY THE DAMN MOVIE. 
I already hate these talking lips. Literally it's talking to me during the DVD menu selection. "Everything is in readyness, we nearly await your selection", it says to me. SHHH.
I feel like we've gotten off to a bad start. Let's collect ourselves and calm down.
Did movies made in 1975 still have credits in the beginning or was this a style choice made specifically for this film? Either way, I appreciate it
The side of the car said "WAIT TIL TONITE SHE GOT HERS NOW HE'LL GET HIS" …. she got her… sex? I'm too young for this movie.

I was not aware this movie was in black and white.
Janet's boyfriend is proposing right after a wedding and defaced church property. Poor form all around.
I've never heard Susan Sarandon sing before? Gosh she's pretty and hasn't aged.
Who is this Hitchcockian character breaking the fourth wall??
Janet is using a newspaper to cover herself from the pouring rain. First of all, she is completely drenched. Second, the newspaper is made out of some type of waterproof paper because it's not soggy at all.
Maybe it's because it's 1975, but TBH, if I walked up to a rando house in the middle of the night in a storm and this dude with the balding hair with Dracula voice answered the door, I'd be all, 'Oh sorry, wrong house BYE'. NOT TONIGHT SIR. 
Is American Gothic a theme here
There was a star wipe effect. Did someone edit this on Windows Movie Maker
Oh it's in color now.
This Time Warp scene is like if Cabaret met Grease and they were meeting in Jeckyll and Hyde's home office. Also, Eyes Wide Shut.
SPEAKING AS A TAP DANCER THIS WOMAN'S TAP DANCING IS HORRENDOUS AND NOT MATCHING WITH THE SOUNDS OF THE TAPS
HOLD UP. THE 20TH CENTURY FOX LOGO SHOWED UP AGAIN AND IT'S THE SAME OPENING FROM THE BEGINNING? IS THIS LIKE GROUNDHOG DAY (which I watched for the first time a couple months ago)
Is my DVD doing something weird because now the credits are in color, as opposed to black and white when I started this shit 20 minutes ago… OK lit'rally this movie just restarted from the beginning to be in color is this what really happens because I'm fast forwarding.
We've managed to move past the 20 minute mark without going back to the beginning. Never have I been so excited to see Tim Curry as a transvestite *apologies for saying 'in drag' earlier*. Also, Tim Curry has a huge mouth. take that as you will. I'm already obsessed with him.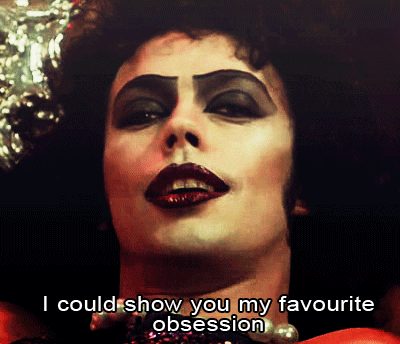 Also Barry Bostwick was a babe??
What kind of fuckery is this? A mummy in formaldehyde? Maybe not formaldehyde. But might as well be.
This is horrible but my other prior experience with Rocky Horror is the Glee episode, and I distinctly remember Chord Overstreet in these tight gold lamé underwears.
Guys, TBH I'm like paying half attention and have no idea what's happening. Why did Meatloaf just crash through the wall of the Tim Curry's Willy Wonka laboratory on a motorcycle??
Yoooo did Tim Curry just murder Meatloaf with an axe
Why is Janet sleeping in a malaria tent?
Now the Igor hunchback is walking around with a candelabra and throwing the wax on the gold lamé naked guy. Honestly have no idea what's going on.
Brad just had sex with Tim Curry? And Brad was okay with it? Oh I guess it's fine because Janet just sought out Gold Lamé to have sex with her.
Dr. Scott is here. It is someone's birthday. They've been having dinner on a table with a dead person in a coffin underneath it. So that's another normal thing going on at this mansion.
Funniest thing to happen so far: Igor and busty maid laughing hysterically then Igor suddenly reprimanding her: SHUT UP
I'm gonna be honest with y'all – I lost interest around this point. I got distracted, decided not to pause the movie, but didn't understand what was happening anyways and I probably skipped a a lot of things moving forward.
They're in a pool now. Having a huge orgy while the dude in the wheelchair is watching from afar. Because at this point, why the hell not.
Why are there lazer guns involved now?
Are these aliens?
Oh it's Igor and what's her name?? Gold lamé shorts just shook his fist as he's trying to carry Tim Curry on his back.
They fell into the poolWHAT IN THE ACTUAL FUCK IS HAPPENING
I give up y'all. This isn't for me. I don't get it. But respect for those who do. 
Unpopular opinion I'm assuming most people will disagree with:
Rating of Rocky Horror: 1 spear shaped lazer gun (out of like 20)
Related articles