Before you say anything, I KNOW. I KNOW I KNOW I KNOW.
In my defense, I think I actually have seen The Sandlot, but wasn't paying attention because I don't really remember anything about it. And I'm three decades old. I also confused all the 90s baseball movies (Little League Angels of the Year and the Rookie in the Outfield of Dreams) together, so it bears some refreshing. Plus it's coming off Netflix streaming and I thought I'd watch it (again?).
Knowledge of this film:
Baseball with kids. A backyard. Something about 'You're kiddin' me Smalls'.
Actual IMDb description:
A new kid in town is taken under the wing of a young baseball prodigy and his team in this coming of age movie set in the summer of 1962. Together, they get themselves into many adventures involving rival teams, lifeguards, and a vicious dog.
*I did not remember this was set in 1962.
Question I always ask before talking about one of those 90s baseball movies: Is this the one Scott Patterson (Luke Danes) is in?
Answer: No. He was in Little Big League.
Denis Leary is in this? And James Earl Jones?
Mike Vitar plays main character Benny 'The Jet' Rodriguez, and in the back of my mind I knew the name sounded familiar, but he hasn't acted since 1997. Why did I know his name when this movie has no relevance to me? Oh, because I legit wrote about him being arrested for assault.
Mike quit acting and became an LA firefighter, and last Halloween, he and two other off-duty firefighters allegedly beat up a man. They all plead not guilty in January, but it's unclear what the verdict if there has been one yet. Yikes.
This movie takes place in the San Fernando Valley aka "The Valley" aka where I live!! …It was all filmed in Utah.
In my head, "The Sandlot" was someone's backyard and it was next to a crochety old lady like Ellen Burstyn in The Baby-Sitters Club movie.
"Don't be a goofus!" Scotty Smalls but also my new motto in life.
Scotty ends up in the far outfield in The Sandlot, but when the ball comes flying towards him, he misses it. To make matters worse, it lands right next to the fence with the Cujo-type dog barking and when he throws it back to the pitcher… well, he doesn't and all the boys laugh at him. At 9 years old, I would've found this funny. As a 30 year old, I call this bullying. #Adulting.
We're eight minutes in, and Scotty has used the phrase "got into the biggest pickle" twice already. Take a shot.
Mom: Honey, I want you to make some friends this summer, lots of them.

Smalls: Yeah, I know. But I'm not good at anything, mom. Face it, I'm just an egghead.
SMALLS IS SO ADORABLE I JUST WANT TO EMBRACE HIM. He also keeps hesitating on what to call his stepdad (Denis Leary) either Bill or Dad and it's 2QT. I hope BillDad is a good guy. At least he agrees to play catch with Smalls. Except he ends up with a black eye.
Denis Leary looks perfect for the 1960s here
Benny shows up at Smalls' door and invites him to play ball this is the MOST TENDER.
The kid who's in The Big Green is in all the 90s sports movies, no? His name is also Hamilton and they all call him 'Ham'. There's an opportunity for a crossover here. I just don't know what it is yet.
SQUINTS: No you don't. It's stupid, Benny. The kid's an L-7 weenie. <<< What does this mean.
Benny has the patience of a saint. After Smalls couldn't catch the ball, he hits the ball directly at Smalls and tells him not to move and just keep his arm up. And then later:
Benny: You got a fireplace?

Smalls: Yeah, why?

Benny: Throw that hat in there, man. (I KNEW HE WAS GOING TO SAY THAT)

Smalls: Oh, yeah. You know, it was the only one I had.

Benny: Not anymore. Wear my old hat.
What a dream. He is a hero among boys. We all need a Benny in our lives.
"You're killin' me Smalls" is in reference to him not knowing what a s'more is? THIS SENTENCE IS JUSTIFIED. I know he's from out of state but s'mores are an American (??) institution.

Basically this Cujo junkyard is described as a "true killing machine" per this Are you Afraid of the Dark? story from Squints.  Is the neighbor going to turn out to be a really nice dude IRL?
Wendy Peppercorn (IT'S Peffercorn NOT Peppercorn!?!?) slow walks through the town to The Drifters' There Goes My Baby and I remember this is set in the 1960s. Also, Wendy is the typical babe who is probs 15 and inapprop
"Aw, Squints was pervin' a dish." AKA Squints was checking out Wendy Peffercorn?!
Ham also used the word "pop" for "soda", which is not a think Californians say colloquially.
Squints pretends to drown in order to have Lifeguard Wendy save his life. I really hope kids didn't try this at home.
This movie is rated PG and they used the word "shit". Is that a thing? That must be a thing.
"On the 4th of July, the whole sky would brighten up with fireworks, giving us just enough light for a game. We played our best then because, I guess, we all felt like the big leaguers under the lights of some great stadium. Benny felt like that all the time. We all knew he was gonna go on to bigger and better games, because every time we stopped to watch the sky on those nights like regular kids, he was there to call us back. You see, for us, baseball was a game. But for Benjamin Franklin Rodriguez, baseball was life." Narrator Smalls says, as the boys watch the slow motion fireworks in the night sky with awe. That is some good *shit*.
"You make your Wheaties with your mama's toe jam!" LOL WHAT, HAM?
HAM IS A BULLY AS THE CATCHER BUT IT IS HILARIOUS. HE'S LIKE HAMILTON IRL
Benny treats the team to a free ride at the carnival. Seriously, what a dream.
Uh oh. One of them brings chewing tabacco. This isn't going to end well. It's so gross I can't even watch it.
First of all, "Tequila" is playing LOL Second of all they go on a spinning tilt-a-whirl type thing and they all vom. On the other riders.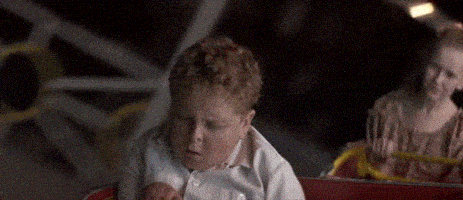 Minute 53 – Narrator Smalls says "pickle". Take a shot.
Ohhhh no. The boys are in need of a ball after Benny lit'rally smashes it into bits. Smalls saves the day by grabbing the (Babe Ruth) ball from BillDad's office. Prediction: it flies into the Cujo junkyard and he has to go get it.
Bertram: "Maybe the shock of his first homer was just too much for him" LOL this is a great line coming from a 5th grader.
The ball flies into the Cujo junkyard and Smalls has to go get it.
Cujo's paw is out of CONTROL.
The boys devise a plan to fake Babe Ruth's autograph on a separate ball to put in BillDad's trophy case while they try to get the real one back, and it's a real case in support of teaching kids cursive in elementary school.
Squints: She ain't gonna buy that, Benny. It doesn't look anything like the Babe's signature.

Benny: It doesn't matter what it looks like. His mom's never gonna know the difference. This'll just buy us some time, ya dorks!
Cujo's being a real bitch not letting them have this ball back. What's he gonna do, sell it on eBay? Or whatever it was in the 1960s? A… yard sale?
The dudes actually come up with a pretty ingenius plan involving three vacuums and a catcher's mitt. That is until it blows up the tree house. Anyways, that didn't get the ball back either.
"We've been going about this all wrong. I blame myself." These kids, I tell ya.
CUJO IS HUGE-O.  Also he may or may not have rabies.
I can see why this movie was popular with kids aka my generation growing up, particularly with the scenes in which they come up with different ways to get the ball. From the vacuums to an aerial attack using a lever/pulley situation and military style robot they create, it shows creativity while making you sit on the edge of your seat
Hologram Babe Ruth shows up to tell Benny to just go over the fence and get the ball back. He is played by the diner owner in that one Boy Meets World episode where Shawn attempts to run away after his dad dies.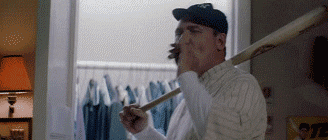 Babe Ruth says "pickle". Take a shot.
Benny saves the day by jumping over and grabbing the (now mangled?) ball. Except Cujo breaks free from his chain and begins chasing Benny through the streets. Cujo even breaks through a glass window, in a movie theater, through a Founder's Day festival and underneath Uncle Sam just to follow Benny. This is exhausting.
They end up back in The Sandlot and the fence falls on Cujo, but Smalls, being the good kid that he is, attempts to lift the fence off Cujo, and only Benny helps.
Why does Cujo look like it's a CGI dog?
Cujo has been secretly hoarding their baseballs! And the owner of the junkyard is a blind James Earl Jones!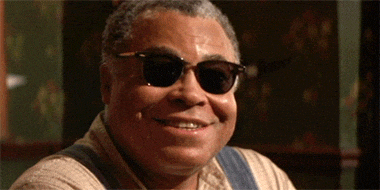 They all gang up on Squints because James Earl Jones says he would've just gotten it for them if they knocked and didn't believe the stupid urban myth.
JEJ calls Babe Ruth "George", so obviously he knows him. He offers to trade Smalls and Benny a ball signed by the 1927 Yankees. Wait IS he blind?? Or going blind?
You guys come by here once a week and talk baseball with me and we'll call it a deal.
Thank GOD Denis Leary is a nice guy in this.
So we get an epilogue of sorts telling us where each kid ended up, and each one slowly disappears. It's making me tear up a little? Bertram got really into the 60s and no one ever saw him again (lol), the twins invented mini mall Squints married Wendy Peffercorn?! AND HAD NINE KIDS?!
BENNY PLAYS FOR THE DODGERS NOOOO AND SMALLS IS A COMMENTATOR WEARING THE OLD HAT AND I'M CRYING I WAS NOT EXPECTING THIS I'M OLD AND UNDERSTAND THE VALUE OF TIME
When one guy would move away,
we never replaced him on the team with anyone else.
We just kept the game going like he was still there.
Well, that final scene made it for me. I get it, you guys. I get it now.
Related articles