My mom recently called me to ask if she could give my Disney's The Lion King comforter to my cousin.
Two things about this inquiry:
A) I don't live at home anymore, haven't lived there since 2006.
B) I am 27 years old. This was something I used when I was approx 10 years old.
C) I have a queen bed. This is for a twin.
D) This is what it looks like (more or less)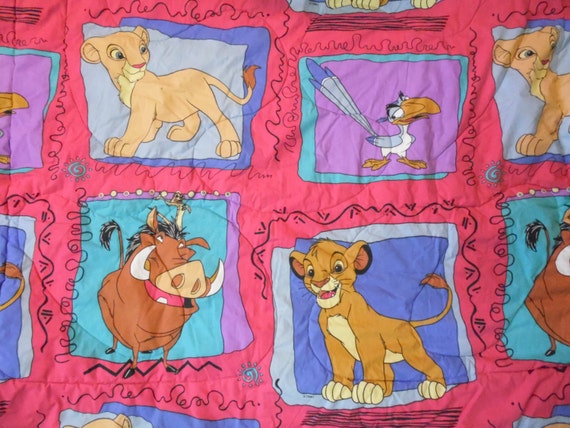 Here's the thing – I suppose it was nice of her to ask if I still needed it, but… really? Oh, forgot to mention my cousin, who she wants to hand it down to, is about 17 years old. I found this picture on eBay, so she should probs just sell it there instead. I mean she should do that, but she won't because my parents still use AOL.
Anyways, it boggles my mind to think that my mom would think I could use this any time soon. Perhaps she asked for sentimental value purposes, but honestly I forgot it existed and if I wanted it, I would've taken it to fit my bed by now.
To paint you a picture, my bedroom back at home has been relatively untouched since I lived there, which means it hasn't been redecorated since I was in high school. There is a library of VHS tapes, Backstreet Boys memorabilia, photos of my friends from my youth, and pictures of my favorite celebs ripped out of Teen People magazine.
So as you can imagine, this isn't the first time my mom has asked if I was still going to use childhood items. Here are a few notable others:
Beauty and the Beast comforter
Apparently I was really into keeping warm with the entire Disney family
Notebooks from High School
Never going to use those Chemistry notes. Didn't understand it then, won't understand it now.
VHS Rewinder
Kids, long before DVDs, we had these 'tape' things that usually required another machine in order to start the movie from the beginning.
Stamp/embossing collection
Okay, in all fairness, thanks to my recent history working at an invitation/stationery store, as well as interest in crafting, this might be useful. Except I haven't used those items since circa 1995, so better that it goes to someone who can use it. In related news, I was a dork.