You're probably either two days into your Gilmore Girls binge, or waiting to launch it til over the weekend. A few symptoms that you need to take a break from Stars Hollow: are you snacking constantly? Running on excessive amounts of coffee? Talking really, really fast? And finally: do you think you see celebrities everywhere you turn? Because it seems like every few episodes in Gilmore Girls, you're catching either a cameo from an established celeb or a before-they-were-famous guest spot. Here are just a few:
Madeleine Albright (Season 6, Episode 7)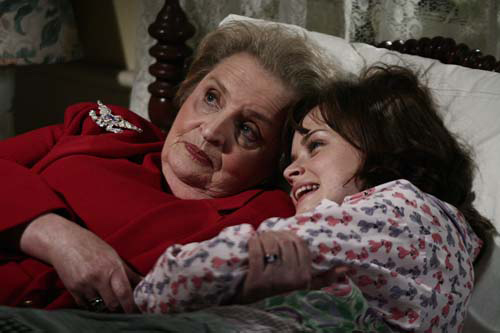 Look. If you're trying to get someone on board with Gilmore Girls, just try the following phrase: "dream sequence with Madeleine Albright." I've seen the episode, but still don't quite understand why or how this happened.
Christiane Amanpour (Season 7, Episode 22)
Amanpour was Rory's hero throughout college, so it was only fitting that the journalist herself had a guest spot on the finale. After all, Rory's dream was to be Amanpour, whereas my college dream was simply to someday be a person with a job. And I did it – so hold fast to your dreams, kiddos.
Paul Anka (Season 6, Episode 18)
To be fair, there were a few Paul Ankas on Gilmore Girls (again, reasons you should be watching this show if you haven't seen it already. Or even if you have). While Paul Anka The Dog had more frequent appearances, Paul Anka The Human showed up in – you guessed it! – a dream sequence. Why didn't we think it was weird that season 6 was chock full of plus-aged celebs starring in the Lorelai's dreams?
Adam Brody (Season 3, Episodes 3 onwards)
I could be wrong, but it seems like the same actors are on all of our Whatareyoudoinghere features – like all of these folks were making the network/cable rounds in the early 2000s, just waiting for their lives to start. Adam Brody, Jane Lynch, Jon Hamm… you get the gist. Before he stole our hearts as Seth Cohen, Brody stole Lane Kim's heart as Dave Rygalski. He was in her band until he had to go off to college…. in California.
Sherilyn Fenn (Season 3 Episode 21, and Seasons 6 and 7)
 Here's where Gilmore Girls goes all Law And Order. Fenn appeared in three seasons of Gilmore Girls, playing two different characters. In Season 3, she guested as Sasha, Jimmy Mariano's girlfriend. And a few seasons later, she was Anna Nardini, Luke's baby mama. Last year I was trying to get into Twin Peaks and I realized I knew Audrey Horne from somewhere. But where? Well, it's not surprising that it was hard to pin down, since she was two different characters and all.
Max Greenfield (Season 4, Episode 4)
Pre-Schmidt, this New Girl star was filling up the Douchebag Jar as Lucas, a drunk friend at Dean's bachelor party.
Jon Hamm (Season 3, Episode 5)
Appearing as a pre-Don Draper Don Draper-type, Hamm played Peyton Sanders, a flash-in-the-pan love interest of Lorelai. This was over a decade ago, so it shouldn't be shocking that Hamm was so baby-faced here, right?
Victoria Justice (Season 4, Episode 3)

If you need further proof that the teen sensations of today are really, depressingly young, look no further than Victoria Justice's guest spot on Gilmore Girls. We're still trying to cope with the fact that this show started literally half our lives ago, but we can't deny it when we look at tiny baby Victoria acting opposite Melissa McCarthy. This girl is DRINKING AGE now, everybody. Sunrise, sunset.
Carole King (Season 2, Episode 20; Season 5, Episode 18; Season 6, Episode 10)
Granted, King is technically in every episode of Gilmore Girls. But it went beyond the theme song – she had an acting role as Sophie, owner of Stars Hollow's (only?) music store.
Traci Lords (Season 4, Episode 5)
If you were watching Lords as interior designer Natalie Zimmerman, and thinking "wait, I know her from somewhere": Porn. You know her from porn. So I hope you didn't cop to that one out loud.
Jane Lynch (Season 1, Episode 10)

Is there one of these lists that Jane Lynch hasn't made? Lynch made a brief appearance as a nurse when Richard landed in the hospital with Heart Attack Numero Uno.
Seth MacFarlane (Season 2, Episode 21)

You'd be forgiven for not recognizing MacFarlane's face, since he's usually a disembodied voice on bro-ish Fox cartoons. However, he also appeared as Lorelai's classmate on her graduation day. Fun fact: Family Guy's Alex Borstein also appeared in this episode (shame Rory missed it). For keen listeners, Seth also provides the voice of Bob Merriam (the lawyer who calls Lorelai on her answering machine) in season 3, episode 11, I Solemnly Swear.
Norman Mailer (Season 5, Episode 6)
This may have been a brief guest role, but Gilmore Girls viewers are unlikely to forget Mailer's cameo as himself… because they must have said "Norman Mailer" 500 times in that episode. When you think about it, running an inn/restaurant is the smartest way to shoehorn in cameo appearances that otherwise wouldn't make sense. Well, that and dream sequences, but that was more of a season 6 thing.
Chad Michael Murray (Season 1)
Like many hearthrobs of the 90s and early 2000s, Murray is an actor so nice, they named him thrice. I really do always forget that Gilmore Girls began as long ago as it did, but Murray's turn as assy Chiltonhead Tristan DuGray (hello, made-up-sounding typical rich boy name!) predated his turn on One Tree Hill by a few years, and was even a year before he appeared on Dawson's Creek.
Nick Offerman (Season 4, Episode 7 and Season 6, Episode 4)
Although Offerman is capable of playing more than just shades of Ron Swanson, how perfect is it that his Gilmore role was Beau Belleville, big brother to resident farmer Jackson?
Danny Pudi (Season 6, Episode 13 & 14; Season 7, Episode 6 & 7)
From Yale to community college? Well, yes. Pudi was Raj, Rory's associate on the paper.
Krysten Ritter (Season 7, Episodes 4 Onwards)

After Veronica Mars, before Don't Trust The B–, Ritter played Lucy, Rory's acting major pal at Yale. It's nice the performing arts community accepted Rory after the whole, you know, ballet debacle.
Danny Strong

Danny Strong is finally getting his due, but for years he was "that little guy on that show." Like actress/vampire Bianca Lawson, Strong started off playing a teen on Saved By The Bell: The New Class, and then played a teen on Buffy The Vampire Slayer, and eventually landed on The CW/WB. By the time he was on Gilmore Girls playing Paris's boyfriend Doyle, Strong had finally aged up to "college student" on TV – but in real life, he was 33 years old. Would it be weird to write him asking for his diet/sleep/exercise routine so that people stop calling me "ma'am" at 28?
*2016 Update: NBD, but he co-created a little show called Empire. Or as Amy Sherman-Palladino said about him at the ATX Television Festival, "I love that Danny, between The Butler and (Empire) has become the voice of Black America. It's the weirdest… finally they found somebody to speak for them!"
Rami Malek (Season 4, Episode 11)
*2016 Update: Rami, as Andy, was a huge advocate of Assistant Pastor Eric when he was one of Lane's Seventh Day Adventist classmates, but now he's busy being a hacker and winning Emmys thanks to Mr. Robot.
Nasim Pedrad (Season 6, Episode 16)
*2016 Update: I had no idea Nasim was on GG until like, a year, ago. Her scene was super short and because I've watched all these episodes so many times, I tend to not pay attention as much to details. Anyways, she quickly waited on a v drunk Rory after a dramatic fight with Logan. At the time, Nasim only had two other credits to her name. Now she has five seasons of SNL under her belt, which is not too shabby at all.
Abigail Spencer Pedrad (Season 6, Episode 16)
*2016 Update: In that very same episode, Abigail Spencer, that woman you've seen in multiple things but can never remember what (Formerly Rectify, currently Timeless), played Megan, one of the bridesmaids that stir shit up during Logan's sister's wedding.
Masi Oka (Season 2, Episode 4)
*2016 Update: Did Masi Oka use his Heroes time-travel skills to appear in this ep with Alexis? He played a Harvard student who got in a nerdy debate with Rory after she snuck into a class. Lo and behold, he ended up sharing the screen with another GG alum, Milo Ventimiglia, in Heroes a few years later.
Related articles