Last week, Jackie and Kelso made their That 70s Show shippers squeal with glee by announcing the arrival of their baby daughter Wyatt Isabelle. Yes that's her real name. I mean it's no Pilot Inspektor but it's no Penelope Disick either.
Both of them usually keep their cards close to the vest when it comes to their personal lives, but Ashton decided to be the first to reveal their baby's name by posting it on his website:
Mila and I would like to welcome Wyatt Isabelle Kutcher to the world. May your life be filled with wonder, love, laughter, health, happiness, curiosity, and privacy.

Can you guess which one is ours, or does it really matter? All babies are cute.

-Ashton
And then he proceeded to post a few pictures of babies and a picture of a dog and also a goat (?). I respect the fact that they want to keep the identity of their child under wraps for now, but why stop there with the guessing game? I personally contacted Ash and Mils (my nicknames for them) and asked if it was okay that I continue the baby mystery. So here are a few other babies (and inanimate objects and misc.) that may or may not be Steven Hyde's worst nightmare:
Crispy M&Ms are making a comeback, y'all!! Is it a coincidence the Mars company decided to bring these back the same week as Mila gave birth?!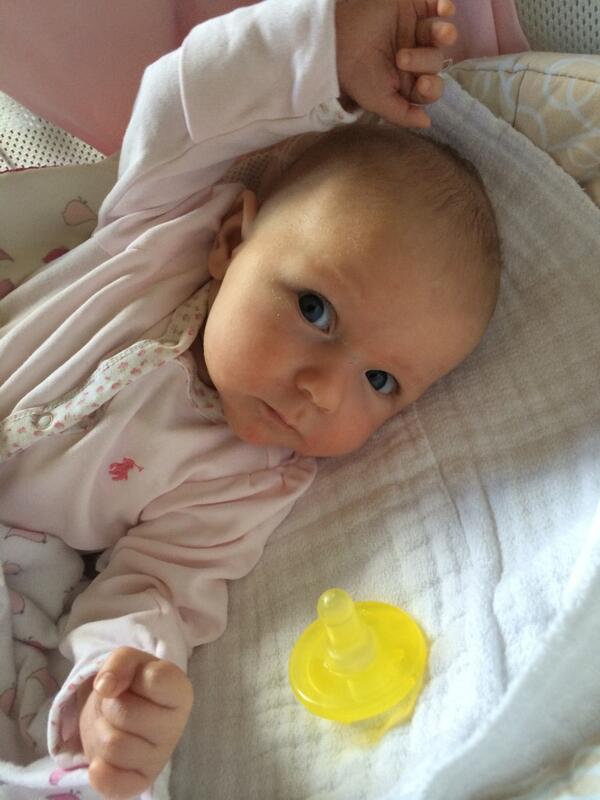 Could this freaking adorable baby belong to Ashton and Mila? Or could it belong to one of my favorite celebrity couples of all time John Krasinski and Emily Blunt?
Hello baby Kutcher or Hello person?
The cutest little nose you ever did see – is it Ashton and Mila's or a baby named Winnie (Fallon)?
Apparently the debate of whether Pluto is a planet or not is back on the table, and for all we know, it could be the result of some kind of Kutcher/Kabbalah/Illuminati shit.
Perhaps Wyatt Isabelle was just using Lisa Vanderpump's Giggy the Pom as vehicle for her soul all these years. She's already gotten so much screen time.
The internet is freaking out about this pizza cake Pilsbury recently released the recipe for – and honestly if this was their baby, I think more people would be interested in it.
OR MAYBE WYATT IS THE REINCARNATION OF LIL' SEBASTIAN. RIP.
Is Wyatt this adorable baby butt? Spoiler alert: it's our friend's adorable son. He was having troubs getting into the baby seat.
Related articles