It's December, which means NBC is putting up its annual holiday recital, in the form of a live musical! In years past, we've seen The Sound of Music, Peter Pan, and The Wiz, and now we're #blessed with a show that has given us the gift of both Harvey Fierstein and John Travolta in women's clothing – Hairspray. I personally love this show because it's everything a traditional musical should be – big song and dance numbers, a lead character to root for, unexpected love interests, racial tension, and just good old time that will leave you feeling happy and full of glee. Hence, it is the perfect show for NBC's live musical library. So did this live TV iteration live up to its previous stage and screen successors? Overall, it's a yes for me, but that doesn't mean I didn't have a few highs and lows while watching it. Did you feel the same?
Low: Good Morning, Baltimore
I'm not particularly proud of starting with a low, but that's how the show started for me. Good Morning, Baltimore is Tracy Turnblad's big intro song, and it felt… flat? I was getting vibes that Maddie Baillio was holding back a little and just wanted her to belt out with more enthusiasm. Generally speaking, I thought Maddie was fine, but honestly, I think Nikki Blonsky made a better Tracy.
High: The Intro of The Corny Collins Show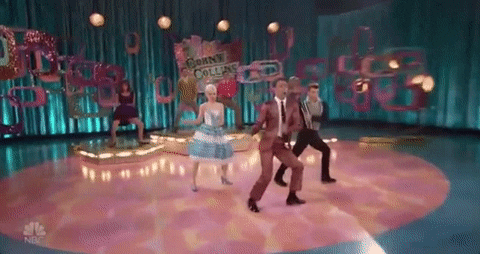 It wasn't until the reveal of The Corny Collins Show that I felt I was truly watching Hairspray, and what a reveal it was. Tracy's bedroom walls split in half and Derek Hough appears as Corny Collins on the set of his show in all its pink and turquoise accents. A 1960s dream. All the Nicest Kids in Town were great, including Brenda, who says one of my favorite lines in the musical: "Brenda will be taking a leave of absence from the show. How long are you gonna be gone, Brenda?" "Just nine months!"
High: Ariana Grande
Both her ponytail and EVERYTHING ABOUT HER. I don't care, y'all. Not afraid to say I love Ariana Grande. Besides My Everything and Dangerous Woman and her SNL impressions and the fact she's a theater geek just like us, it's easy to forget (for older folks at least) that she has excellent comedic timing. Every single line she said I lit'rally laughed out loud. From the first moment she popped her gum and said a line about perspiration, to talking to TV trying to say hi to Tracy, to being completely enamored by Seaweed, Ari proved she's as good an actress as she is a vocal powerhouse.
High: Harvey Fierstein
At this point, Edna Turnblad is part of Harvey's bloodstream. He originated the role on Broadway in 2002, and even won a Tony Award for it, so yeah, he's done this before. And he's done it well. Good lord he has done it well.
Low: Darren Criss as a Backstage Host
Pero like, why? And there was something called the "Social Squad" that he stood next to? I like you a lot, Darren, but I don't need you chasing down Ariana Grande in a cart and calling her a "dangerous woman" with a wink to the camera. SHHHHH.
LowHigh: Dove Cameron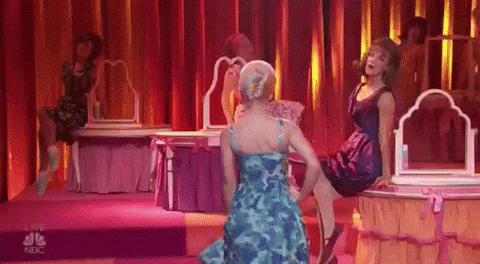 I had a vague sense of who Dove Cameron was prior to this (Disney kid, played Kristin Chenoweth's daughter in The Descendants, recently broke off her engagement), but had never heard her sing before. I was delightfully surprised by her voice. However some of the big belting notes were beyond her reach, and acting wise, I felt at some points she was merely doing an impression of KChen and not acting as herself. However, I think overall she did a great job and made a good impression on all those who are seeing her perform for the first time.
High: Miss Baltimore Crabs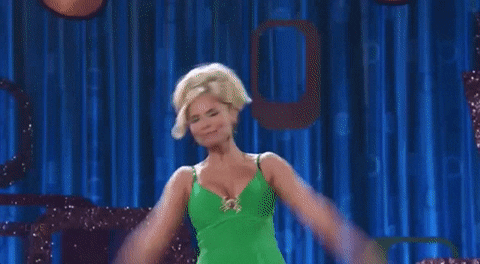 If you put Kristin Chenoweth in anything we will watch it. And we will praise her. Because she is worthy queen. She nailed Miss Baltimore Crabs, and I am dead from not only this dress with the crabs brooch but also by the crab hands she puts up at the end. KChen is a national treasure.
High: Ladies Choice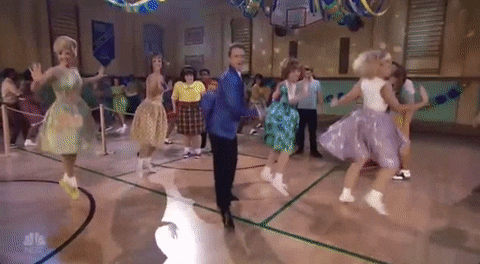 Ladies' Choice is one of two new songs that was added to the 2007 movie musical, and smokeshow Zac Efron did a great job with it, albeit it was a shorter scene. This time Corny/Derek Hough takes on the track, and while he is no Zefron, it was still enjoyable. What made it even more enjoyable is that it was the setting for a good old-fashioned dance number, which I am a sucker for. What's a musical without a bunch of chaînés turns, amirite?
HighLows: Ad Integration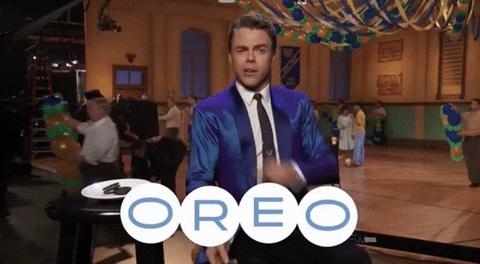 My initial reaction to seeing such a blatant ReddiWhip ad in Hairspray was one of disgust. A fake dancer walking through the Hairspray set moments after a ReddiWhip truck was in clear view on the Baltimore street? No thanks. Then Corny sang praises of the all-American snack, the Oreo, and later Toyota made its way into the broadcast, and I realized it was all actually very brilliant. The set up of The Corny Collins Show, along with its own fake product integration of Ultra Cluth Hairspray, is fertile ground of real product integration. It would've been more weird if Oreo tried to make its way into Grease Live, but in this TV musical, it's a perfect fit.
High: The Costumes
Corny's jackets! Previously mentioned crab brooch! Edna's sequined red dress! Penny's green number with sky high white boots! JHud's sparkly gold pantsuit! All of it was great and fabulous!
Low: Garrett Clayton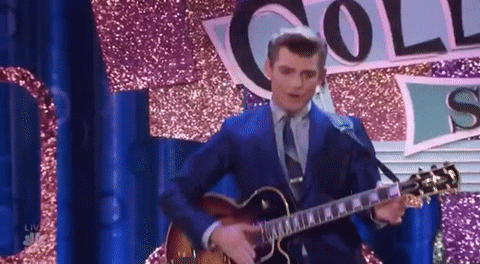 Ok, "Low" seems a little too harsh for this, but here we are. Since Hairspray opened on Broadway in 2002, many a handsome and talented men have stepped into Link Larkin's shoes. Starting with Matthew Morrison in the OBC, other notable replacements include our boyfriend Aaron Tveit, Andrew Rannells, Ashley Parker Angel, Nick Jonas and of course, Zefron. Needless to say, it's a dreamboat role to take on. However, I was not on board with Garrett. Here are my thoughts while watching him:
A) Who? Who is this? A Disney kid?
B) He's not quite hitting all the notes.
C) Is the problem that I am too old to find him attractive? Probably.
HighLow: Three generations of Tracys
To have the OG movie Tracy and the OBC musical Tracy make cameos is great. I love a good cameo. Rosie! Sean Hayes! Billy Eichner! But to me, the Ricki Lake and Marissa Jarret Winokur appearances seemed a little forced. They showed up and sandwiched Maddie then stared straight down the barrel for about 2 seconds too long. It felt like that 4th wall breaking when the Tanners mention Michelle on Fuller House.
High: Motormouth Records
Everything about these scenes. I want to live there and dance to vinyl and eat chicken and waffles and be serenaded by Hamilton's own Ephraim Sykes (Seaweed) and be outdanced and outsang by Shahadi W. Joseph (Little Inez).
Lows: The Lighting and Camera Blocking
There were moments when some of the actors weren't lit properly or the blocking made it so you couldn't see the main characters faces, and it was annoying. Yes, yes, it's live TV, but that's what dres rehearsals are for. Shouts to all the crew tho – I know it takes a lot A LOT of work do pull this off. But I mean, still.
High: Adorable Couple Is Adorable
Martin Short was such a perfect fit for Wilbur Turnblad that I had to look it up to confirm he's never played the part before. He is joined by onscreen wife Harvey in Timeless to Me, song that's so tender and warm-and-fuzzy that it doesn't really matter who sings it  – it'l always be timeless.
High: Jennifer Hudson
We went to the Chruch of Jennifer Hudson last night, and were practically ready to offer up all the money we had after watching her sing I Know Where I've Been. It was the most soulful version I've witnessed and a reminder that racial inequality in the '60s isn't something that's frozen in time. "White day is every day. You gotta be more specific."
High: Curtain Call
The other new song added to the 2007 movie was Come So Far (Got So Far to Go), which only played in the end credits. I always loved that song, so I'm glad that it was performed live by two divas in JHud and Ariana at the end, and the curtain call was the right thing to go along with it. I admit I teared up a bit during the curtain call, because the cast is filled with pure joy, elation and relief that the show went off without a hitch, and I'm just so proud of people who put in hard work. Well done everyone!
Stray Observations
I could watch Andrea Martin (Penny's mom) in anything and still adore her.
For some reason, the message of racism didn't seem to be as powerful or come across as a major plot point as it is in the musical or the 2007 movie
Hairspray has built-in cheers from the audience at The Corny Collins Show, and I noticed NBC got the hint that not having people clap after a huge number is weird. Thank GOD they brought some people in to fill in weird voids
 Overall, Hairspray is probably the best live musical they've done since starting a few years ago, but I think Grease Live still takes the cake for me. I mean I've watched that at least five times. Willingly!
Related articles