I think everyone grew up with certain things that just Were Not Done in their house. In my family, store-bought costumes fell in that category. It was a waste of money, and besides, Halloween was an opportunity to think hard, dream big, and get creative. Every Halloween involved a blowout trip to Goodwill or Salvation Army.
Don't get me wrong. When I look at those elaborate handmade costumes floating around the internet this week, that age-old refrain pops into my head: ain't nobody got time for that. I will not bedazzle a sweatshirt to turn myself into a human disco ball. I am not going to painstakingly dye and mold foam pieces to be a human hot dog. I'm not going to buy a glitzy minidress, craft an elaborate headpiece and become a sexy snowball.
No, I take my cues from Sandra Lee. Have you all seen Semi-Homemade With Sandra Lee? She takes storebought cakes and gussies them up, basically. That's where I'm at with Halloween. I don't want to walk into a Halloween party in a costume straight from Target, but I will buy something from a big-box store or Salvation Army, tweak a few elements, and come out with something more creative than what's on the bag. But less creative than becoming a human carrot with a friend dressed as a giant cabbage. Come on. Who ARE these people? Let's think simpler:
The Schuyler Sisters
See this generic Colonial woman? You can buy this costume at any of those pop-up Halloween stores, and there are versions at Target, too.
Grab two friends. Put one in the same, or almost the same costume.
Now, do you have that one friend who always insists on being a Sexy This or a Slutty That?
Cool. Get her this Little Bo Peep get up: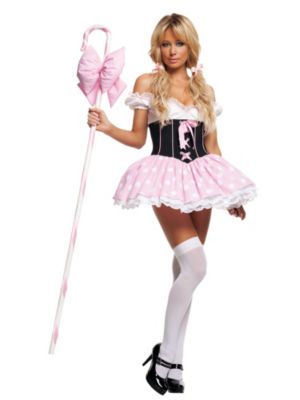 Now she's Slutty Peggy Schuyler, AKA Maria Reynolds.
Anne(ie Hall) Of Green Gables. Or Pilgrim Felicity Merriman. Whatever.
Let me tell you something about kids. They're basically idiots. Even the smart ones. It's not their fault, they just haven't been alive long. If you have a daughter in that 6-12 year old range where they're really into books and movies set a long time ago, you have it made. All you have to do is buy a long dress, or pair a maxi skirt with a blouse. It does NOT have to be a style that people actually wore at the time. You may know that shirtwaists didn't come into vogue until the late 19th century, but if your nerdy kid wants to be Jo March, just give her a button-up and a long skirt and she'll be none the wiser.
I'm not sure why I was wearing these weird old glasses and dorky hat for my Anne Of Green Gables costume when I was about 11, but I like to call the look Annie Hall Of Green Gables.
When I was Felicity Merriman in second grade, I wore a frilly blouse under a long, brown floral jumper dress that my mom wore in the '70s. It was like Revolutionary War-era girl meets pilgrim meets hippie. Loved it. Anyway, that is my half-assed costume advice: put your daughter in a long dress or skirt and she'll feel fancy.
Cory Matthews, Season 1
This was semi-homemade at its finest. I bought a $3 afro wig and trimmed it down a bit. I wore early 90s stonewash jeans, but any straight leg will do. I layered a flannel shirt over a $2 Phillies shirt. Bam. Cory Matthews from Boy Meets World, circa 1994.
Clarissa Darling
This works especially well if you're a smaller adult. Just go to the children's section of a thrift store and buy some cheap, bright leggings. Layer under overall shorts or a skirt. Put on a loud button up. Can you find a sunflower hat? Great. That's great. Blonde wig if necessary. May I present Clarissa Darling of Clarissa Explains It All?
A Six Pack Of Diet Coke
Yes, my family really did this. Corrugated cardboard, spray paint, and apparently zero sense of shame went into this one. I'm the tiny one whose face isn't obscured.
Doonice – Kristen Wiig, Saturday Night Live
You're going to need the following:
a wig cap – to move your hairline back
a wig, placed about 4 inches back from your natural hairline
a lounge singer-y dress with long sleeves and cuffs
a doll to dismember
Then watch the magic happen. People LOVED this one. Be sure to act extra creepy:
Joan Holloway Harris
In case you hadn't caught on, I usually go with TV-based costumes. Joan's an easy one: just pair a shift-dress with a pen on a chain around your neck, a broach, a bouffant hairdo, tan hose, and possibly some fake boobs.