Angelina Jolie recently announced she's going to be a professor at the London School of Economics. Yeah, you read that right. Ok, I guess there's more. She'll be a visiting professor at the school and will teach a master's class at the Center for Women, Peace and Security. Angelina is expected to discuss the role of women as they work alongside governments and the United Nations. If you're wondering, the job is unpaid. So that all checks out.
I can only imagine that first class – as a student, impatiently waiting for a full-blown Hollywood superstar to come through the door and teach you about the world. It would be surreal and I don't know how anyone could manage to easily pay attention. And that's Angelina Jolie. I don't even fangirl for her that much. But what if your faves stood behind a podium and taught you a college course? Or ever worse – one of your least faves walked in to give a lecture?
I've compiled a list of just some celebs I think would be great professors, and some… that should maybe stick to their day jobs.
Best: Lin-Manuel Miranda
Fact – Lin used to be a substitute English teacher at his former high school, so he already has the skills to be a real professor. He's always engaging, always interesting to listen to and is a literal genius. Not to mention he's already taught millions of people around the world about an American founding father. Sure, we might have known he was shot in a duel, but without Lin's creative way of infusing history into pop culture, we would probably never known Angelica Schuyler's full story or stanned over a real dude named Hercules Mulligan. Lin's a professor of life, y'all.
Worst: Quentin Tarantino
I just imagine him talking way too much and spending an extra 45 minutes over class time explaining why The Grim Reaper is the most underrated of all of Bertolucci's films.
Best: Bryan Cranston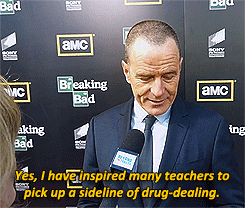 He played a high school chemistry teacher, so why not? You know, if you forget the whole drug dealer lit'rally breaking bad thing. IRL, Bryan never fails to entertain – I dare you to find an interview in which he's not charming and hilarious. He'd be the cool professor that would be okay with you stealthily drinking wine out of a tumbler.
Worst: Kanye West
A 45 minute rant on art and business and fashion? Pass. I'd be ok with a 45 minute concert from him tho, TBH.
Best: Kerry Washington
Ah the queen. She's obviously a phenomenal actress, but her philanthropy and passion to speak out about important causes like women's rights and equality and education is energizing and I just want to learn how to be as much like her as possible.
Worst: Stacey Dash
I think that speaks for itself.
Worst: Idris Elba
https://www.instagram.com/p/t5UjohEiU5/
Let's face it, I wouldn't get anything done. I'd spend the whole class picturing him naked, which is probably not a good way to pass a class. Maybe auditing is the way to go.