Well guys, it's January, which means one thing: breaking resolutions a new season of The Bachelor! America's favorite guilty pleasure is back, and so is our inability to stop watching year after year despite telling ourselves otherwise. But I mean, how else are we supposed to judge others as a community while downing bottles of wine?? And this time around, the 20th season of The Bachelor features one of the most beloved contestants in the series, Ben H(iggins).
When Ben H. was dumped by Kaitlyn on last year's The Bachelorette, the cries of thousands of females (and males) were heard around the country, including mine. He was one of the nicest, non-dramatic, HOT, there for the *right reasons* contestants on the season, and it was obvious he was going to be chosen as the next object of affection. Now that he has the title, all he needs is a slew of women stirring up some trouble inside the mansion as well as his heart. Last night, we were introduced to the 28 ladies vying for Ben H. and it's already off to such a great start. In full disclosure, I latched myself onto my friends' Bachelor fantasy league yesterday afternoon and I have a lot more riding on this season than normal (nothing, we're playing for nothing) but it is intense THERE IS AN EXTENSIVE GOOGLE DOCUMENT AND I AM EXCITED. Here are some of the contestants who stuck out to me (and might be part of my fantasy team), and maybe not all for the *right reasons*.
The Frontrunners
Get these girls a ticket to their hometowns already
Lauren B ⋅ 25 ⋅ Flight Attendant
Becca ⋅ 26 ⋅ Chiropractic Assistant
Caila ⋅ 23 ⋅ Software Sales Representative
The Low-Key Soon-to-Be Frontrunners
Every season, the winner and/or runners-up tend to come out of nowhere. They suddenly get a lot more air time in the middle of the season and next thing you know you're rooting for them to win because they have a *connection* (See: Jef, Catherine, Jade). These girls might be the ones to surprise us this year.
Samantha ⋅ 26 ⋅ Attorney
Joelle (JoJo) ⋅ 25 ⋅ Real Estate Developer
Jami ⋅ 23 ⋅ Bartender
Keep Them In Your Bracket For A While
Amanda ⋅ 25 ⋅ Esthetician
Emily ⋅ 22 ⋅ Twin
Hailey ⋅ 22 ⋅ Twin
Jubilee ⋅ 24 ⋅ War Veteran
Amber ⋅ 30 ⋅ Bartender
Jennifer ⋅ 25 ⋅ Small Business Owner
The Shit Stirrers/Kukoo Banana Pants
This should be self explanatory.
Olivia ⋅ 23 ⋅ News Anchor
Mandi ⋅ 28 ⋅ Dentist
Lace ⋅ 25 ⋅ Real Estate Agent
#YouTried
Honey sweetie you made it this far but your journey ends here (or in an early episode). Take a moment and say your goodbyes.
Sushanna ⋅ 27 ⋅ Mathematician
Jackie ⋅ 23⋅ Gerontologist
Lauren (LB) ⋅ 23⋅ Fashion Buyer
Lauren H ⋅ 25⋅ Kindergarten Teacher
Rachel ⋅ 23 ⋅ Unemployed
Leah ⋅ 25 ⋅ Event Planner
Special shoutout to Tiara the "Chicken Enthusiast", who got cut the first night. At least we got to see this: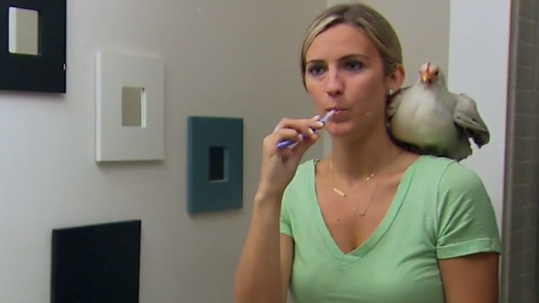 Related articles