There's something different about the newest American Girl doll. It's a boy. Which is a fine thing to be, if you're a human, but I have to admit that my knee-jerk reaction was more like: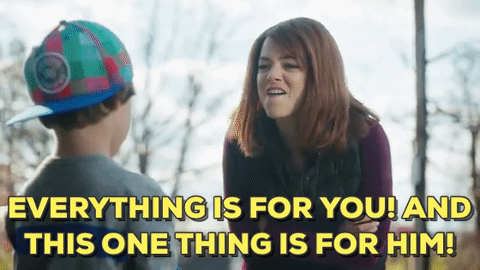 As if white boys couldn't already be EVERYTHING, now they're an American Girl doll? Ugh. What would Felicity think? (Trick question, she'd just note whether they wore the same britches size in case she had to steal another pair under cover of darkness.) Okay, also the boy looks like this:
Of course he does.
Anyway, the Boy American Girl is named Logan Everett.
Of course he is.
Logan is apparently the drummer for the doll version of 2008-era Taylor Swift. As the latest addition to our series Things I'm Willing To Believe About, here are some things I am willing to believe about Logan Everett, Boy American Girl:
---
His working name was Logan Bruno because he was 100% based on Logan Bruno, boy associate member of the Baby-Sitters Club. He's even Southern.
Logan would like to invite you to a fun laser tag outing with his youth group.
His dad is in the worship band. Logan's first performance was Lord I Lift Your Name On High.
The original plan was for Boy American Girl Doll Logan Everett to be a historical character from 1994. He would have had the requisite Cute Boy In The 90s Haircut (see: Rider Strong), a plaid flannel with a heather gray hood, and you could buy him a scaled-down, working Talkboy for $19.99.
In a frozen pioneer cemetery in Minnesota, Logan's great-great-great-great grandmormor Kirsten is rolling over in her grave due to his coddled and simple lifestyle.
He calls his dog a rescue dog but it's just a regular dog.
Logan rarely looks up from his Nintendo DS when he is forced to visit his great-grandma Molly. To be fair, all of her "harrowing war stories" are, like, "one time I curled my hair when it was wet and I got a cold" and "I ate turnips, once."
I'm not saying Logan smirks mockingly at people, I'm just saying that doll is smirking mockingly at me, right? 
His parents buy Lunchables.
And Sunny D.
And maybe Cheez Wiz?
Logan's instagram is all skating pictures he stole off of other people's instagrams (he doesn't skate) and quotes.
Just really wants to bring hacky sack back.
Is the main character's older brother who the best friend has a crush on on a Disney show.
If his name wasn't Logan, it would have been Hunter. Or Kyler.
Was the first kid in his class whose parents didn't care if he watched PG 13 movies.
Was in a commercial for a local amusement park 2 years ago and finds way more ways to bring it up than you'd think.
Boy band role: the one moms are OK with
Logan "thinks you look prettier without makeup," but also thinks "no makeup" looks like concealer, light, well-blended foundation and bronzer, neutral eye shadow, lightly smudged dark brown liner, full mascara and lip gloss
Also "Tthinks you look prettier when you don't do you hair;" hot rollers and highlights.
I understand this is supposed to be a country musician but I still kind of feel like on Myspace c. 2005 his favorite music would have been "anything but country lol."
Always has to show you this hilarious video he found on YouTube.
Related articles