There's been a lot of talk surrounding the sexism that's been happening at the Olympics over the past week, with men being "responsible" for female athletes' victories and descriptors such as "wife of famous football player", etc. So with this in mind, we decided to take a look back at the history of females at the Olympics, and we have learned a lot, y'all.
First of all, despite the fact the first Olympics kicked off in Athens in 1896, women were not included in the competition. Obviously. It wasn't until 1900 when the second Games were held in Paris and 22 of the 997 athletes were females. They eased into the competition by only participating in "ladylike" sports such as golf, tennis and yachting.
Among the athletes was golfer Margaret Abbott, who was the first American woman to win an Olympic event (she even beat out her novelist mother Mary Abbott, who placed seventh). But we can't even call her a "gold medalist", because the 19000 Games were the only Olympics at which winner received valuable artifacts instead of the gold, silver or bronze. Instead, Margaret went home with a porcelain bowl.  On the plus side, there was some gold in it…?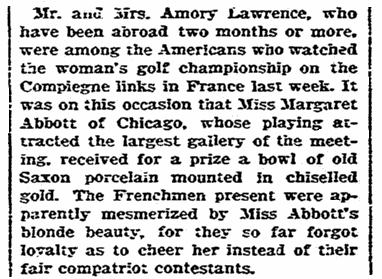 But the gag here friends is that Margaret didn't even realize she was competing in the Olympics. She lit'rally died not knowing she was a "gold medalist", let alone the first female to win such an honor. Since it was just the second Olympics ever, the Games were more or less what we call a "shit show". First of all, they took place over a five-month period between May and October during the 1900 World's Fair in Paris. The French sports union decided they were in charge because the Games were taking place at the World's Fair. The International Olympic Committee, which was fairly new at the time, was all, 'I guess they're right, we should give them control'. Because of this, most of the Olympic Games didn't even have the word "Olympics" attached to it, with the press using terms such as "International Championships" or "Grand Prix of the Paris Exposition".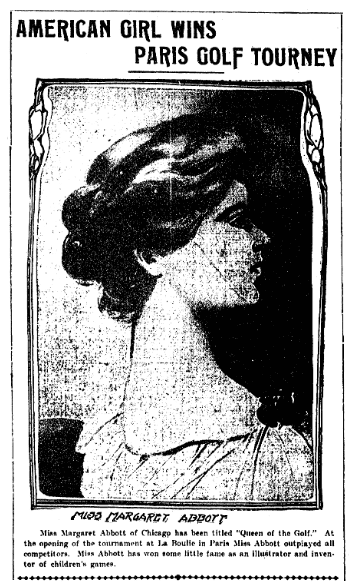 So it makes sense Margaret thought it was just another competition like any other. She died in 1955, and it wasn't until after her passing that historical research established the event and her win as an official Olympics victory. Can you imagine?? Mags is a historical figure in the world of sports and she probably just used that porcelain bowl to serve her husband a fresh summer salad!
While women's sports has clearly come a long way since 1900 (thankfully that long skirt uniform has been done away with), we've still got some ways to go with equality, and that's unfortunately been prominent in Rio over the past few days.
In recognition of Margaret and her lack of knowledge as an Olympian, we've decided to introduce The Abbies in honor of her achievements that went unrecognized – by giving it to the folks who have made some questionable sexist comments throughout the Games so far. Just like the 1900 Games, we're handing out bowls, but these are based on level of baffling commentary from critics who should just take a seat. With these bowls at their side.
Gold Bowl = Ultimate dirtbag in dirtbaggery contest
Silver Bowl = Sucks the big one
Bronze Bowl = Still not OK, but willing to let slide
---
Dan 'He's Responsible' Hicks
Longtime NBC commentator Dan Hicks hit headlines after the 400m individual medley in swimming, when Hungarian swimmer Katinka Hosszu won the gold but also shattered the previous world record. During the program, he noted that Katinka's husband and coach, Shane Tusup is "the man responsible" for making his wife the swimming champion she is today. Viewers were quick to take note of Dan's wording, because, homegirl just killed it in the pool, yet this dry dude on the sidelines is "responsible" for the gold medal? OK. Dan Hicks later clarified his comments, saying, "It is impossible to tell Katinka's story accurately without giving appropriate credit to Shane, and that's what I was trying to do."
There's also more of a backstory with this couple, because apparently Shane's poolside enthusiasm can turn scary, with other swimmers noting his extreme anger, calling it "inappropriate" and "not OK". But again, Dan Hicks has an interesting view on his hard love, "It's been a little disturbing to some of the other swimmers who have observed it," he said on-air, according to the AP. "But he has turned her into a tiger in the pool."
Dan Hicks is awarded… The GOLDEN ABBIE
Perfect for: The blood, sweat, and tears of Katinka, Shane Tusup in mini-form to stay afloat for all eternity
The Journalist Who Wrote This Headline
"Corey Cogdell, wife of Bears lineman Mitch Unrein, wins bronze in Rio", is what Tim Bannon wrote as the headline to his article on Monday. Listen, as someone who writes news for a living, I have to play devil's advocate here. This is a story for the Chicago Tribute, where the Chicago Bears are the kings and a point of reference that everyone reading will get. If his headline read, "Corey Cogdell wins bronze in Rio" everyone would be like, 'WHO?' 'WHY DO WE CARE?' then move on to the next article. Their angle is that Bears fans would be interested in someone close to the Bears organization is a medallist in the Olympics. That being said, I also understand why there has been such an uproar about this. She's obviously much more than a football player's wife and is her own person. It's akin to when we say things like, "Calvin Harris' ex-girlfriend, Taylor Swift" as opposed to "Multiple Grammy-winning artist Taylor Swift". It subconsciously tells the reader that the person the article really is about is a secondary character in the narrative, which is clearly not the case. It's just a necessary evil to write things like this sometimes.
Chicago Tribune Writer is awarded… The BRONZE ABBIE
Perfect for: A selection of better words
It's About To Be A What? A Girl Fight
(Sidenote: do y'all remember that Girlfight song? No? Ok, moving on) Majlinda Kelmendi of Kosovo became the country's first ever Olympic medallist after winning the gold in judo, which according to a BBC commentator is not a sport, but rather a "catfight". Or at least that's what he described the match as. A "CATFIGHT".
"Female Michael Phelps"
Katie Ledecky, 19 years old,  won four gold medals and a silver in the 2016 Olympics. She set a world record for the 400-meter freestyle … then she broke it herself. She finished the 800-meter freestyle so quickly that she had 11 seconds to cool her heels before the silver medalist even reached the wall. All of this is enough for the Daily Mail to name Ledecky the "female Michael Phelps." For its part, NBC commentator Rowdy Gaines remarked that "some people say she swims like a man" before telling us why that's false. Few things here:
A.) "Some people say" is a tired vehicle for introducing opinions a journalist or commentator doesn't want to own (see also: "some people say women aren't funny" in any interview with a female comedian).
B.) "Some people" need to stop saying a woman does something "like a man" when she does it well. Clearly Katie Ledecky swims like a woman since she, you know, is one.
These Male Rita Skeeters are awarded… The SILVER ABBIE
Perfect for: Serving alphabet soup so they can figuratively eat their words.
NBC Doesn't Think Female Sports Fans Exist
Annoyed by NBC's tape delay and bizarrely packaged primetime coverage? Blame women. According to NBC chief marketing officer and slant-smiled bag of dirt John Miller, we wanted it this way so the Olympic events would remind us less of sports and more of the Bachelorette: "The people who watch the Olympics are not particularly sports fans. More women watch the games than men, and for the women, they're less interested in the result and more interested in the journey. It's sort of like the ultimate reality show and miniseries wrapped into one."
NBC also broadcasts NFL football (45% female viewership) and NHL hockey (42% female viewership). But since they don't think women are "particularly sports fans," perhaps they wouldn't miss nearly half of their audience if we went elsewhere.
John Miller is awarded … The GOLD ABBIE
Perfect for: Potpourri made of the discarded petals of past rose ceremonies.
Let's Go To The Mall!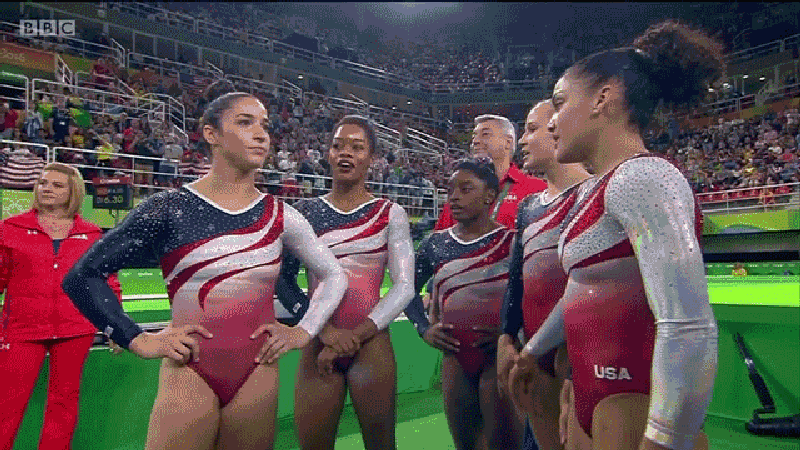 The U.S. Women's Gymnastics Team – the Final Five – are a group of powerhouse athletes who easily won the team gold medal, the gold and silver all-around individual medals, the vault gold and the beam silver and bronze. In addition to their superhuman strength and tremendous drive, the teammates are kind and supportive of each other, offering hugs and encouraging words because when one of them succeeds, they all succeed. Or, in the words of NBC gymnastics announcer Jim Watson when the team was talking among themselves on the sidelines, "they might as well be standing around at the mall."
While we always welcome an opportunity to burst into a chorus of Let's Go To The Mall, we have to point out that these athletes don't really hit the mall too often what with their focus on world domination. Watson followed up "Don't boys hang out in malls too? I did." They do, but something tells me Jim wouldn't have said the same thing about, for instance, the US men's basketball team.
Jim Watson is awarded …. the SILVER ABBIE
Perfect for: Serving Orange Julius, one of the premier mall foods.
Trolls Go Low
During the Olympics it's fine to express your opinions on the games and the athletes on social media — within the bounds of decency. If you're complaining about or even complimenting someone in a way you wouldn't face-to-face, don't @ them and theoretically force them to respond. And if the range of things you WOULD say to someone's face includes racist or sexist insults, don't @ them then either… in fact, don't write it at all. During the games, some viewers have decided that Gabby Douglas was disrespectful to the flag or unsupportive of her team. That, alone, isn't really the problem. It's the onslaught of truly vile Twitter trolling that has followed.
Considering the trolling has included the complaints that Douglas doesn't smile enough, needs to change her hair or has had breast implants, it's safe to say that the online harassment has taken a gendered edge.
The Internet is awarded … the Silver Abbie
Perfect for: A nice helping of Alphabits cereal, any random 140 characters from which you could create better tweets.
Fox News Had To Say Something Too
It wouldn't be a celebration of journalistic disappointments if Fox News didn't crash the party. Fox, a network that doesn't broadcast the Olympic games, got in on the action with a segment about whether or not female athletes should wear makeup. Sure! Or don't! Who cares!
On their website, Fox News frames the question as why female athletes "feel the need" to wear makeup, as though they might not just want to. Or not. Again, who cares.
Weighing in on the issue: Bo Dietl and Mark Simone, two men.
Fox News is awarded…. the GOLD ABBIE
Perfect for: stashing some nice cold cream to take all that makeup off. I prefer good old Pond's.
---
We'd love to call this our first and last Margaret Abbott Awards For Baffling Treatment Of Female Olympians, but let's be real. This picture of Margaret Abbott was taken over 100 years ago, and seems to depict her standing around waiting for a man to get with it.
Friends, I think she's still waiting. Chances are, we'll be back at it awarding another round of Abbies for the 2018 Winter Olympic games. And possibly for regular sports before that. Change is coming, but if ol' Maggie Abbott has taught us anything, it's that sometimes you have to wait 50 years to find out what that porcelain bowl was for.
Related articles