It's been six very long months since we watched Our President wave goodbye and fly off into the sky on Marine One one last time.
Since then… well, you know what's happened since then. I'm not going to focus on that. Instead, I'm going to highlight the things Barack, Michelle, Malia and Sasha have been up to since moving out of the White House and into a regular (yet still bougie) house as private citizens. For a few minutes, let's just forget what's happening at 1600 Penn and pretend this family is still First.
January
To The Desert
Immediately after the inauguration, Barack and Michelle travelled to Palm Springs, California, the first stop on their world tour.
Despite the fact they were delayed by rain, B & M enjoyed some R & R at the homes of the ambassador to Spain and Angora, James Costos,  and Michael S. Smith, who was their WH interior designer.
Like a Virgin
Soon after, the Obamas headed to the British Virgin Islands to stay at Sir Richard Branson's private resort. Judging by the way they dressed, it was clear they were enjoying the time off.
February
And then came the now iconic photos of Barry living his BEST LIFE kitesurfing with a billionaire.
Perhaps the only time I'll say this, but WHO'S GOT TICKETS TO THE GUN SHOW???? Barry O, that's who. Like any good friend, Richard blogged about their day out on the waves, and even included a video of their kitesurfing challenge for good measure.
#CoupleGoals
Serious couple goals. Always and forever.
Malia in Manhattan
Meanwhile, Malia's off on her gap year before heading off to Harvard, and she's been busy being photographed walking into her internship at big shot Hollywood producer Harvey Weinstein's film company. The 18 year old reportedly landed a gig in the development department, reading and pitching scripts to be made into potential movies. She started at the beginning of February, and just a few weeks in, proud dad Barack went to visit her for some dad/daughter time. They were spotted having dinner, and hanging out with Danny DeVito backstage at his Broadway show. Hand holding included.
March
When you gotta look fly just to go to the National Art Gallery.

Michelle, still acting more First Lady than the current one, surprised young ladies at Francis L. Cardozo Education Campus in honor of International Women's Day. The school has an international program for recent immigrants, and she spoke with a group of girls on the importance of education.
Barack and Michelle were quite the jetsetters in March – after DC, they went back to NYC to visit Malia again (and also dine with Bono and get a standing ovation on the way out), stopped in California again to meet with some tech bosses, and then back home to Hawaii to visit family and hit the links, and get his fave shaved ice (I'm assuming).
By the end of the month, Barack was reportedly in the small French Polynesian island of Tetiaroa (once owned by Marlon Brando), where rumor has it he spent time writing their memoirs. Oh, BTW, in February, Barack and Michelle inked a reported $65 MILLION deal for separate books with Crown Publishing.
And because B continues to be more presidential than say, other presidents out there, he tweeted this out the day of the (first) terror attacks in London:
April
Michelle joined her boo and continued their tour of French Polynesia, as they were spotted in the island of Moorea paddleboarding (#LetsMove) and swimming, and snorkeling. But the best part? They weren't alone. They lived that yacht life with a few nobodies – Tom Hanks, Bruce Springsteen and Oprah. !!!! It was on that boat that Barry proved he was the ultimate Instagram Husband (we'll just pretend he's not taking the pix with an iPad – or maybe we won't)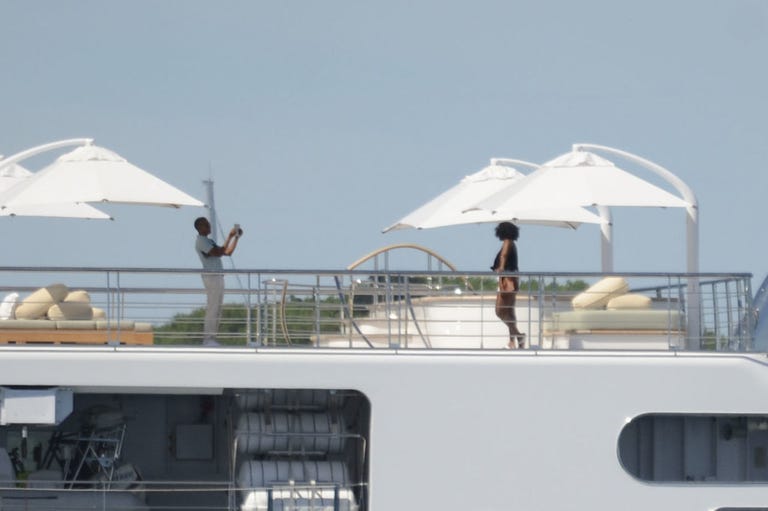 Apparently the ultimate squad island hopped, visiting Vanilla Island, Le Taha'a Island and Bora Bora. BUT WHAT HAPPENED ON THIS VACATION?! ARE THEY PLANNING ON FORMING A NEW COUNTRY? BUYING A BUNCH OF THE FRENCH POLYNESIAN ISLANDS? WE NEED TO KNOW JIC AMERICA BURNS TO THE GROUND.
Oprah will never tell. "I can't talk about it, I can't talk about it!" Thanks for nothing, O.
So, Uh, What's Been Going On While I've Been Gone?
The Obamas headed back to the States and home to Chicago, where Barry made his first public appearance since that gloomy day in January. Naturally, the event was a discussion with students about civic engagement and leadership at the University of Chicago, where he taught constitutional law. You remember the Constitution, right?
May
Barack shipped up to Boston, where he was awarded the 2017 John F. Kennedy Profile in Courage Award, where he was reunited with some familiar faces – Sen. Elizabeth Warren, former Massachusetts Gov. Deval Patrick, former Secretary of State John Kerry, and of course, "the best vice president the country has ever known, Mr. Joe Biden."
During his speech, B reflected on JFK and the basis of the award, urging members of Congress to exhibit similar bravery in the current battle over health care. Tell 'em Barry.
Oh also, he said this of Mich: "I also want to thank Michelle Obama for after the presidency sticking with me because I think she felt an obligation to the country to stay on. But once her official duties were over, it wasn't clear. I love my wife. And I'm grateful for her. And I do believe that it was America's great good fortune to have her as first lady." SWOON.
Speaking of Michelle, there was a report that the Trump administration was going to immediately halt her Let Girls Learn initiative, and while the WH denied the allegations, Michelle still threw the best shade on Inta.
Obama Presidential Center and Library, you say?
Barack then made his way over to Europe, where he was probably sweeping up all the debris Trump left in his wake and giving handshakes that are normal. During his time there, Barack visited friends in Scotland, London (hello Prince Harry), and Germany, where he noted, "In this new world we live in, we can't isolate ourselves. We can't hide behind a wall."
And because he can now, Barack and Michelle also went to Tuscany, where he proudly sported a dress shirt sans tie, while Mich continued to slay with an off the shoulder number. Ironically, Trump was on his first European trip during this time, so I can't help but image the Obamas sitting in their luxurious villa and clinking their glasses of red wine while giving each other a knowing look.
June
Back in the U.S. DT announced plans to pull out of the Paris Agreement, which Barack and his administration worked hard to put in place. Barry was NOT happy about it [See his statement here].
THE BROMANCE WAS ALIVE
If you're wondering where Sasha has been, she's been at school in DC, and since she's only going to be a junior in September, Barack and Michelle decided to stay in the 'hood at least until she graduates. Since January, the Obamas were renting out an 8,200-square-foot home in the Kalorama neighborhood,  which is basically where the rich people live. In June, they decided to make the home permanent and purchased the house for a sensible $8.1 million.
But also, she's been busy throwing a LIT AF Sweet Sixteen birthday party.
Kids grow up so fast. Also, we were reminded that Sasha's full name is Natasha. So that's a thing that blew up Twitter.
Reminder that Barack and Michelle are actually friends with Jay Z and Beyonce. Here's Barack sending a video message congratulating Jay on his induction to the Songwriters Hall of Fame – a ceremony he didn't even attend. Come to find out, Rumi and Sir Carter blessed us with their presence just three days before.
And then he had to released ANOTHER statement on health care and the shitshow that is the ACHA.
With Sasha out of school for the summer, it was time for a family trip, and the Obamas headed to Indonesia, where where Barack lived as a kid since his beloved mom did anthropological research there. They went whitewater rafting, and visited the Tirtha Empul temple in Bali wearing matching sarongs.
July
Barack also gave a speech in front of thousands of people at the Fourth Congress of Indonesian Diaspora in Jakarta, and in addition to speaking Indonesian, he totally shaded DT yet again, not exactly calling him out on the Muslim travel ban, but basically doing it.
Then Michelle stopped in Los Angeles for a surprise appearance at the ESPYs.
While Barack was busy meeting babies in Alaskan airports
Yesterday, it was revealed that Sen. John McCain (and Barack's former 2008 opponent) was diagnosed with brain cancer. Instead of wishing any ill will, he showed all class and subtle shade at the same time:
We miss you Obamas. It's been six months but it feels like six decades.
Related articles