So everyone's on the same level of excitement about the next Bachelor, right?
Ha. I kid, I kid. Ever since Arie Luyendyk Jr. was named the official Bachelor for season 22 earlier this month, a lot of people – members of Bachelor Nation or not  – were exclaiming into whatever device they read the news on and yelled, "WHAT?" and/or "WHO?!"
For those of you who haven't been following along at home (welcome to an entire post about a reality show you don't watch), the producers' pick of Arie was kind of out of left field. Ok, REALLY out of left field. As in, he was a runner-up on The Bachelorette in 2012. He had kind of been in the running a few years ago, but never a real candidate since there were always other guys from more recent seasons who were "better".
In fact, it's been a trend for most of the seasons of the franchise to pick the next Bachelor/ette based on one of the finalists from the previous season. EG: Rachel Lindsay, the most recent Bachelorette, was a third-place finisher on season 21 of The Bachelor (featuring Nick Viall, who's been one two seasons and recently split from the winner/fiancee he picked from his season). Naturally, fans were expecting the next Bachelor to come from Rachel's batch of bros. But he didn't. And I'ma break down why:
Dean

Oh Deanie Baby. So Dean had quite the journey on the Bachelorette. As you can see, he's super cute and is the type of guy who's always smiling and laughing (a lot of the time to hide the pain). He was the youngest of the finalists at 25, compared to Rachel's 31. Now Age might be Nothin' But a Number, but in this case, Rach gave it a try and it turned out – age wasn't just a number. He still has so much learning to do. For starters, his mom died when he was young, and because of that, he's had a tense relationship with his dad. Dean made it to hometowns and hadn't seen his dad in two years. In fact, Rachel's visit was the first time his entire family had been together in a long time, and knowing Dean had shit to figure out about his own life before dedicating himself to a wife, Rachel sent him home.
But that wasn't the only problem. The other problem was that Dean signed up for Bachelor in Paradise, the summer show that features past contestants, many of whom weren't too memorable during their season. In the beginning, Dean hit it off with Kristina, who had been on Nick Viall's season. They spent a lot of time together during the first week, and during the few weeks the show was shut down (woof that's a whole other thing) they spent time together off camera. Then when the show went back in production, they kept up their romance – until Danielle Lombard aka D. Lo, showed up. She's gorge and also from Nick's season, and Dean zeroed in on her. Obviously, it's the nature of the show that people can have multiple paramores, but Dean went about it all the wrong way. He kept stringing along Kristina and Danielle, but Kristina eventually got fed up and left on her own accord. At the end of the show Dean admitted to Danielle he made a mistake by letting Kristina go and ended up with no one. Poor choices. And he admitted it. But these BIP love triangle shenans definitely ruined his chances of becoming the Bachelor. After Rachel dumped him, he was a top choice for Bachelor. After this, he barely got any "woos" at the BIP reunion from the audience.
Eric

It's miracle season, baby! Eric, bless his heart. I was rooting for him the entire season, but knew Rachel was never going choose him. He didn't become a frontrunner until mid-season, and he admitted he had never even brought a girl home to meet his family before Rachel, so it was obviously a big deal for him. He even professed his love for her! But it didn't work out and he came in third place, with arguably the best goodbye in Bach history. The thing about Eric is that while he had the heart, he isn't necessarily the type to become the star of the show, if that makes any sense. It was never really in the cards.
Peter

Oh Peter. TBH, The Bachelorette was never a good fit for you. He had been the frontrunner since the beginning of the season, and everyone expected him to be The One. That is until he admitted to Rachel that he wasn't sure he could propose to her at the end of their journey. You're telling me that you have doubts about proposing to a woman you've known for like 3 months? ABSURD. JK he's the most rational human to ever be on the show. Their break-up was heartbreaking and it set up the actual winner, Bryan, to look like he was Rachel's second choice. But as hot and perfect on paper Peter was for The Bachelor, his beliefs on an engagement – the crux of the show – is the exact reason he needs to find love anywhere else but TV.
Alright, so the three top contenders from Rachel's season are duds. Now what? You go back in time (because picking a new guy is probs worse) and find other contenders. Jojo's  (the bachelorette before Rachel) runner-up Robby has been off in Paradise fighting infidelity rumors, and her third place finisher, Luke Pell, was close to becoming the Bachelor but something weird happened and Nick became the Bachelor instead.
Which leads us to Arie. For me, I had watched the first few seasons of the Bachelor franchise then dropped off and got back into it when my job literally forced me to watch it. The season was Emily Maynard's season aka the season Arie was runner-up. I still maintain it was one of the best seasons of the show. Unlike other seasons where it was clear who they were going to pick between the final two, it was truly a toss-up between Arie and eventual winner Jef. although Jef and Emily called it quits months after the show ended. Either way, Arie, at the time, was a dreamboat. Everyone loved him. Why?
He's a Good-Looking Dude
It's been five years since Arie was a prominent character on the show, but he's still as good looking as he was back then. In fact, he's got a salt-and-pepper hair situation going on and TBH, I AIN'T MAD AT IT.
He's a Racecar Driver
Rumor has it that Arie was actually the first choice before Bachelor Chris Soules, but Arie wanted to focus on his racing career. And he's pretty damn good at it. In fact, he comes from a racing family, since his dad is a two-time Indy 500 winner. Expect to see a tape piece of him slowly coming out of his car in the first ep. And a follow up group date on the track.
He's Funny
On Emily's season, there were a bunch of goofballs (which evened out with the number of assholes). And two of the biggest goofballs were Arie and Jef – Emily really enjoyed a guy with humor (sidenote: apparently Jef and Arie aren't friends anymore and that makes me sad). There are a lot of instances in which Arie was a jokester, including the scene above. And for some reason, these bloopers are always at the forefront of my mind when I think of Arie, maybe because I watched it multiple times when it first aired. Basically, it's bloopers of Arie giving a video message to Emily (as one of her three finalists) and even Arie realizes how ridiculous it is. WHAT SHOULD I DO WITH MY HANDS?
He's Dutch
Like his parents are straight out of Holland. And they all speak Dutch. ::emoji with heart eyes::
Bonus: he has twin brothers who you're probs going to see at some point during the show.
He Kisses Like This
Arie was known as the hottest kisser to ever be on the franchise and even dubbed "The Kissing Bandit". Emily couldn't even stop talking about kissing Arie. I mean, this clip of them on the streets of Croatia is forever burned in my brain. I'd sign up just to experience anything close to this with Arie. Amirite, ladies???
All of these reasons are why I think he's going to be great as The Bachelor. I know, I feel like I'm in the literal minority here, but I think he's a great choice. However, he's definitely going to have to prove it. And I think he's up to the task. In fact, I think he'll even make jokes about it in the first episode, reminding people that he was actually on the show.
Of course, his post-bachelor life included dating people like iconic Bach villain Courtney Robertson, but all that drama aside, I think he's really going on the show to find a wife. He's 35 and probably feels like he's ready to settle down for real. And if the process worked before when he fell in love with Emily, he knows he can find it again (hopefully) when the ball is in his court.
So yeah, he might not be Dean, who's living life as the newest Bachelor alum/Social Media Influencer, and he's definitely no Peter, who's in Wisconsin working on his fitness and welcome to give me a call at any time. But he's someone that has a lot of potential in that he's working with a blank slate. A lot of fans might not know anything about him and that could be a good thing, but I'm positive they'll be just as into the show and his love life just like any other season. I guess we'll just have to wait and see.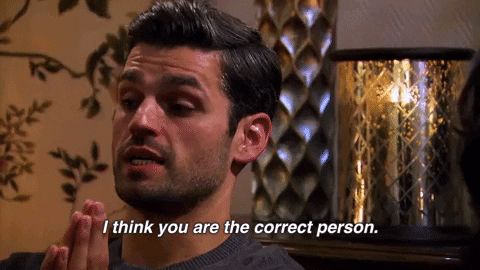 Related articles