Trading Spaces was a TLC decorating show that premiered in 2000 and ushered in the next 17 years of home and garden television, and if you're an adult of a certain age there are probably some parts of the show that are branded onto your memory. That's why when I heard that TLC is reviving Trading Spaces for its 2017-2018 season, I was that special mix of excited and dismayed that you get when one of your former favorite shows gets a reboot.
I haven't seen an episode since the Trading Spaces was cancelled in 2008 — more accurately, since I graduated high school in 2004 — but somehow I remember those afterschool Trading Spaces episodes better than anything I learned sophomore year. The premise of Trading Spaces – neighbors and friends pair up with a designer to redo a room in each other's houses in 24 hours, usually with a terrible design scheme and poor execution, because you need more than 24 hours to redo a room – was so high on drama that I can't believe I didn't realize it was straight-up reality TV more than it was a decorating show. Of course, the rooms were all VERY early 2000s, like the decorating version of empire waist tops, chunky highlights and flared jeans. In no particular order, these are the Trading Spaces quirks, designs, characters and moments that are still taking up my brain space in 2017:
Frank's designs were always kind of barnyard-y. That country cute style (ahem… country geese!) had mostly gone out of fashion by the early 2000s, but Frank was always there with the stencils and gingham anyway.
Vern was very minimalist and if he was doing your house, you would probably get something kind of normal and livable.
Hildi knew what this was: reality TV. You can tell because she did things like glued straw to the walls of a house with children living in it and suspended furniture from the ceiling. This is extra silly when you remember that most of these homes were suburban tract houses that were otherwise pretty Pottery Barn-normal. At the time I thought she was nutso but now I think she was a crazy genius.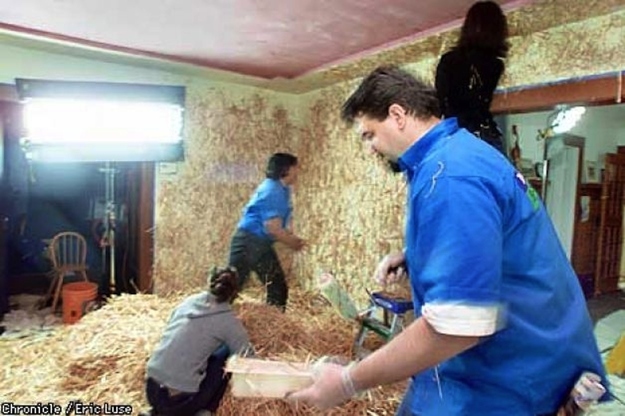 Doug did things people would hate, on purpose, just because they would hate it. I might love him for that.
Gen always painted barefoot.
When Paige Davis got married, her husband's surname was Page.
Also her first name isn't Paige, it's Mindy. And her hair was SO FLICKY.
Every time a homeowner told a designer not to touch something – be it a fireplace or an antique credenza or a mural – the designers were contractually obligated to mess with it. Probably.
You know what got the biggest excited reaction from homeowners? Every time? When a designer would take their photos and blow them up and hang them on the walls. Things like Shutterfly and Flickr did exist, and you could even get your Kodak prints blown up at Wal-Mart during this era, but I guess it was big news to Trading Spaces homeowners. Last weekend I was at my brother's neighbor's house – a McMansion-y suburban cul-de-sac – and one whole wall was giant blown-up canvases of the family. I blame Trading Spaces.
Trading Spaces is also responsible for a lot of early 2000s dining rooms that were painted dark brown, which they told us was chocolate-y.
This lady's really averse reaction to one of the least-bad rooms I remember seeing:
Theme rooms were so theme-y that they were the interior design equivalent of a Claudia Kishi outfit. If there was a desert theme, your floor was sand. Or if there was a dessert theme, your floor was hot fudge.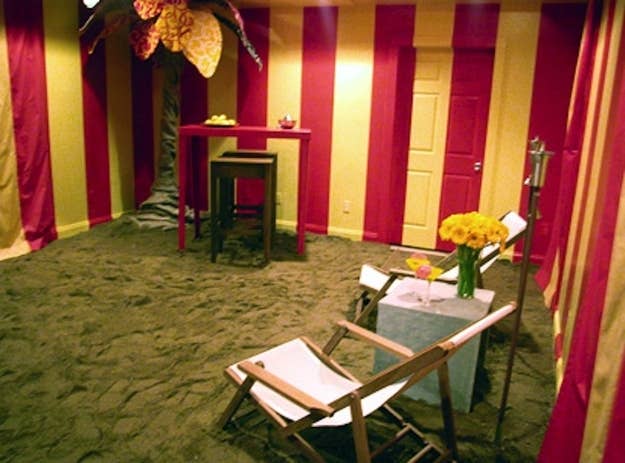 The theme rooms were also usually really really tenuously connected to an interest the family had. If a couple went to a Sandals resort in the Caribbean for their honeymoon, the room would be decorated as a giant papaya. That sort of thing.
It was that era when televisions couldn't just be out in the open, so usually Ty or Amy Wynn (Remember Ty Pennington and Amy Wynn Pastor? If you're reading this, of course you do) would have to build a giant armoire or false wall or something for it.
In a very 2000s crossover, Natalie of the Dixie Chicks participated. So did the Camden sisters (Jessica Biel and Beverley Mitchell) of Seventh Heaven fame.
They definitely designed a kitchen to look like a horror movie crime scene. Unlike the other list items, I had to look that one up for confirmation because it seemed too outlandish. Yup. Hildi.
Laurie painted everything yellow and had Grace Adler hair. Her rooms were normal.
They said you can spray paint upholstered furniture. To rip off Sondheim, can is different than should.
On day one, they'd get maybe 5% of the work done, then when the designer left they'd give the homeowners their "homework." The homework was usually along the lines of "paint the entire room and all of the furniture."
Trading Spaces is what taught a lot of us that you could tape off sections of wall to paint stripes, and I think that as a people, we got a little carried away with that idea for a while.
Related articles