"What does it say? 'I beat Meryl!'"
Those were the words Jennifer Lawrence said when she got on stage to accept her Golden Globe for Silver Linings Playbook back in 2013, and for people like me who had a certain pop culture blind spot, the joke went over their heads. Apparently it's a quote from First Wives Club by Bette Midler's character, and J Law being J Law, just assumed everyone would get that and not think it was a dig at the world's best actress.
Well I can safely say that now, I understand the reference because I finally watched First Wives Club for the first time. First Time First Wives Club Club? No? Ok Fair. Read on for more pop culture refs and early celeb cameos from one of the best comedies in movie history.
My knowledge of First Wives Club: Bette Midler, Diane Keaton and Goldie Hawn are are recently divorced from their husbands. Probably rich husbands. Now on their second, much younger wives. Comedy and sisterhood ensues.
Netflix description: Following a friend's suicide after her husband dumps her for a younger model, three women plot payback against their two-timing exes. 
… The club was started because of suicide? And this is a comedy???
The pop art title credits are giving me vibes I wasn't expecting.
MAGGIE SMITH? VICTOR GARBER? ELIZABETH BERKLEY? BRONSON PINCHOT/BALKI?! Truly had no idea these fine folks were in this movie.
And then Stockard Channing shows up straight from There Are Worse Things I Could Do… Oh God is she going to kill herself?
She killed herself
Diane Keaton's kitchen got the Nancy Meyers treatment.
Archaic 1996 item watch: Bette Midler's son's cassette tape
Does Bronson Pinchot ever get to use his real accent when he acts?
Diane Keaton wins Most Supportive Mother Award:
Prediction: Diane Keaton's inability to get truly angry will finally come to a head when it matters the most. Like Cameron Diaz crying in The Holiday.
1996 was a really big year for Dan Hedaya, right?
Cameo Alert: SJP! Rob Reiner! Timothy Olyphant! Rev Cam! What a star-studded cast.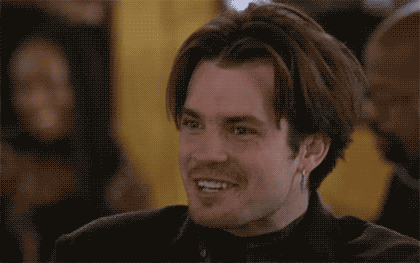 Speaking of star studded, the British bartender Goldie Hawn is complaining to about playing a mother looked familiar to me, but I couldn't place it. Naturally, he was in a singular episode of Gilmore Girls as the wedding planner hired by Emily to organize Lor and Christopher's wedding. He had about 5 minutes of screen time (if that), but THIS IS HOW MY BRAIN WORKS.
Oh look, Diane Keaton's anger is coming through at the perfect time – when she finds out her husband not only wants a divorce but is sleeping with her therapist. Good call, Trace.
Diane Keaton reading Stockard Channing's final letter: "Perhaps Gil isn't the problem. Perhaps loneliness is. Please take care of each other. Love, Cynthia."

Diane Keaton's mom: "And on such pretty stationery."
I am the mom.
My new aesthetic is three ladies putting their wedding rings in the champagne glasses.
THEY'RE GOING TO A GAY BAR TO SUPPORT DIANE KEATON'S LESBIAN DAUGHTER. AND GOLDIE HAWN DANCING WITH THE GAYS IS EVERYTHING.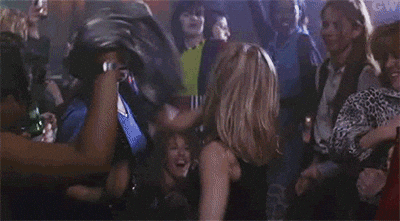 Cameo Alert: Lea Delaria as a *gasp* lesbian who hits on Goldie Hawn, who just loves attention, and Debra Monk is the drowning her sorrows at the bar because her girlfriend left her.
Bette Midler: He brought her (new wife). To my son's Bar Mitzvah.

Diane Keaton: Is she a gift?
Cameo Alert: Elizabeth Berkley is Victor Garber's new girl? And she's an aspiring actress?! Her acting is horrible. Is this what she was like in Showgirls?
And here we have the famous "I beat Meryl!" scene:
Maggie Smith's hair is the definition of "The higher the hair the closer to God". Also this may be the first time I've ever seen Maggie Smith act without her British accent?
I just realized the magical reunion that is SJP's boyfriend's ex-wife is Bette Midler. Confession: I haven't seen Hocus Pocus either.
One of my favorite things about movies from the '90s is when people use computers, because it looks so extremely archaic compared to the handheld smartphones we have today. The ladies attempting to find Morty's tax returns is like Julianne using Kimmy's dad's computer in My Best Friend's Wedding.
I love the irony that these ladies almost died falling down the side of a building in scaffolding kind of like Stockard Channing.
This singing bit between the trio is adorable.
Cameo Alert: Kate Burton as the Goldie Hawn superfan who's in bed when she and the girls are flying down the building.
THIS BLOW UP SCENE IS 100:
Cameo Alert: JK Simmons as the police officer/mobster(?) who handcuffs Morty
Also my new aesthetic: Bette Midler chastising/blackmailing Morty with hanging carcasses behind her.
YASSS LADIES WORK THESE PANTSUITS. PANTSUIT NATION.
How is Morty signing a check to the "First Wives Club"? Are they a company LLC now? I feel like I missed something.
Cameo Alert: Kathie Lee Gifford as a local NY reporter. I miss Reege.
They started a crisis center in Cynthia's name. I love this. What a great movie!
Cameo Alert: Gloria Steinem at their party! And Ivana Trump saying an iconic line. I CAN'T GET AWAY FROM ANY OF THE TRUMPS.
Ok the singing bit reprise is wonderful. And has me a little emo.
What a delightful film! I get why people love it so much. Yay ladies doing it for themselves! #NastyWomen! #WearWhite!
First Wives Club is now streaming on Amazon & Hulu
Related articles