One of the most shocking things to rattle the world last year was the (kind of) unexpected split between Brad Pitt and Angelina Jolie. Or rather that they went through with it and there were allegations of child abuse. But there was no solid evidence of those rumors, so maybe just the fall of Hollywood's foremost A-list couple.
Naturally, Jennifer Aniston sympathizers celebrated the end of a Brangelina era, and we decided to tell the story of Brangelina's romance through Rachel Green GIFs. Because in the end, we all just want Jen to be happy.
---
2004: Brad and Angelina meet and fall in love on the set of Mr. and Mrs. Smith.  Brad is married to Jennifer Aniston.
March 2005: Jennifer Aniston files for divorce: irreconcilable differences.
2013: Amid cheating rumors, a spate of magazines have cover stories about Brad declaring "I made a mistake"
2015: Rumors (possibly unfounded) of brad cheating begin to circulate.
September 20, 2016: Angelina Jolie files for divorce, citing irreconcilable differences.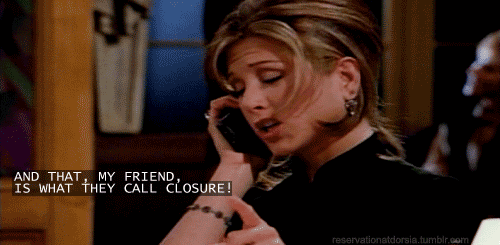 Related articles