It's time for one big, last thanks, Obama.
Thanks, Obama, for:
passing health care reform that has helped 20 million Americans gain health care coverage.
rebounding the economy from its recession low, adding 15.5 million jobs and presiding over record-setting continuous job growth.
serving as Commander in Chief during the overthrow of Osama bin Laden.
providing American leadership in the 2015 Paris Agreement, securing our commitment and that of numerous other countries to stalling and reversing global climate change.
saving the U.S. auto industry, with our $62 billion investment already repaid at over $70 billion.
leading the push to secure LGBT rights, resulting in the repeal of Don't Ask, Don't Tell and the Defense of Marriage Act, with same-sex marriage recognized as the law of the land.
passing the Fair Sentencing Act to ameliorate the disproportionate drug imprisonments for the poor and people of color.
cutting the federal deficit from 9.8% to 3.2%
signing the Lily Ledbetter fair pay act.
de-escalating Iran's nuclear program.
We could continue.
Today, President Obama becomes Citizen Obama. Still, we know that he'll always be our president, the same way my grandparents proudly claimed JFK as their own decades after he was gone.
Here's the thing about all of us who benefitted from President Obama's policies and considered him the finest president of our lifetimes: we're all still here. We're all still America. We still have the progress from the past eight years, even if we have to grasp harder than we imagined to hold on to all of it. We still have that message of hope and change. We still have the rapid transition in Americans' social mindsets that occurred over the past eight years, and we still have a generation of children who grew up only knowing a Black president. And someday, those children will be our leaders. We're all still here, with the benefit of eight years of solid leadership, positivity, progress, idealism, empathy and resilience.
President Obama will soon be president no longer, but he's still here too. This one goes out to Obama and America, a relationship we've loved for the past eight years – and that doesn't sunset on January 20, 2017.
Thanks, Obama.
Alternate title: four private citizens who have the same president as us.
Shout out to our hometown!
A surprise walk around the White House. May, 2014.
Watch the video. It's real good.
President Obama unexpectedly breaks out into Amazing Grace while giving the eulogy for or South Carolina State Senator Clementa Pinckney, who was one of nine victims in the Charleston church shooting. June, 2015.
Also an accompanying video that will make your heart explode.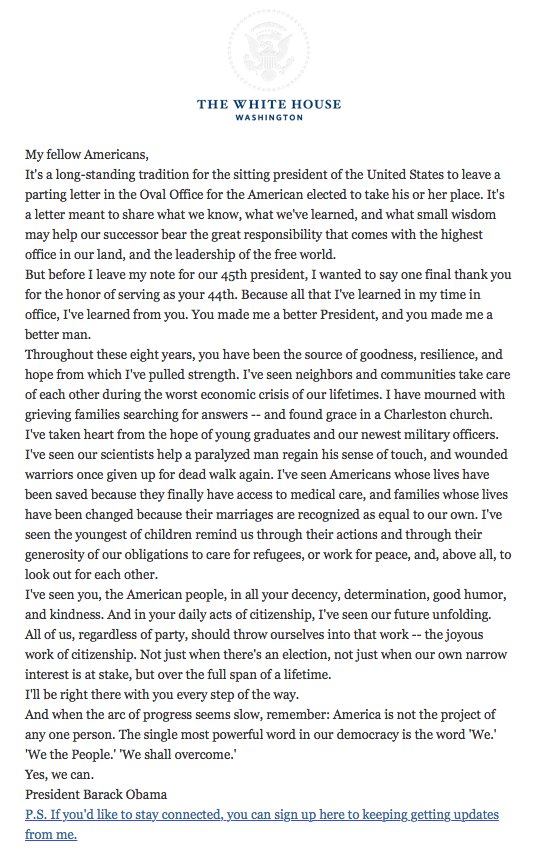 Related articles