We thought 2016 was bad. Guess what? We were all freaking wrong. 2017 was a dumpster fire of its own. The nightmare administration, disgusting politicians attempting to pass horrific laws, KKK rallies, multiple earthquakes, hurricanes, floods, wildfires, and The Mindy Project coming to an end – it was all very, very bad. Which is why we're here to celebrate the best things to come out of 2017. It's time for our annual list of superlatives, and hopefully we'll all gain perspective from this list about the past year.
Best Candid Group Celebrity Photo: Moonlight Mixup
Celebrities: They're Just Like Us. So much to look at in this photo, which will forever live in Hollywood infamy. Fun fact: Busy Philipps' husband got her a large framed version of this for Christmas. She obvs had to give one to her BFF Michelle, too.
Best New Life Motto From a Politician: "Reclaiming My Time"
Finding inspiration from California Representative Maxine Waters, the two of us decided that our official motto of 2018 is "Reclaiming My Time". From life, from work, from politics, from everything. Let this not be a year where you sit back and let folks mansplain to you.
Best Shady Company Twitter Account: Merriam-Webster
Never thought I'd be praising a dictionary's internet account, but here we are. Give this social media person a raise. It's the perfect way to call out the administration without actually straight out calling out the administration.
Best New Show That's Actually Been a Hit For Years But I Joined So Late To The Party: The Great British Bake-Off
I binged all of GBBO this summer and it did NOT disappoint. I realized y'all (including Molly) had been singing its praises for a while, but when you're unemployed and find baking mesmerizing and soothing to watch, it's inevitable you'll fall in love with this bunch. And also pretend you're a baker too.
Best Pregnancy Announcement Featuring Florals: Beyonce
No explanation needed.
Best Celebrity Insta Story: Busy Philipps
You know her from Freaks and Geeks, or White Chicks, or Dawson's Creek, or even Cougartown, but you should know Busy Philipps from her Instagram stories that are entertaining beyond entertaining. She's a mom of 2 girls, a fitness fan (#lekfit), and an actress who might not be an actress anymore. She's *relatable* and funny and guyyysss, you just have to check it out for yourself.
Best TV Revival We Didn't Need But Was Actually Pretty Good: Will & Grace
I will be the first to tell you that a Will & Grace revival was not necessary. I was a fan of the show when it was on, but there was really no legit reason for it to return besides the fact nostalgia makes companies money these days. And the series finale canon. THE CANON WAS BROKEN AND THROWN OUT THE WINDOW. I do not enjoy when shows/movies do not follow canon. After a shaky first episode back, they found their footing in the second episode and it's been fantastic ever since. The creators, writers, and actors seem like they never took a nearly decade-long break, and the tone is exactly the same as it used to be. In a world where everything seems to suck, this show is a welcome relief.
Best Display of Arts & Crafts in Honor of The Resistance : The Women's March
Best Author To Happen To Streaming TV: Margaret Atwood
If there's one good thing I can say about 2017 it's that the coolest woman in television was a 78-year-old Canadian author. With the one-two punch of Alias Grace on Netflix and The Handmaid's Tale on Hulu, we had Margaret's interpretation of one society long before ours and another slightly after … and both looked a lot like our own. They watch really well as companion pieces, by the way.  Keep up the good work, Mags. Cat's Eye on Amazon Prime 2020, perhaps?
Best Real-Life Hallmark Movie: Meghan Markle and Prince Harry's Engagement
Some might say that it's silly to care about foreign figureheads using taxpayer money to throw an enormous wedding, but 2017 was a steaming cesspool of a year and I'd like to have this one thing, please. We wrote about this already, but a biracial American actress with middle-class roots getting engaged to a prince – while he cooked for her! – and they'll live in a cottage! – is the stuff low-budget romcoms are made of and I am HERE. FOR. IT.
Best Celebrity Vacation: Obama's Post-Presidential Blast
In January 2017, we were all kind of cold and sad and Obama was, like, kite-sailing on billionaire islands with a smile that could light up the whole White House and looking like that person who really *thrives* after a breakup.
Best Viral Revolution: #MeToo
Fall 2017: when our favorite hobby was watching dirtbag producers, news anchors and celebrities get ripped to pieces. This one calls for a Michael Jackson popcorn gif: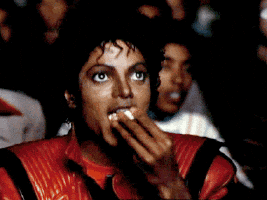 But before Hollywood's reckoning, thousands of normal folks were using #MeToo to give voice to the stuff we all knew was going on.
Best Wedding Dress I Could Never Pull Off : Serena Williams
I don't necessarily want to see celebrity wedding dresses that I'd totally wear; instead, I love when they wear gorgeous creations that I could absolutely never pull off. Cue Serena Williams' giant cloud by Sarah Burton for Alexander McQueen. You know you look good when your bridesmaid is Venus Williams in a stunning ivory gown and you aren't even worried about it.
Best Unexpected Gay Icon: The Babadook
Babadook-ook-ook. We watched the movie and discussed it here.
Best Physical Comedy (Political Division): Melissa McCarthy as Sean Spicer
Related articles